Kwasi Kwarteng: the leading light of the Tory right
Kwasi Kwarteng, who studied 17th-century currency policy for his doctoral thesis, has always had a keen interest in economic crises. Now he is in one of his own making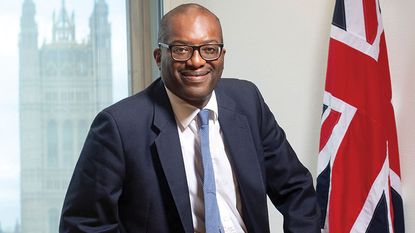 (Image credit: © Geoff Pugh/Shutterstock)
When Kwasi Kwarteng was at the Department for Business, he had the letters MSH put up on the wall. They stood for Make Shit Happen. The question now, as the "shitcoin" (as Redditers dub it) stabilises and an uneasy calm returns to bond markets, is what Kwarteng will make of his second chance. Assuming he gets one.
Some predict he may yet become "the sacrificial lamb" of a grand project gone wrong. "We get it and we have listened," said the chancellor as he U-turned on the 45p. Behind the breezy façade, he must have been squirming. It's hard to hear yourself described as the author of the most "kami-Kwasi" budget in Britain's history.
Admirers have always rated Kwarteng's "iconoclastic" tendency. But his stellar intellectual pedigree and impatience (he has "the concentration span of a gnat", according to one former Cabinet minister) often comes across as arrogance, says The Observer. In one round-table discussion with Bill Gates, Kwarteng raised eyebrows by "lecturing" the Microsoft founder on his expert subject.
Subscribe to MoneyWeek
Subscribe to MoneyWeek today and get your first six magazine issues absolutely FREE
Get 6 issues free
Sign up to Money Morning
Don't miss the latest investment and personal finances news, market analysis, plus money-saving tips with our free twice-daily newsletter
Don't miss the latest investment and personal finances news, market analysis, plus money-saving tips with our free twice-daily newsletter
It was ever thus, says The Times. As a sixth-former applying to Cambridge – where he later gained renown for swearing on University Challenge – Kwarteng famously reassured a rookie interviewer: "Don't worry, sir, you did fine." Arguably, it was a fairly typical response from an Etonian.
Indeed, Kwarteng has often drawn comparison with Boris Johnson because of "his alma mater, love of classics and untidy demeanour". When working as a parliamentary private secretary for Tina Stowell, the former leader of the House of Lords, ("he's very affable, quite easy to tease") she often had to "straighten his tie".
Kwasi Kwarteng: a stellar and impatient intellect
Kwarteng was born in Waltham Forest, north-east London, in 1975. His parents – an economist and barrister – emigrated from Ghana as students in the 1960s. Their only child inherited their academic talent. Educated at Colet Court (now St Paul's Junior School), he won a scholarship to Eton, where he was considered "a tough nut" because he "played an almost suicidal position" in the Wall Game "that involved spending much of the match having his head scraped against the brickwork".
Later, at Trinity College Cambridge, where he switched from classics to history and emerged with a double first, Kwarteng cultivated a "young fogey" image, says a former don. He joined a dining club, the Michael Oakeshott Association, often attended by Tory grandees and society figures and, out of that, got a column on The Daily Telegraph.
It was the start of a "varied" early career, says the Financial Times. Kwarteng worked as a financial analyst in the City for JPMorgan and Odey Asset Management, but found time to write history books – including Ghosts of Empire, a critical study of the British Empire – and chair the Bow Group think tank. He entered parliament in 2010.
By 2012, he had already been singled out by The Guardian as a leading light in "the new Tory right": a group of young MPs, including Liz Truss and Dominic Raab, who formed the Free Enterprise Group. In their book Britannia Unchained, they tried to "seize the political agenda" with some of the most radical ideas "the party has seen in decades". It was the start of a close friendship with Truss. They have been described as "Batman and Robin", on a "holy" mission to shift the economic dial.
One of the chancellor's chief calling cards as a rising politician was his deep interest in markets, said the FT. Having written a doctoral thesis on "17th-century currency policy" at Cambridge, he had a habit of peppering conversations with historical references to past economic crises. "Now he is in the middle of one of his own making." In Ghosts of Empire, Kwarteng noted that "much of the instability in the world is a product of… haphazard policymaking". What a hostage to fortune that has proved.
Jane writes profiles for MoneyWeek and is city editor of The Week. A former British Society of Magazine Editors editor of the year, she cut her teeth in journalism editing The Daily Telegraph's Letters page and writing gossip for the London Evening Standard – while contributing to a kaleidoscopic range of business magazines including Personnel Today, Edge, Microscope, Computing, PC Business World, and Business & Finance.
She has edited corporate publications for accountants BDO, business psychologists YSC Consulting, and the law firm Stephenson Harwood – also enjoying a stint as a researcher for the due diligence department of a global risk advisory firm.
Her sole book to date, Stay or Go? (2016), rehearsed the arguments on both sides of the EU referendum.
She lives in north London, has a degree in modern history from Trinity College, Oxford, and is currently learning to play the drums.