Sunny Balwani and the Theranos saga's final chapter
Sunny Balwani, Elizabeth Holmes's former lover and business partner, has been convicted for his role in the building of a multibillion-dollar fraud at Theranos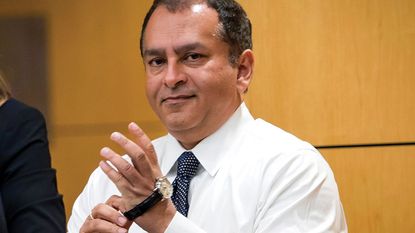 (Image credit: © David Paul Morris/Bloomberg via Getty Images)
Nearly eight years after serious concerns were raised about Theranos's blood-testing technology, the final chapter of the legal saga has closed. Following a 13-week trial, Ramesh "Sunny" Balwani, the former lover and business partner of Theranos founder Elizabeth Holmes, has been convicted on all 12 fraud charges brought against him (compared with Holmes's four counts) – including a charge of "defrauding patients" that Holmes escaped when convicted in January. "Defence attorneys depicted Balwani as a loyal soldier" who had "tried to save the company," which, at its height, was worth $9bn, says The Guardian. The jury was having none of it.
A clear vision
The Theranos scandal isn't just the story of a company whose false claim to have revolutionised medicine gulled everyone from former US secretaries of state George Shultz and Henry Kissinger (who lent their weight to the board) to big-name investors such as Rupert Murdoch and tech mogul Larry Ellison.
It also charts the course of an ultimately toxic love affair. According to Bad Blood – the account of the saga by John Carreyrou, the Wall Street Journal reporter who first broke the story – Holmes and Balwani met in 2002, when she was 18 and he was 37, during a summer trip to Beijing organised by Stanford University's Mandarin programme. She had been bullied by other students. "Sunny, the lone adult among a group of college kids, had stepped in and come to her aid." The two became fast friends and, a year after Holmes dropped out of Stanford to found Theranos in 2004, began living together. In 2009, Balwani joined the company as its president and COO, sealing a relationship that went from platonic, to romantic, to strategic within a few short years.
Subscribe to MoneyWeek
Subscribe to MoneyWeek today and get your first six magazine issues absolutely FREE
Get 6 issues free
Sign up to Money Morning
Don't miss the latest investment and personal finances news, market analysis, plus money-saving tips with our free twice-daily newsletter
Don't miss the latest investment and personal finances news, market analysis, plus money-saving tips with our free twice-daily newsletter
Balwani once told Fortune he had been attracted by Holmes's "clear vision" for the company, based on a fingerstick device that could purportedly detect hundreds of diseases from a few drops of blood. She, in turn, was impressed by his CV – and perhaps his cash, says Vanity Fair. "I understood that he'd been a really successful business person, that he worked with Bill Gates in the early days of Microsoft," she said at her trial. Born to a Hindu family in Pakistan, and raised in India, Sunny enrolled at the University of Texas in 1986 after his family moved to the US. After stints as a software engineer at Lotus and Microsoft, he successfully rode the dotcom boom – co-founding CommerceBid.com (which aided companies trading over the internet), "cashing out for nearly $40m" before the company went bust.
"We will transcend!"
Holmes and Balwani "went to elaborate lengths" to keep their 12-year relationship a secret while running Theranos, says Vanity Fair. It wasn't the "largest lie" they told in "their troublesome quest" to build a multibillion-dollar business, but would certainly have been flagged up as a conflict of interest by investors.
Many employees weren't fooled, says Yahoo News. Carreyrou relates that one of his early sources at the company "painted the portrait of this fraud being run by a couple". That source also alleged that Balwani was an uncomfortably controlling boss, allegedly "terrorising everyone" by keeping track of them through security footage. A later HBO documentary showed leaked footage of him leading employees in a "F*** you" chant, aimed at Theranos's enemies and competitors.
We will never know the full truth about the pair's relationship, says The Information. But recent interviews with those who knew Balwani shed light on "an ambitious, canny and street-smart man…eager to leave a big mark in America, and convinced that his destiny, and that of Holmes, were spiritually ordained". As he once wrote to her, "We will transcend!" Both now face a possible 20 years in jail.
Jane writes profiles for MoneyWeek and is city editor of The Week. A former British Society of Magazine Editors editor of the year, she cut her teeth in journalism editing The Daily Telegraph's Letters page and writing gossip for the London Evening Standard – while contributing to a kaleidoscopic range of business magazines including Personnel Today, Edge, Microscope, Computing, PC Business World, and Business & Finance.
She has edited corporate publications for accountants BDO, business psychologists YSC Consulting, and the law firm Stephenson Harwood – also enjoying a stint as a researcher for the due diligence department of a global risk advisory firm.
Her sole book to date, Stay or Go? (2016), rehearsed the arguments on both sides of the EU referendum.
She lives in north London, has a degree in modern history from Trinity College, Oxford, and is currently learning to play the drums.