Xi Jinping's zero-Covid dilemma
Xi Jinping's zero-Covid strategy is toast, but strongmen don't say so. Matthew Partridge reports.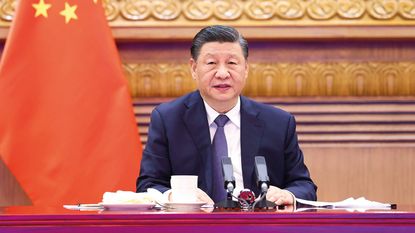 (Image credit: © Huang Jingwen/Xinhua/Alamy)
Chinese leader Xi Jinping faces a moment of truth. The highly infectious Omicron variant of the virus that causes Covid-19 took hold in Shanghai, which prompted the government to lock up its residents for more than a month. That has left people struggling to find food and the elderly unable to get medical treatment. The fear is that Beijing will be next, which has led to the emptying of supermarket shelves and school closures. Xi is sticking to his guns on the zero-Covid strategy, deeming it to have been a success earlier in the pandemic, and relying on strict mass testing and quarantine to control the spread of the virus.
Lockdown fatigue takes hold
But given that the new variant is more infectious and has already spread more deeply into the population than in earlier outbreaks, lockdowns are starting to look even more obviously pointless than usual. That is generating a backlash among an "exhausted" population, says Chris Buckley in The New York Times. Residents under China's past lockdowns complained about the "draconian restrictions", but this time there are "more critics and bolder ones, including economists and business executives". They are warning that, despite government attempts to stimulate the economy with infrastructure investments, the "chronic uncertainty" over "when it is possible to travel, spend, buy property or invest in business" is crippling consumer and company confidence and threatening a major economic crisis.
Some public officials are also starting to worry about the economic impact, and are privately complaining about Xi's "ignorant" approach, says the Financial Times. This presents Xi with a dilemma, as his commitment to the zero-Covid strategy is based as much on political considerations as anything else. He has been a champion of the strategy and would appear weak if he backed away now, and would have to take the rap as Covid infections and deaths spiralled. He won't want to risk that as the Party conference looms, where he aims to take an unprecedented third term as head of the party and state. At the same time, his "carefully cultivated image" as a "strong and competent leader" could also be "badly tarnished" if the government "blunders into an economic crisis" as a result of the Covid strategy.
Subscribe to MoneyWeek
Subscribe to MoneyWeek today and get your first six magazine issues absolutely FREE
Get 6 issues free
Sign up to Money Morning
Don't miss the latest investment and personal finances news, market analysis, plus money-saving tips with our free twice-daily newsletter
Don't miss the latest investment and personal finances news, market analysis, plus money-saving tips with our free twice-daily newsletter
Maoist mobilisations are hard to stop
That's the trouble with "Maoist mass mobilisations", says Eyck Freymann in The Wall Street Journal – China's political system is good at starting them, bad at stopping them once they have begun. Mao's Great Leap Forward proved this. Xi's "bold embrace" of zero-Covid is beginning to look like a similar mistake. Xi will be aware of the historical parallels, so it's possible he is aware that the result will be a turn away from the "open-facing, gradually marketising country" that China was before the pandemic. He may now explicitly seek to derive legitimacy less from GDP growth and more from his "common prosperity" strategy of preserving social order and redistributing wealth. If so, China is set to become a less dynamic and more static and ideological society – one in which "the party rules and the masses follow".
Matthew graduated from the University of Durham in 2004; he then gained an MSc, followed by a PhD at the London School of Economics.
He has previously written for a wide range of publications, including the Guardian and the Economist, and also helped to run a newsletter on terrorism. He has spent time at Lehman Brothers, Citigroup and the consultancy Lombard Street Research.
Matthew is the author of Superinvestors: Lessons from the greatest investors in history, published by Harriman House, which has been translated into several languages. His second book, Investing Explained: The Accessible Guide to Building an Investment Portfolio, is published by Kogan Page.
As senior writer, he writes the shares and politics & economics pages, as well as weekly Blowing It and Great Frauds in History columns He also writes a fortnightly reviews page and trading tips, as well as regular cover stories and multi-page investment focus features.
Follow Matthew on Twitter: @DrMatthewPartri