Is China set to dominate the world?
Having secured a presidency for life within the country's borders, Xi Jinping is now going for world domination – not out of megalomania, but a concern for survival. Simon Wilson reports.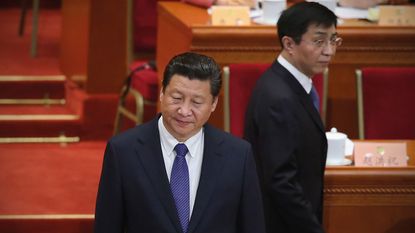 (Image credit: © Getty )
What's happening?
It is to be Xi Jinping's year of triumph. This autumn, the Chinese communist party holds its 20th Party Congress. In normal times, Xi would be expected to shuffle off into retirement, having put in a ten-year stint at the top. Instead, he is expected to secure an almost unprecedented third term. In 2017 the party formalised the recognition that Xi had become the most powerful leader since Mao by enshrining his name and ideology into its constitution. Then, in 2018, the presidential two-term limit was lifted, conceivably allowing Xi to remain president for life.
How did he get so powerful?
Subscribe to MoneyWeek
Subscribe to MoneyWeek today and get your first six magazine issues absolutely FREE
Get 6 issues free
Sign up to Money Morning
Don't miss the latest investment and personal finances news, market analysis, plus money-saving tips with our free twice-daily newsletter
Don't miss the latest investment and personal finances news, market analysis, plus money-saving tips with our free twice-daily newsletter
Xi's feat in consolidating and centralising power in his own hands, under a system that has typically valued consensual leadership, reflects his own qualities as a political operator and crucially the period during which he emerged as leader. "Xi arrived at the party's highest echelon at a moment of growing paranoia," says James Palmer in Foreign Policy. In the early 2010s, China's governing elite felt deeply threatened by public discontent about rampant corruption, and was spooked by the series of "Arab Spring" uprisings in 2010-2012. At the same time, there was a widespread feeling that the low-key presidency of Hu Jintao had been a relative failure, opening the door to a more confident, charismatic figure. Xi "represented the possibility of deliverance for China's autocratic, but consensus-based, political system". Once in power, he used a populist anti-corruption drive to ruthlessly cement his power and remove his enemies.
What is his ideology?
First, the reassertion of total party dominance over all sectors of public life and, second, the rise of China to dominant global power. Xi was seen as the ultimate party insider due to his status as a party "princeling". Xi's father, Xi Zhongxun, was a young communist guerrilla leader in northwest China in the 1930s – a Mao loyalist who rose quickly to become a vicepremier of China in the 1950s while still in his 30s.
He was purged and jailed for a time under the Cultural Revolution, before being rehabilitated. Xi first joined the party (in 1974, aged 21) while his father was still in prison and later rose to national prominence via a succession of regional governorships where he established a reputation as an incorruptible safe pair of hands. Yet according to leaked US diplomatic cables based on extensive interviews with an old comrade of Xi's, now an academic based in the US, Xi's commitment to the party is more "pragmatic" and "realist" than ideological. The source reckons that the Chinese president is most fundamentally an "elitist" – a nationalist who believes that "rule by a dedicated and committed Communist Party leadership is the key to enduring social stability and national strength".
What's his vision for China?
The same US diplomatic source quoted above reports that even as a young man Xi was "repulsed by the all-encompassing commercialisation of Chinese society, with its attendant nouveaux riches, official corruption, loss of values, dignity, and self-respect, and such 'moral evils' as drugs and prostitution". This stance finds current political expression in Xi's core domestic agenda of "common prosperity" – levelling up on a grand scale – which he frames as "not only an economic issue, but also a major political issue related to the party's governing foundations". In recent years Xi has reined in technology firms, ordered corporations to improve labour conditions, capped rent increases, and announced that "excessively high incomes" will be "adjusted". Xi's moral outlook also informs China's nationalist-conservative interventions in social life – for example, cracking down on celebrity culture, banning children from playing videogames for more than three hours a week, and, as one admiring article on Xinhua, the official state press agency, puts it, ensuring that "the cultural market will no longer be a paradise for sissy stars" and for the "worshipping of Western culture".
What about globally?
Xi's vision is for China to become the dominant global power by mid-century, but he has made countless "unforced errors on the international stage, says economist Noah Smith. His "swaggering, bellicose approach" has led to other countries in the region hardening their attitudes against "a superpower they once considered a potential partner". Needlessly alienating India over relatively minor border issues is a particular blunder. The Belt and Road initiative – Xi's big plan to build infrastructure in other nations to secure diplomatic fealty and access to natural resources – is also losing momentum.
Is Xi's position secure?
Tensions over slowing economic growth, draconian Covid-19 lockdowns and Beijing's dilemma over how far to back Russia's war on Ukraine could boil over. And in the long run, all repressive one party states are vulnerable to collapse, says historian Edward Luttwak on Unherd. Henry Kissinger once predicted that, as China slowly rises to economic parity with the US, Chinese leaders would seek to arrange a "G2" world of dual superpowers with the US. "Always improbable, G2 became impossible when Xi arrived.
For him only G1 is good enough," argues Luttwak. "Not because he is a megalomaniac, but the opposite: he thinks, accurately, that unless the Party establishes an unchallenged global hegemony, with its rule deemed superior to democratic governance, Communist China will collapse just as Soviet rule did. He is right." Given that need for hegemony, it is not hard to envisage a scenario in which Xi overreaches in the coming years, and triggers an armed confrontation serious enough to disrupt trade.
If that happens, "malnutrition will not be far behind, because of China's critical dependence on imported animal feed". If Xi Jinping falls, "pork prices could be the cause".
Simon Wilson's first career was in book publishing, as an economics editor at Routledge, and as a publisher of non-fiction at Random House, specialising in popular business and management books. While there, he published Customers.com, a bestselling classic of the early days of e-commerce, and The Money or Your Life: Reuniting Work and Joy, an inspirational book that helped inspire its publisher towards a post-corporate, portfolio life.
Since 2001, he has been a writer for MoneyWeek, a financial copywriter, and a long-time contributing editor at The Week. Simon also works as an actor and corporate trainer; current and past clients include investment banks, the Bank of England, the UK government, several Magic Circle law firms and all of the Big Four accountancy firms. He has a degree in languages (German and Spanish) and social and political sciences from the University of Cambridge.