The long arm of Xi Jinping as China projects "soft power"
Like most countries, China is dedicated to projecting soft power and building links with institutions abroad. Unlike most other countries, that is rattling Western governments.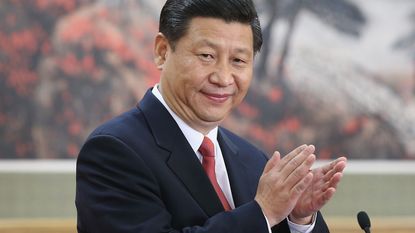 (Image credit: © Feng Li/Getty Images)
Who is Christine Lee?
She's an apparently very respectable Chinese solicitor in London who has moved in Westminster circles for years, working as an advocate for Sino-British nationals in British politics, rubbing shoulders with former prime ministers and winning a gong from Theresa May. All the while – according to MI5 – Lee was working for the Chinese state for the purposes of "covert political interference" in the UK's affairs.
She hasn't done anything criminal and is not facing prosecution. But she is accused of working "on behalf of the United Front Work Department (UFWD) of the Chinese Communist Party (CCP)", which, says MI5, seeks to "covertly interfere" in UK politics through links with "established and aspiring parliamentarians across the political spectrum" and to "cultivate relationships with influential figures".
What is the United Front?
The United Front is a branch of the CCP dedicated to building and wielding external influence. It was first established during the Chinese civil war, and was regarded by Mao Zedong as one of his three "magic weapons", alongside armed struggle and party-building. The Front was reformed in 1979 under Deng Xiaoping, and under Xi Jinping the CCP has invested heavily in the agency.
Subscribe to MoneyWeek
Subscribe to MoneyWeek today and get your first six magazine issues absolutely FREE
Get 6 issues free
Sign up to Money Morning
Don't miss the latest investment and personal finances news, market analysis, plus money-saving tips with our free twice-daily newsletter
Don't miss the latest investment and personal finances news, market analysis, plus money-saving tips with our free twice-daily newsletter
Many countries, including Britain, aim to promote their national interests by projecting soft power. But it would be a mistake to think of the UFWD in this way, says Ben Macintyre in The Times. It might sound "innocuous, just another department in the acronym-forest of Chinese bureaucracy", but it is one of the most "formidable and sinister arms of the communist state, a vast, growing, highly sophisticated, massively funded, intensely secretive, multifaceted extension of Chinese political influence and control", both domestically and globally.
Why sinister?
Because China remains a one-party surveillance state where ethno-religious minorities are subjected to systematic repression that arguably amounts to genocide, and the UFWD is dedicated to consolidating that party's grip on power. Part of its remit is to "suppress overseas protest, monitor loyalty within the Chinese diaspora and ensure ethnic, religious, ideological and cultural conformity". It is also accused of being used by the Chinese Ministry of State Security to steal technology and run covert operations.
China is increasingly focused on promoting its interests by spending money to shape the public discourse in a Beijing-friendly direction – targeting universities, think tanks, scholars, journalists, politicians, business people and officials around the world.
What's wrong with educational links?
Nothing, but critics say China's aims are not benign. Chinese funding of the China Centre at Jesus College, Cambridge – and a related professorship – is an example of pro-Beijing influence being blatantly purchased, claims Freddie Hayward in The New Statesman. Inevitably, reliance on Chinese funding leads to what Tory MP Tom Tugendhat calls the "gentle drip, drip, drip of silence" as academics self-censor and shy away from contentious topics.
More broadly, nine UK universities now depend on Chinese students for more than 20% of their tuition-fee income, leaving them vulnerable to pressure. Last year, Human Rights Watch documented the growing harassment and pressure faced by Chinese students in Australia for expressing pro-democracy views.
And here?
Something similar can be seen in the UK, says Ian Williams in The Spectator. For example, Confucius Institutes and the China Students and Scholars Association are ostensibly cultural and welfare organisations. Yet the latter is a United Front body, and "both have been accused of peddling propaganda, spying on students and intimidating critics".
It's important, of course, that concern about Chinese influence doesn't tip over into a witch hunt, or become tinged by racism – that is the accusation levelled by some commentators in the US over the government's drive to counter Chinese influence in universities. Last month federal prosecutors recommended that the Justice Department drop criminal charges against Gang Chen, an MIT mechanical engineering professor accused of hiding his China ties – but fiercely defended by his colleagues. It's one of several cases, says Aruna Viswanatha in The Wall Street Journal, where the authorities have appeared overzealous in pursuing innocent academics.
What about journalists?
China has invested approximately $6.6bn since 2009 in building up its global media presence, according to Raksha Kumar in a recent essay for the Reuters Institute. Beijing once focused on censoring its own media and trying to control the activities of foreign correspondents based in China. Now, in the words of Xi, its new media strategy is to "tell China's story well" and boost its international influence.
How is it doing that?
By establishing print outlets such as China Daily and setting up TV news channels such as the China Global Television Network, with offices in Beijing, Nairobi, Washington and London. But it also includes exchange programmes and training for foreign journalists in China, providing state media content free of charge to foreign outlets, paying for entire supplements in foreign newspapers, and wooing journalists with lavish "study tours" in exchange for favourable coverage.
There's nothing new about governments seeking positive coverage by offering freebies or privileged access to journalists. But China remains a repressive one-party state that does not accept a plurality of views. There may be something faintly comic about the idea of China trying to win influence via a London solicitor donating to the office of Labour MP Barry Gardiner. But the work of the UFWD is deadly serious.
Simon Wilson's first career was in book publishing, as an economics editor at Routledge, and as a publisher of non-fiction at Random House, specialising in popular business and management books. While there, he published Customers.com, a bestselling classic of the early days of e-commerce, and The Money or Your Life: Reuniting Work and Joy, an inspirational book that helped inspire its publisher towards a post-corporate, portfolio life.
Since 2001, he has been a writer for MoneyWeek, a financial copywriter, and a long-time contributing editor at The Week. Simon also works as an actor and corporate trainer; current and past clients include investment banks, the Bank of England, the UK government, several Magic Circle law firms and all of the Big Four accountancy firms. He has a degree in languages (German and Spanish) and social and political sciences from the University of Cambridge.