A discounted REIT to buy now
This real estate investment trust is carving out a niche for itself by recycling old offices. Investors should take advantage of the discount and buy now, says Max King.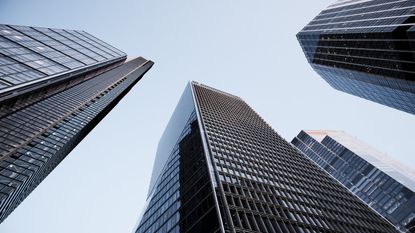 (Image credit: © Getty Images)
Derwent London (LSE: DLN), a London-focused REIT has plenty of experience re-engineering old buildings, which should help it capitalise on current property trends across the capital.
"Refurbishment was our bread and butter," says Director Nigel George, "notably the refurbishment of tired multi-let buildings." Now, new builds account for around two-thirds of Derwent's development pipeline and refurbishment only one-third but "we will do more in the future."
He points out that the carbon "cost" of refurbishment is only around half that of re-build but, perhaps more importantly, so is the construction cost. With inflation in building costs of 11% last year (but only "low single digit this year") there is a move towards refurbishment but, asks George, "will the rental value also be only half of the rebuild value? Tenants are a lot more discerning these days and refurbishment may not be able to deliver the required amenities."
Subscribe to MoneyWeek
Subscribe to MoneyWeek today and get your first six magazine issues absolutely FREE
Get 6 issues free
Sign up to Money Morning
Don't miss the latest investment and personal finances news, market analysis, plus money-saving tips with our free twice-daily newsletter
Don't miss the latest investment and personal finances news, market analysis, plus money-saving tips with our free twice-daily newsletter
"Amenities" means catering areas, informal meeting places, quiet zones and leisure spaces. Gregory adds "occupiers, especially large corporate ones with net zero commitments, are also demanding the highest possible energy efficiency." This has also become a regulatory requirement with the introduction of Energy Performance Certificates (EPCs). Though exemptions are available if the necessary improvements are not financially viable, few will want to own such buildings.
These requirements can be more difficult to accommodate in a refurbished building, even if it is stripped back to its core skeleton. The key, says George is the floor-to-ceiling height of the building. If it dates to the 1980s or later, there is likely to be sufficient space to accommodate ventilation and cabling but in older buildings, the space will probably be insufficient.
"People won't spend money on regeneration if they can't get a return," says George, but how many planning authorities in their eagerness to embrace "net zero" appreciate that?
A REIT trading at an underserved discount
In the West End, Derwent's key market, the vacancy rate is 3.7%, below the long-term average, but there is plenty of lower-quality secondhand space available. In many areas outside London, rising refurbishment and financing costs could result in these properties becoming so-called 'stranded assets' or assets no buyer wants to touch.
This is not a problem for Derwent (capitalised at £2.5bn) but its shares still trade at a 40% discount to the net asset value (NAV) per share. NAV fell 8.3% last year, but net rental income rose 6%, and the vacancy rate at the end of 2022 was 5% with 2023 lettings included - below the Central London average of 8.2%
A loan-to-value ratio of 24% (debt to NAV) leaves the company with plenty of financial headroom to
develop its property pipeline.
Derwent's focus on the West End and around the City is paying off. Thanks to a shortage of supply, the demand for space remains strong and rental values are expected to rise modestly in 2023. The dividend yield is only 2.5% but that reflects a significant development pipeline.
You have to be very pessimistic about the outlook for the UK in general and London, in particular, to see the shares as anything but the wrong price.
Max has an Economics degree from the University of Cambridge and is a chartered accountant. He worked at Investec Asset Management for 12 years, managing multi-asset funds investing in internally and externally managed funds, including investment trusts. This included a fund of investment trusts which grew to £120m+.
Max has managed ten investment trusts (winning many awards) and sat on the boards of three trusts; two directorships are still active.
After 39 years in financial services – including 30 as a professional fund manager – Max took semi-retirement in 2017.
Max has been a MoneyWeek columnist since 2016 writing about investment funds in magazine and more generally on markets online, plus occasional opinion pieces. He also writes for the Investment Trust Handbook each year and has contributed to The Daily Telegraph and other publications.
See here for details of current investments held by Max.