The UK economy might avoid a recession, but conditions will remain hard for many
The UK economy may avoid a recession, but growth is set to slump in 2024 as rising interest rates hammer Britain's economy.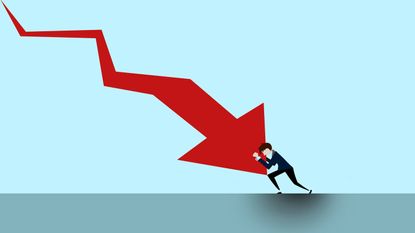 (Image credit: © Getty Images)
The UK economy will avoid a recession despite higher interest rates but it will feel a lot like one for millions of households amid weak GDP growth and inflation, according to the British Chambers of Commerce (BCC).
The BCC said it expects overall growth of 0.4% for the year and also slashed its forecast for the next two years. It expects the UK economy to grow by 0.3% in 2024, rising to 0.7% in 2025.
This means the UK economy remains on course to avoid a technical recession, but growth is likely to remain so weak that it will be hard to notice the difference, the BCC warns.
Subscribe to MoneyWeek
Subscribe to MoneyWeek today and get your first six magazine issues absolutely FREE
Get 6 issues free
Sign up to Money Morning
Don't miss the latest investment and personal finances news, market analysis, plus money-saving tips with our free twice-daily newsletter
Don't miss the latest investment and personal finances news, market analysis, plus money-saving tips with our free twice-daily newsletter
"The BCC's latest forecast shows the UK economy is continuing to teeter on the edge of a recession. But the fact is, that with growth predicted to hover so close to zero for three years, it will still feel a lot like one for most people and businesses," says Vicky Pryce, senior member of the BCC Economic Advisory Council
"The impact this will have on consumer spending, coupled with a poor trade performance, will only generate more uncertainty for firms," she adds.
The BCC also cut its forecast for the next two years, as the UK economy is hit by a double whammy of rising inflation and high interest rates.
"Consistently low economic growth of this nature is comparable to previous periods of economic shocks and recessions such as the oil crises of the 1970s and financial crash of 2008," the BCC says.
UK economy recession concerns grow
Recession concerns in the UK have resurfaced after data showed that business activity in the UK's services sector fell last month for the first time since January.
UK composite Purchasing Managers' Index (PMI) unexpectedly fell to 47.9 in August, down from 50.8 a month earlier. It was a surprise contraction, given that analysts expected business activity to continue to expand, having forecast a reading of 50.3.
The PMI assesses the health of an economy's services and manufacturing sector. Any reading above 50 is considered to show the sector is growing, while anything below represents a contraction.
Chris Williamson, chief business economist at S&P Global Market Intelligence, says: "The early PMI survey for August suggests that inflation should moderate further in the months ahead, but also indicates that the fight against inflation is carrying a heavy cost in terms of heightened recession risks."
Jeremy Hunt has previously said he is comfortable with the UK being plunged into recession if that's what it takes to bring down inflation.
Asked in May by Sky News whether he was comfortable with the Bank of England (BoE) doing whatever it takes to bring down inflation, even if that potentially would precipitate a recession, he said: "Yes, because in the end, inflation is a source of instability.
"And if we want to have prosperity, to grow the economy, to reduce the risk of recession, we have to support the Bank of England in the difficult decisions that they take."
Despite avoiding the two consecutive quarters of decline that make a technical recession, the Office for Budget Responsibility (OBR) still expects the economy to shrink by 0.2% in 2023.
Inflation to fall to 2.9% by end of 2023
The Office for Budget Responsibility says it expects inflation to more than halve to 2.9% by the end of the year.
Currently, the rate of CPI inflation sits at 6.8%. And while the rate of price increases has slowed over the last two months it remains higher than the BoE's 2% target.
But the OBR remains optimistic, despite the risks ahead. "The OBR's inflation forecast is less than half of that expected by the majority of economists," says George Lagarias, chief economist at Mazars.
"Developed markets as a whole are expected to see year-end inflation above 5% so 2.9% in the UK is ambitious."
The good news is wages are starting to outpace rising prices.
Annual growth in regular pay, excluding bonuses, was 7.8% between April to June 2023 - the highest regular annual growth rate since records began in 2001.
Annual average regular pay growth for the private sector was 8.2%, the largest annual growth rate seen outside the pandemic.
Nic studied for a BA in journalism at Cardiff University, and has an MA in magazine journalism from City University. She joined MoneyWeek in 2019.
With contributions from