UK home sellers cut £14,000 off their asking prices as the buyers' market returns
The latest house price index from Zoopla shows sellers are accepting a 4.5% discount on asking prices to secure a sale as the property market cools down.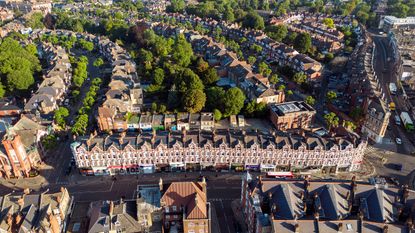 (Image credit: © Getty Images)
Property buyers are forcing sellers to knock as much as £14,000 off house prices on the market as the UK property market cools.
The latest house price index from online property portal Zoopla shows sellers are having to accept an average discount of 4.5% on asking prices to achieve a sale, the highest in five years, as buyers become more cautious.
As the Bank of England has hiked interest rates, mortgage rates have surged, pricing many buyers out of the market and forcing others to rethink their moving plans and what's affordable. Indeed, earlier in February, the Royal Institute of Chartered Surveyors reported buyer demand was at its lowest since 2009.
Subscribe to MoneyWeek
Subscribe to MoneyWeek today and get your first six magazine issues absolutely FREE
Get 6 issues free
Sign up to Money Morning
Don't miss the latest investment and personal finances news, market analysis, plus money-saving tips with our free twice-daily newsletter
Don't miss the latest investment and personal finances news, market analysis, plus money-saving tips with our free twice-daily newsletter
According to Zoopla, the average house price increased £42,000 over the pandemic, but some of these gains are now melting away as buyers push for bargains.
Is the buyers' market returning?
Despite turbulence in the sector, falling house prices could mean it's now a good time to buy a house.
"Discounts to asking price are larger than in the pre-pandemic years and reflect the rapid transition from a hot sellers' market - where most buyers had to pay the asking price over much of 2021 and 2022 - to a buyers' market," says Zoopla.
"This transition to a buyers' market is accompanied by nationwide repricing as the market adjusts to the reduction in buying power thanks to higher mortgage rates impacting buyer affordability."
Mortgage rates hit a peak of 6.65% after the mini-Budget in September. They have since fallen to around 4% to 5%, and lenders are starting to offer rates below the base rate for the first time since September 2022.
But to put things in context, mortgage rates a year ago averaged 2%. So, even if buyers can lock in a 4% interest rate, they're still likely to have less purchasing power than they did at the beginning of 2022.
"Many homeowners are sitting on sizable house price gains made over recent years and have more room to be flexible accepting offers below the asking price," says Richard Donnell, executive director at Zoopla.
"Discounts to asking price have widened and while 4% to 5% discounts are manageable, if these were to widen further then this would point to a greater likelihood of larger house price falls."
"We're definitely in a buyers' market, and we can see clear signs of a slowdown," says Sarah Coles head of personal finance at Hargreaves Lansdown. "The annual increase in asking prices is now just 5.3% and has been shrinking with each passing month. Buyer demand has fallen by half from last year, and sales volumes are down by a quarter."
Additionally, the volume of properties for sale has increased by 60% from 2022. "More properties on the books means those buyers who remain are able to drive a harder bargain," says Coles.
"It means the gap between asking and selling prices isn't just wider than we saw during the boom years – it's wider than before the pandemic. We still expect house prices to drop during 2023, and for sales to freeze up. Zoopla says we could get year-on-year falls as early as the summer."
Where next for the property market?
Zoopla is forecasting a "soft landing" for the property market, expecting house prices to fall 5% this year.
"Property is in the bargain bin, but it's not necessarily heading for landfill," says Coles. "It's worth bearing in mind that we're not seeing new demand lows – we're actually still ahead of interest levels in the two years before the pandemic."
Data from Halifax shows UK house prices rose by 20.4% over the last three years, an increase of £48,620, compared to just 7.8% over the previous three-year period.
At the start of the pandemic property transactions all but ground to a halt. But that was followed by a sharp increase due to a combination of low mortgage rates, stamp duty cuts put in place to support the market, an increase in people's savings and the "race for space."
So, while the property market appears to be cooling down, it doesn't look to be headed for a crash – just a return to average levels of growth.
"Mortgage rates have now dropped back significantly from the peaks in the autumn, and although they are still far more expensive than a year ago, the fact they're on their way down could help rebuild some of the confidence crushed by surging rates at the end of last year," says Coles.
"It's unlikely to be enough to see the return of the sellers' market, but it could help avoid catastrophic house price falls."
Nic studied for a BA in journalism at Cardiff University, and has an MA in magazine journalism from City University. She joined MoneyWeek in 2019.