Financing an electric vehicle – which deal is best?
HP, PCP, lease or subscription? Find out the best way to finance a new electric vehicle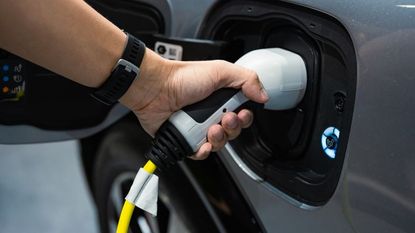 (Image credit: © Getty images)
The popularity of electric cars is surging. Rising fuel costs, environmental concerns and an influx of new makes and models are spurring more motorists to ditch the petrol pump where prices have been rising for a plug.
Electric vehicles (EVs) accounted for more than one in three registrations throughout March. according to the Society of Motor Manufacturers and Traders (SMMT) – a clear indication of their growing popularity. You may already be a driver of the 712,000 EVs currently on UK roads, according to the RAC.
Low running costs and zero emissions are the two major selling points for EVs, but one factor is prohibitive – the cost.
Subscribe to MoneyWeek
Subscribe to MoneyWeek today and get your first six magazine issues absolutely FREE
Get 6 issues free
Sign up to Money Morning
Don't miss the latest investment and personal finances news, market analysis, plus money-saving tips with our free twice-daily newsletter
Don't miss the latest investment and personal finances news, market analysis, plus money-saving tips with our free twice-daily newsletter
"Electric cars remain an expensive choice," says the AA. While older models are now available on the second-hand market for less than £10,000, the average cost of new models is around £50,000, according to NimbleFins.
If you're asking whether now's the right time to buy an electric vehicle, here's what you need to know.
Is now a good time to get an EV?
EVs have been mainstream for a few years now. We looked at them here at MoneyWeek back in 2019, and found that, given how many new models had emerged, there was no need to drive "something clunky and ugly" – especially when you'd also get to feel "mildly smug about helping the environment".
All of that still stands true, and factoring in the fuel costs for petrol cars, emissions penalties and Ultra Low Emission Zone (ULEZ) restrictions, the case for getting an EV is increasingly strong.
But EVs do cost more upfront and there is now less financial support for would-be EV drivers.
The Department for Transport (DfT) previously offered a subsidy for plug-in hybrid and electric cars to reduce purchase costs and encourage sales. The scheme was dropped after the government said it had "succeeded in creating a mature market for ultra-low emission vehicles".
How to lease an EV
Much like any other vehicle, you can hire an EV through leasing, personal contract hire or hire purchase. Each of these approaches differs, so it's important to opt for the scheme that makes the most financial sense for you and your needs.
Leasing is currently the most popular and most affordable option for financing an electric car, according to the RAC.
Some deals can be as low as £200 a month, although expect to pay more than twice that for a Tesla or Volvo – two of the most popular brands for high-end EVs.
But remember: when leasing a car, you don't own it. There may be constraints, such as a mileage limit, and you won't be able to make any modifications to the vehicle.
One popular route for leasing an EV is through a salary sacrifice scheme. In this instance, an employer leases the electric vehicle through a finance company and offers the scheme to their employees as a perk, as DriveElectric explains.
This can work out favourably for the employee, as payments are made out of their monthly salary before tax – cutting their contributions each month.
Although you will still be liable for a benefit in kind tax charge, it is currently at a low rate of 2%. This rate will slowly rise, however, so it may be worth taking advantage of it while you can.
Personal contract purchase (PCP) or hire purchase (HP)?
Another popular form of financing is a personal contract purchase (PCP) deal, where you pay an initial deposit and borrow towards some of the car's remaining value. Once the contract ends you have a decision to make – either pay a final larger payment and keep the car for good, or simply return it.
Hire purchase (HP) agreements are also popular. These deals are fairly straightforward and can often be cheaper than PCPs. You spread the cost of a new electric car over a fixed period and own it at the end, and, while monthly payments tend to run higher than on a PCP deal, the balance on your finance will reduce more quickly with an HP.
But an HP agreement may not be the most practical option for an EV, warns the RAC, as "the rate of development in the field of battery technology is such that you could find that your EV is slightly outdated and outmoded by the end of the contract".
If you want to own the vehicle, another option is to get a car loan. "You'll own the car outright from when you take out the loan, paying back the debt in monthly payments," according to MoneySuperMarket.
One other option is an EV subscription from the likes of Volvo or Hyundai. These work much in the same way as a lease, as you'll never own the car outright. But they do have other services, including maintenance, breakdown cover and tax, bundled into one fixed monthly cost. Contracts typically last from one to 24 months and so can be a good way to see if an EV suits your lifestyle and needs.
But, as Maria McCarthy warns in the Evening Standard, EV finance deals can be "complex", with plenty of variables including mileage allowances, fees for vehicle damage, insurance, a charge for additional drivers and maintenance fees.
It's vital you spend time studying the small print, as being locked into a deal could prove costly in the long term.
And while EVs look set to become the future of motoring, not everyone should immediately buy one. If it suits your needs and your budget, consider taking advantage of the deals and incentives currently on offer. As the EV market matures, the cost of owning one is expected to fall, so it may be worth holding off until they become more affordable.
Tom is a journalist and writer with an interest in sustainability, economic policy and pensions, looking into how personal finances can be used to make a positive impact.

He graduated from Goldsmiths, University of London, with a BA in journalism before moving to a financial content agency.
His work has appeared in titles Investment Week and Money Marketing, as well as social media copy for Reuters and Bloomberg in addition to corporate content for financial giants including Mercer, State Street Global Advisors and the PLSA. He has also written for the Financial Times Group.
When not working out of the Future's Cardiff office, Tom can be found exploring the hills and coasts of South Wales but is sometimes east of the border supporting Bristol Rovers.