Is now a good time to sell a house?
Data reveals property asking prices are falling at their fastest rate since 2011. If you're thinking of selling your house, would it be better to wait or should you take the plunge?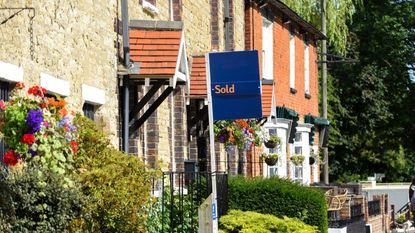 (Image credit: © Getty images)
Asking price growth is slowing and homeowners are taking larger discounts to sell their home as the UK property market continues to experience a slowdown due to rising interest rates and higher mortgage pricing.
Sellers are cutting their asking prices at the fastest rate since 2008, with house prices falling 0.8% annually to reach £368,231, according to property website Rightmove's October house price index.
The market usually has a mini revival at this time of year after the summer slump but average asking prices were up just 0.5% between September and October.
Subscribe to MoneyWeek
Subscribe to MoneyWeek today and get your first six magazine issues absolutely FREE
Get 6 issues free
Sign up to Money Morning
Don't miss the latest investment and personal finances news, market analysis, plus money-saving tips with our free twice-daily newsletter
Don't miss the latest investment and personal finances news, market analysis, plus money-saving tips with our free twice-daily newsletter
Meanwhile, Zoopla has recorded a 2% reduction in home sales so far this year as it warns higher mortgage costs and the costs of living crisis has pushed down by a fifth annually and 25% below the five-year average for October.
These drops have been reflected in other house price indices in recent months, with Halifax and Nationwide both reporting drops at levels not seen sine 2009.
However, the latest Nationwide House Price Index for October showed a surprise 0.9% monthly rises in prices, which were still down 3.3% annually.
This paints a confusing picture for sellers, but overall most commentators say prices are going to drop further as the property market cools.
Falling house prices may be good news for prospective buyers, but if you're thinking about selling your house, should you wait or take the plunge today?
Is now a good time to sell a house?
Whether or not now is a good time to sell will really come down to a seller's individual circumstances, says Karen Noye, mortgage expert at Quilter. "In times of uncertainty it can pay to take a wait and see approach – particularly if there is a risk of making a loss - but not everyone's situation will allow for this."
If you're thinking of selling and using that money to buy a new home, the first place to start is looking at how reducing the price of your property is going to impact your finances moving forward.
"If the property you are looking to buy is likely to also cost less due to the current market conditions, your finances add up, and it is the right property for you that ticks all the boxes for both now and in the longer term, then it may make sense to sell and make that move," says Noye.
But if you do not intend to buy after you sell, holding off might be a better option as house prices are likely to rebound in the longer term.
"However, while the markets are looking more stable now compared to the end of last year, we still have a way to go and it could be some time before house prices start to climb again," says Noye. So, you might end up having to hold on to your property for longer than you want to.
"If you are in this position, you will need to seriously consider whether holding onto the property for the time being is viable or not."
You will also want to look at prices in your area, and prices for the type of home you're selling, so that you have a point of comparison and a higher chance of selling.
If you're thinking of selling you'll also have to consider the costs of doing so. This can include estate agent fees, legal fees, stamp duty tax, and capital gains tax. So if you're selling because you would like to free up some money, weigh up whether it will be worth it after costs.
Sellers must be "realistic" about asking prices
The data from Rightmove showed sellers are having to adjust their expectations.
Sarah Coles, head of personal finance at Hargreaves Lansdown, says it is "perfectly understandable" after having seen prices rise so far that sellers will hope that continues.
"In reality, however, prices have turned, and if sellers don't realise this up-front, they're likely to sell for less in the end," she says.
"They'll waste the initial interest in their property, because buyers will baulk at the price. They'll then have to cut – at least once – which buyers may read as off-putting levels of desperation. Being too optimistic can be an expensive mistake in a market like this one."
Noye cautions sellers about getting overexcited about Nationwide's unexpected monthly rises in prices during October.
"Though inflation has continued to lower, house prices are nowhere near keeping up with the level of inflation elsewhere in the economy – particularly as Nationwide reported house prices are down 3.3% year on year," she adds.
"The Bank of England is also widely expected to keep interest rates higher for longer, which will pile continuous pressure on those with mortgages and will make taking the first step onto the property ladder unaffordable for many."
What's happening with house prices?
Average mortgage rates have gone above 6% in recent months but are starting to fall, according to Moneyfacts data. This is still higher than the low rates of 1% to 2% that many buyers will be used to, so the more expensive pricing is hitting buyer budgets.
That appears to be filtering through to mortgage approvals and house prices.
The number of mortgage approvals hit an eight-month low in September, according to Bank of England data. There were 43,300 approvals for house purchase during the month, down 4.6% from August
All house price indexes measure growth differently, but the downward trend also seems to be present across the board.
As we mentioned before, Nationwide and Halifax reported annual falls. Meanwhile Zoopla expects the number of property sales to fall to its lowest level since 2012.
And the Royal Institution of Chartered Surveyors also said the outlook for the UK housing market is getting worse, warning the sector is facing its bleakest outlook since 2009.
Both Lloyds and Halifax expect house prices to fall 8% in 2023, while Nationwide and Zoopla are predicting falls of 5%. The Office for Budget Responsibility (OBR) expects prices to fall 9% over the next two years, while Moody's has a more pessimistic 10% prediction.
Marc Shoffman is an award-winning freelance journalist specialising in business, personal finance and property. His work has appeared in print and online publications ranging from FT Business to The Times, Mail on Sunday and The i newspaper. He also co-presents the In For A Penny financial planning podcast.
With contributions from