Should you buy an electric car?
Battery-electric cars aren't cheap to buy, but they cost less to run. Alex Rankine runs the figures.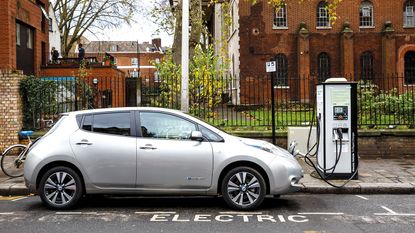 (Image credit: © Miles Willis/Getty Images)
Is it time to go electric? Car marketplace Auto Trader reports that searches for used electric cars spiked by 61% during the height of the UK petrol crisis last month. When there were tailbacks at petrol stations, the idea of a vehicle that only requires a plug socket to run seemed enticing. But does it make financial sense?
As a rule, electric vehicles (EVs) cost more up front but are then cheaper to run. Shane Hickey in The Guardian gives the example of the electric Nissan Leaf, which at £27,995 is more than £5,000 dearer than the Ford Focus, a comparable petrol model. A government grant of up to £2,500 for vehicles under £35,000 helps lower the price, although some EVs are advertised with the discount already applied.
A survey by insurer LV= calculated that EV drivers who do 12,000 miles a year will spend about £500 annually on electricity, compared to £1,435 for a petrol or diesel. To achieve those savings it is crucial to charge at home, preferably with a specialist tariff, says Hickey: energy companies offer rates as low as 4.5p per kilowatt hour (kWh) for overnight charging, compared to the 12-15p per kWh usually paid for household electricity. Public charging points cost anywhere from 24p per kWh to 69p per kWh for fast charging at motorway stations. Buyers will need off-road parking and a charging unit, say Paul Hudson and Alex Robbins in The Daily Telegraph. It costs about £800, but state grants can cut the price to around £300 for lower-end options.
Subscribe to MoneyWeek
Subscribe to MoneyWeek today and get your first six magazine issues absolutely FREE
Get 6 issues free
Sign up to Money Morning
Don't miss the latest investment and personal finances news, market analysis, plus money-saving tips with our free twice-daily newsletter
Don't miss the latest investment and personal finances news, market analysis, plus money-saving tips with our free twice-daily newsletter
There are other savings from running an EV, says Stuart Masson for The Car Expert. Electric car users pay no vehicle tax and are exempt from urban congestion and emissions charges. Servicing costs should also be lower because an EV has fewer moving parts than a traditional car. "Range anxiety" is common, but battery technology and charging point availability is improving.
"If most of your driving is shorter trips around town and you do fewer than 100 miles a week... [an EV] isn't likely to be a problem for most of your needs." Still, note that it is easier to run an EV in a city (more than a quarter of UK charging points are in London) than in the countryside.
Best for your business
There is one group for whom EVs are a no-brainer: company-car drivers. "When an employee receives a vehicle for personal use from their employer, this is classed as a 'perk' (or benefit in kind [BiK]), which is taxable", says Stephen Errity for Driving Electric.
The upshot is that while petrol and diesel vehicles are taxed at a BiK rate of up to 37%, EVs attract just a 1% rate (rising to 2% from next April). This salary-sacrifice arrangement sees "car lease payments… deducted from your gross salary, so you [and your employer] will pay less income tax and national insurance", says Miles Brignall in The Guardian. A higher-rate taxpayer leasing a Tesla Model 3 for 48 months could cut their monthly leasing cost from £524 to £267.
One day we will all be driving EVs. The government plans to ban the sale of new petrol and diesel cars by 2030, says Alistair Charlton in Wired. Sales are rising rapidly, but EVs still only comprise about 10% of new UK car sales. High upfront costs price out those on modest incomes, while the hope that the technology will be even better in a few years deters some from switching now.