Tencent shares dive as China targets video games industry
In its latest crackdown on Big Tech, the Chinese government is taking on the video games industry. That's caused internet giant Tencent's share price to tumble. Saloni Sardana looks at what's going on.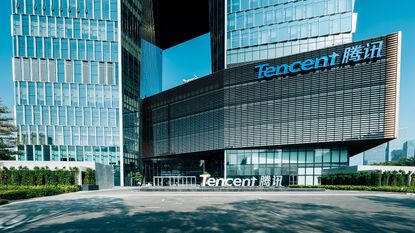 (Image credit: © Getty Images)
China's ongoing crackdown on different segments of the economy took yet another twist on Tuesday.
Hong Kong-listed shares in internet company Tencent – which makes 30% of its revenue from its online games business – fell as much as 12% on Tuesday after China released an article likening the video games industry to "spiritual opium" and "electronic drugs".
The article was written by the Economic Information Daily, a newspaper backed by the state-backed Xinhua Agency, and said that minors were addicted to virtual games and called for sweeping reforms to the industry.
Subscribe to MoneyWeek
Subscribe to MoneyWeek today and get your first six magazine issues absolutely FREE
Get 6 issues free
Sign up to Money Morning
Don't miss the latest investment and personal finances news, market analysis, plus money-saving tips with our free twice-daily newsletter
Don't miss the latest investment and personal finances news, market analysis, plus money-saving tips with our free twice-daily newsletter
The article, which has now been deleted, did not explicitly name Tencent but made references to the Chinese video gaming's flagship game, the "Honour of Kings".
"No industry, no sport, can be allowed to develop in a way that will destroy a generation," the newspaper said, likening online video games to "electronic drugs," according to Reuters.
Shares in rival video game firms also took a hit, with the likes of NetEase dropping as much as 15%, XD Inc falling more than 20%, and GMGE Technology Group, a mobile-game publisher down 16%.
How did Tencent react?
Tencent was quick to respond to the indirect criticism, introducing curbs on Tuesday on how long minors can play its "Honour of Kings" game. Video game hours for holiday periods were slashed from 1.5 hours to one hour. For holiday periods, hours were reduced from three to two hours. This helped the company's share price pare some losses, but it was still down by around 6%.
This is not the first time Chinese regulators have attacked the gaming industry, and appears to be the latest move in a series of recent crackdowns launched by China.
China's recent crackdowns
Investors were already reeling from China's crackdown on internet companies in recent days.
But at the end of July, a leaked memo proposed radical changes to the country's $100bn private-sector education industry, including banning companies from accepting foreign investments, banning them from being acquired, prohibiting them from raising funds via the stockmarket and outlawing them from providing tutoring services on weekends and holidays. That sparked a sell-off in both education companies and tech companies in the last week.
China's crackdown on private tutoring came days after Didi Chuxing, a minicab app in the vein of Uber, was removed from domestic app stores shortly after its $4.4bn blockbuster listing on the New York Stock Exchange. The Cyberspace Administration of China (CAC) launched a cybersecurity review into the firm last month to conclude whether it illegally collects and uses its customers' personal data, something Didi denies.
And last November, China suspended billionaire Jack Ma's Alibaba-backed Ant Group's $34.5bn IPO in Shanghai and Hong Kong. Chinese regulators imposed a $2.8bn fine on the Alibaba affiliate earlier this year in April.
Since then, China has been attacking one sector after another.
Why is China doing any of this?
There are multiple theories. Some small education firms went bust as a result of the Covid pandemic, while other larger online education platforms thrived and attracted widespread funding. So part of the reason, perhaps, may be the government trying to bridge the gap in a socialist society.
And it could be argued that Chinese firms embracing big tech abroad and people receiving private education could somehow "Westernise" the country. That's something that would not be well received by the Chinese Communist Party.
What does this mean in practice?
China's latest move has sparked fears that its crackdown is affecting all industries, and online entertainment appears to be the next casualty.
"There is speculation that Chinese healthcare stocks might be next in the firing line," says Richard Allen, investment manager at investment services group Ravenscroft.
Chinese tech stocks suffered the biggest monthly contraction in July, since 2008 at the depths of the global financial crisis.
China's multiple crackdowns has left many investors in doubt, including clients of Goldman Sachs, who are pondering whether China's stockmarket has become too risky to invest in, according to Bloomberg.
Other analysts think China's stringent regulatory environment is overshadowing Asia's economic growth prospects.
"This is turning out to be one of the big stories of 2021 for global markets, overshadowing what many people thought would [be] the key focal point for Asia – namely a year of strong economic growth," says Russ Mould, investment director at AJ Bell.
In a double whammy day for Chinese stocks, companies that make semiconductors for the vehicle manufacturing sector also fell on Tuesday after the government launched an inquiry into potential market price manipulation, although no firms were named.
There's clearly no dull moment when it comes to regulation and China at the moment. Investors may want to wait until China's crackdowns are fully over before snapping up any stocks. But on the flipside, Chinese regulators could also surprise markets with positive news. Bejing called for calm last week after it held a call with senior international executives to reinstate investors' faith after the brutal market rout.
So if you own Chinese stocks via funds, there is less reason to worry, but investing in Chinese stocks directly requires a lot more caution and risk appetite to weather any shock losses.
Saloni is a web writer for MoneyWeek focusing on personal finance and global financial markets. Her work has appeared in FTAdviser (part of the Financial Times), Business Insider and City A.M, among other publications. She holds a masters in international journalism from City, University of London.
Follow her on Twitter at @sardana_saloni