What China's war on tech firms means for investors
In the latest clampdown on Big Tech firms, China has banned local taxi app Didi Chuxing after a $4.4bn US stockmarket listing. And it's not the only government flexing its muscles, says Saloni Sardana.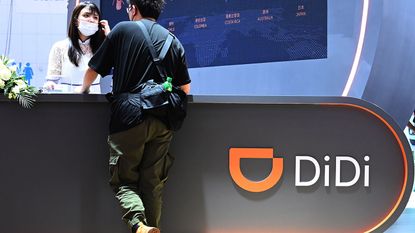 (Image credit: © Li Shengli/VCG via Getty Images)
There's never a dull moment when it comes to China and regulation.
This time it's not a crackdown on bitcoin causing shockwaves across the globe, but rather a crackdown on tech firms listing abroad.
So what does China's "war on tech" mean for your money?
Subscribe to MoneyWeek
Subscribe to MoneyWeek today and get your first six magazine issues absolutely FREE
Get 6 issues free
Sign up to Money Morning
Don't miss the latest investment and personal finances news, market analysis, plus money-saving tips with our free twice-daily newsletter
Don't miss the latest investment and personal finances news, market analysis, plus money-saving tips with our free twice-daily newsletter
China's crackdown on Didi Chuxing
On Sunday, the Cyberspace Administration of China (CAC) ordered that Didi Chuxing, a ride-sharing app, be removed from domestic app stores just days after the giant raised more than $4.4bn in a blockbuster listing on the New York Stock Exchange.
Didi's IPO (initial public offering) was the second biggest ever by any Chinese entity, lagging behind only Alibaba Group's IPO in 2014, reports Bloomberg. The company is the equivalent of Uber in China.
The decision to ban Didi from domestic app stores (which means that local versions of the Apple store won't be able to offer the app, although anyone who has already downloaded it can still use it) came just after the regulator launched a cyber security review into the firm on Friday.
China says the company – which has a market cap of around $68bn – illegally collects and uses its customers' personal data. But the CAC did not say specifically what type of information was being wrongfully used.
The crackdown extends to a number of other tech giants with recent US listings on Monday. These included the subsidiaries of Full Truck Alliance ("Uber for trucks", as The Register describes it), plus recruitment website Boss Zhipin. New users must wait for the outcome of the probe in order to register for these apps.
So what's going on?
Big tech companies have increasingly been targeted by Chinese regulators in recent months. It's not hard to see why China is getting nervous about the growing influence of tech firms, as 34 Chinese companies have raked in more than $12.4bn in New York listings in the first six months of the year alone, reports the Financial Times.
Nor is this the first time Chinese regulators have taken action against Didi and the wider sector. In May, Didi and several other companies were ordered by China's anti-trust regulator to change their practices following allegations of unfair treatment of its drivers.
And before that, China tightened its grip on billionaire Jack Ma's Alibaba-backed Ant last October, which stunned the financial world. Regulators imposed a whopping $2.8bn fine on Alibaba this April, after an antitrust probe concluded the giant had abused its market power.
There are lots of reasons for China's government to flex its muscles. There is plenty of political tension between the US and China on a host of issues including trade, the future of Hong Kong's autonomy, and the source of the Covid-19 outbreak. It's also the 100th anniversary of the Communist party, an occasion on which the party will want to put its best foot forward, as it were.
But there's a more prosaic story here too. The US is having its own competition battles with the tech giants which are fundamentally about power rather than consumer detriment; and the EU has been attempting with varying levels of success to rein in the likes of Google, Apple and Facebook for years.
If democracies are struggling to process the challenge to governments posed by the tech multinationals, then it's entirely understandable that the authoritarian Chinese government is not going to be happy about the idea. Tech companies have built extraordinarily powerful tools for social control – the Chinese government doesn't want anyone else using them.
This is exactly the view endorsed by the Global Times, the pro-Communist Party tabloid, which said: "No internet giant can be allowed to become a super database of Chinese people's personal information that contains more details than the country, and these companies cannot be allowed to use the data however they want."
The news of China's crackdown sent shares in major tech firms, including the likes of Tencent Holdings and Meituan, down. Softbank Group also saw its shares fall by 5% – its Vision Fund is a major shareholder in both Didi and Full Truck Alliance.
Although Didi stressed that the crackdown doesn't affect existing users, it still warned of a hit to its revenues in a statement.
What this means for investors
So how will China's war on tech affect investors?
There is, of course, a high chance that China's actions deter Chinese firms from listing abroad, points out Martin Chorzempa, senior fellow at the Peterson Institute for International Economics.
"Both the Ant IPO cancellation and this action on Didi show that IPOs can be very dangerous in China, shedding light on one's scale and operations that invite regulatory scrutiny," he says.
Investors are – understandably – already treating Chinese companies with a certain degree of caution. While 34 companies have generated more than $12.4bn in New York flotations this year, more than two-thirds of those missed their IPO target, says the FT.
And it's little wonder. As the Didi incident demonstrates, the Chinese government has no qualms at all about pulling the rug out from under foreign investors if it conflicts with their aims.
What about Chinese tech companies which are already listed? Many of these are widely held – via funds, if nothing else – by private investors. The assumption has been that such companies are protected to an extent, because the founders have thus far navigated Chinese politics, and because China has wanted to build its own tech sector.
However, it's clear that we've moved beyond that point now. Chinese tech companies face exactly the same issues as the FAANG stocks (big tech stocks) do in the West – concerns about overly-influential companies run by highly visible billionaire CEOs at a time when wealth inequality is high on the agenda.
The only real difference is that the Chinese government can lash out much more swiftly and unpredictably than most Western governments. As Bloomberg points out, "with Didi's cybersecurity violations, we are entering a world of known unknowns. US investors are on their own." The same goes for UK investors.
You don't necessarily need to steer clear of Chinese tech stocks – particularly if you just own them via a fund – but it's worth being aware that the calculus has changed. There could be very volatile times ahead and diversification is key.
Saloni is a web writer for MoneyWeek focusing on personal finance and global financial markets. Her work has appeared in FTAdviser (part of the Financial Times), Business Insider and City A.M, among other publications. She holds a masters in international journalism from City, University of London.
Follow her on Twitter at @sardana_saloni