What's behind China's stockmarket meltdown?
Chinese stocks fell hard for a third consecutive session on Tuesday. Saloni Sardana explains what's going on.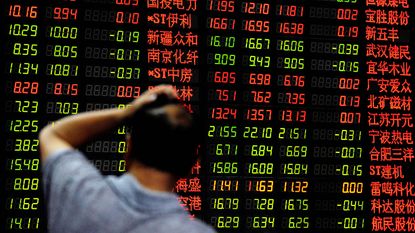 (Image credit: © PHILIPPE LOPEZ/AFP via Getty Images)
Chinese stocks fell hard for a third consecutive session on Tuesday, with Hong Kong's Hang Seng Index down by more than 5% on Tuesday, Tencent down 10%, Alibaba 7% and Meituan 17% – the most it has ever fallen.
So what is going on?
China's tech sector came under increased pressure over a crackdown on the country's private education industry, where a leaked memo proposed a radical overhaul to China's $100bn private sector education industry.
Subscribe to MoneyWeek
Subscribe to MoneyWeek today and get your first six magazine issues absolutely FREE
Get 6 issues free
Sign up to Money Morning
Don't miss the latest investment and personal finances news, market analysis, plus money-saving tips with our free twice-daily newsletter
Don't miss the latest investment and personal finances news, market analysis, plus money-saving tips with our free twice-daily newsletter
On Friday, China took punitive measures against Chinese for-profit educators, including banning them from accepting foreign investments, banning them from being acquired, prohibiting them from raising funds via the stockmarket and outlawing them from providing tutoring services on weekends and holidays.
Stocks took a massive hit on Friday after the news, with education companies such as TAL Education and Gaotu Techedu falling more than 50%. But since Friday, the losses have spread to China's tech stocks.
Why China's latest crackdown has investors worried about tech
So if China's latest crackdown was against the education sector, then why did tech stocks take such a big hit? The education sector is separate from tech, but the news is still causing jitters among investors and causing them to flee from tech stocks as well.
China's latest crackdown comes less than a month after Didi Chuxing, a minicab app in the vein of Uber, was removed from domestic app stores just days after it raised more than $4.4bn in a blockbuster listing on the New York Stock Exchange.
The Didi debacle prompted the Cyberspace Administration of China (CAC) to launch a cybersecurity review into the firm. China alleged that the company – which has a market cap of almost $40bn – illegally collects and uses its customers' personal data.
China's crackdown on tech firms was largely seen as an attempt to undermine Chinese firms that have been thriving abroad through public listings – 34 Chinese tech companies have generated more than $12.4bn in New York IPOs since the start of the year.
It's not the first time China has attacked the sector. In May, China's competition regulator forced Didi and several other companies to change their practices after claims that the company treated its drivers unfairly.
But it was last November when China really began hitting firms hard when it suspended billionaire Jack Ma's Alibaba-backed Ant Group's $34.5bn IPO in Shanghai and Hong Kong. Chinese regulators also slapped the Alibaba affiliate with a $2.8bn fine in April.
So what's next for investors?
China seems to be leaving no stone unturned in clamping down across many sectors. As the Motley Fool puts it: "Beijing's decision wasn't entirely clear, but it's the latest sign of the government's unpredictability and potential for destroying shareholder value with an unexpected decision."
"These stocks do look like bargains after the sell-off, but investors should tread carefully for now as further action from the government will only spark further selling," adds the Motley Fool.
And it emerged last week that global investment banks are rushing to divert Chinese stockmarket listings away from the US to Hong Kong to prevent getting caught up in China's clampdown on Chinese firms listing abroad.
There may also be a rotation out of Chinese tech stocks into US tech stocks, says Wedbush's analyst Dan Ives.
Veteran investor Cathie Wood's flagship ARK Invest Fund has already been offloading Chinese stocks such as Tencent in wake of the latest sell-off in tech stocks.
Chinese stocks are a risky place to be in now. You don't need to avoid them entirely, but brace yourself for much volatility ahead until Chinese regulators signal their crackdowns are over.
Saloni is a web writer for MoneyWeek focusing on personal finance and global financial markets. Her work has appeared in FTAdviser (part of the Financial Times), Business Insider and City A.M, among other publications. She holds a masters in international journalism from City, University of London.
Follow her on Twitter at @sardana_saloni