Chinese tech firms are moving from listing in New York to Hong Kong. Are they worth buying?
Chinese firms listing on the stockmarket are moving away from the US to Hong Kong after China's government clamped down. Saloni Sardana looks at what's going on.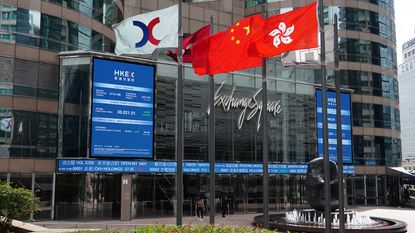 (Image credit: © Zhang Wei/China News Service via Getty Images)
Global investment banks are rushing to divert Chinese stockmarket listings (also known as initial public offerings, or IPOs) away from the US to Hong Kong to prevent getting caught up in China's clampdown on Chinese firms listing abroad, says the Financial Times.
Earlier this month Didi, a minicab app in the vein of Uber, was removed from domestic app stores just days after it raised more than $4.4bn in a blockbuster listing on the New York Stock Exchange.
So what is going on?
Subscribe to MoneyWeek
Subscribe to MoneyWeek today and get your first six magazine issues absolutely FREE
Get 6 issues free
Sign up to Money Morning
Don't miss the latest investment and personal finances news, market analysis, plus money-saving tips with our free twice-daily newsletter
Don't miss the latest investment and personal finances news, market analysis, plus money-saving tips with our free twice-daily newsletter
China's tech war
The Didi debacle prompted the Cyberspace Administration of China (CAC) to launch a cybersecurity review into the firm. China alleged that the company – which has a market cap of around $40bn – illegally collects and uses its customers' personal data.
Companies moving to Hong Kong further reflects how China's aggressive policies are forcing them to reassess their plans. Around 20 companies were looking to raise approximately $2.4bn in New York this year from listings, but China's tightening grip on tech firms has put this into doubt.
"We're speaking to everyone about it. All the Chinese issuers planning New York IPOs are looking at whether they can pivot to Hong Kong," a senior Hong-Kong banker told the FT.
This is not the first time China's tech sector has come under the wrath of regulators. In May, Didi and several other companies were ordered by China's anti-trust regulator to change their practices following allegations of unfair treatment of its drivers.
And before that, China tightened its grip on billionaire Jack Ma's Alibaba-backed Ant last October. Regulators also imposed a $2.8bn fine this April, after an antitrust investigation concluded it had abused its market power.
So why Hong Kong?
China's grip on tech firms has centred around data privacy. And given Hong Kong is closely controlled by China, companies ditching New York in favour of Hong Kong could make it easier for them to list. But is it a sensible move?
Chinese tech firms going public have mostly preferred listing in New York because of its convenience and greater ease of listing – due diligence levels and scrutiny is far greater in Hong Kong.
Another factor that makes New York more attractive is that bankers also get higher fees there, in the range of 5%-7%, compared to just 2% in Hong Kong.
It is not hard to see why Chinese regulators are fretting about US IPOs. Chinese companies raised $12.4bn in 34 IPOs in New York despite escalating tensions between the US and China. This helped raise US banks' revenues, and has been particularly lucrative for the likes of Goldman Sachs and Morgan Stanley.
Relations between both of the world's largest economies are at their worst point in post-war history over a host of issues including trade and Hong Kong's financial status, and both remain at loggerheads on the origins of the Covid-19 outbreak.
Another key point worth noting is that Hong Kong boasts stricter rules, such as minimum profitability requirements.
While this means that "companies would struggle to sell shares in the territory", the banker told the FT, it also potentially eradicates the cloud of uncertainty facing Chinese firms listing in the US and leaves less nasty surprises at the end.
So does that mean Chinese firms listing in Hong Kong are worth a buy?
New York or Hong Kong, one thing is clear: Chinese tech firms are coming under the same scrutiny that Western tech stocks face, with concerns about overly-influential companies run by highly visible billionaire CEOs at a time when wealth inequality is soaring.
Also, while Hong Kong is controlled by China, the territory has been subject to a lot of geopolitical uncertainty over the last two years including protests over a controversial extradition bill as well as the imposition of a Draconian security law which increases China's power over the territory.
So Hong Kong may be seen as a less risky IPO haven compared to New York, but other challenges still persist.
That doesn't mean you should entirely avoid Chinese stocks. Just be mindful that Chinese tech companies listing in Hong Kong doesn't completely eliminate them from the risks facing tech stocks elsewhere.
Saloni is a web writer for MoneyWeek focusing on personal finance and global financial markets. Her work has appeared in FTAdviser (part of the Financial Times), Business Insider and City A.M, among other publications. She holds a masters in international journalism from City, University of London.
Follow her on Twitter at @sardana_saloni