The investment bargains on sale in the UK stock market
Forget Black Friday, here is where savvy investors can pick up bargain UK shares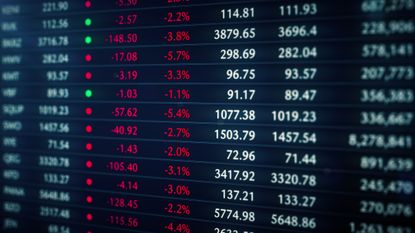 (Image credit: Getty Images)
Shoppers may be on the hunt for bargains during Black Friday and Cyber Monday but savvy investors can also pick up a good deal in the stock market.
UK shares are trading at a significant valuation discount to global equities, according to analysis by investment platform Bestinvest.
The FTSE 100 is down around 1.4% so far this year while the more domestic-focused FTSE 250 is down 3% and the FTSE 350 has fallen 1.62%.
Subscribe to MoneyWeek
Subscribe to MoneyWeek today and get your first six magazine issues absolutely FREE
Get 6 issues free
Sign up to Money Morning
Don't miss the latest investment and personal finances news, market analysis, plus money-saving tips with our free twice-daily newsletter
Don't miss the latest investment and personal finances news, market analysis, plus money-saving tips with our free twice-daily newsletter
Meanwhile, the FTSE All Share Index is down around 1.6%.
It comes amid continuing uncertainty over if the UK is in or entering a recession and the future direction of inflation and interest rates, but this could be an opportunity for investors.
"Weak share prices and low valuations often cause people to place investment decisions on pause or even send them running for the exit, with many only turning back to investing when the economic news is more cheerful, markets are soaring and share prices are high," says Jason Hollands, managing director at Bestinvest.
"For savvy investors, times of market uncertainty present an opportunity to scoop up shares at bargain valuations.
"But there are also pitfalls to avoid as a very depressed valuation can also be a sign that the outlook for a business is grim or the dividend payouts are unsustainable, so never buy a share on a too-good-to-be-true valuation alone."
UK investment opportunities
Investment firm Bestinvest has looked at FTSE 350 companies and calculated the current price per share by the consensus forecast for next year's earnings per share to give a 12-month forward price-to-earnings (p/e) ratio.
The investment platform argues that this is more useful than looking backwards at previous earnings.
The research found that that the UK stock market is trading on a valuation discount to global equities, with FTSE 100 shares trading on prices of around 10 times their 12-month forecast earnings.
That is a third lower than their longer-term median level and also at a deep discount to global equities which are currently trading on 15.7 times forecast earnings.
"UK equities have been unloved by investors for some time, with significant outflows from UK equity funds on the back of gloomy economic predictions," says Hollands.
He says it is a mistake to confuse the UK stock market and economy as one and the same thing as the vast majority of earnings made by larger UK-listed companies are generated internationally.
Bargain UK stocks
Bestinvest's research found that 102 companies in the FTSE 350 index, excluding investment trusts, are currently trading on single digit 12-month forward multiples of less than 10 times their expected earnings over the next year.
Banks and energy companies are especially cheap, Hollands says.
Barclays is trading at a forward 12-month price to earnings ratio of 4.13, while NatWest and Virgin Money are at 5.
Oil giant BP has a forward looking p/e ratio of 6.24 and its rival Shell is at 7.7.
Consumer goods-focused companies such as Imperial Brands and Currys can also be picked up at p/e ratios of 5.8 and 5.9 respectively.
Value funds
Researching shares can be time consuming and pricey depending on the trading fees and investment platform you use.
Another option is to back fund managers and investment trusts who put a strong emphasis on targeting companies they believe are currently undervalued and have recovery potential.
It comes as discounts on investment trusts are also at record levels.
This includes investment trusts that target 'value' situations and unloved British firms.
For example, the Temple Bar Investment Trust, which includes brands such as Shell and Marks and Spencer in its portfolio, is currently trading at a discount to NAV of 5.68%.
The Murray Income Trust, which has major UK brands such as AstraZeneca, Unilever and Diageo in its portfolio, currently has a discount to NAV of 8.02%.
Investors can also get a discount to NAV of 8.64% from Fidelity Special Values, where you will find well-known holdings such as Imperial Brands and Aviva.
"When choosing a fund manager that targets 'value' situations, we typically favour those who have spotted a catalyst for change at an unloved company, such as major restructuring initiative or a fresh management team at the top, that will eventually trigger a reappraisal," adds Hollands.
"Alternatively, another approach is to back fund managers who focus on assessing companies that are undervalued compared to their 'intrinsic value' rather than simply focusing on low price/earnings multiples.
"This involves finding companies that are undervalued against their long-term potential, where the fund manager considers the total worth of a business, such as its assets (including the brand itself) and value of future income streams, rather than only honing-in on recent or forecast profits."
While undervalued shares can provide great opportunities, caution is still important.
"It is always unwise to base a buying decision solely on a share's low price/earnings valuation without considering the quality and outlook for the business," adds Hollands.
"In the words of legendary investor Warren Buffet: 'it's far better to buy a wonderful company at a fair price than a fair company at a wonderful price'.""
Marc Shoffman is an award-winning freelance journalist specialising in business, personal finance and property. His work has appeared in print and online publications ranging from FT Business to The Times, Mail on Sunday and The i newspaper. He also co-presents the In For A Penny financial planning podcast.