The challenge for central Europe – and how to invest
After years of being Europe's fastest-growing region, the Visegrád Group's economic model may be reaching its limit. But central Europe still offers rare value, says Frederic Guirinec.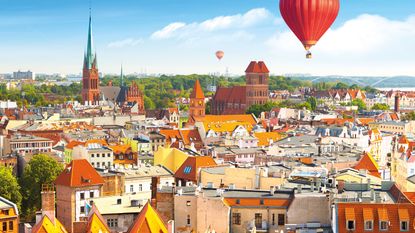 (Image credit: © Getty Images/iStockphoto)
The Central European economies of Poland, the Czech Republic, Hungary and Slovakia – known as the Visegrád Group (see box) – have seen strong average annual growth of 5% since they joined the EU in 2004. The real GDP of the area has more than doubled over this time, driven by foreign investment in capital-intensive industrial production: in 2019, Poland was the leading destination for greenfield foreign direct investment (FDI) in the bloc, with $21.8bn (£17.4bn) invested, compared with $19.2bn in Germany and $15.7bn in France, according to fDi Intelligence.
However, this steady growth could soon be under threat due to dependence on western Europe's capital and markets. The global economic recession may reveal structural issues with the region's economic development and point to what must change if these countries want to become more than a destination for low-cost, high-quality manufacturing.
Coping with Covid-19
Central and eastern Europe have coped well with the pandemic. Governments had time to observe the spread in western Europe and learn from other countries, closing their borders early to significantly limit the pandemic. Now lockdowns are being lifted and activity is increasing steadily. Google's Covid-19 community mobility reports indicate that life is returning to normal: by the end of June, retail and recreation mobility was back to pre-lockdown levels, especially in the Czech Republic (compared with 48% below normal in the UK) and transit and work mobility is crawling back up (-20% versus -50% in the UK).
Subscribe to MoneyWeek
Subscribe to MoneyWeek today and get your first six magazine issues absolutely FREE
Get 6 issues free
Sign up to Money Morning
Don't miss the latest investment and personal finances news, market analysis, plus money-saving tips with our free twice-daily newsletter
Don't miss the latest investment and personal finances news, market analysis, plus money-saving tips with our free twice-daily newsletter
The Polish economy, which represents more than half of the GDP of this region, contracted by 0.5% during the first quarter – a better outcome than in most large European economies. The damage was obviously greater in the second quarter and overall the economy is forecast to contract by 4.6% in 2020, according to the IMF. This would be the first recession in Poland since 1994. Still, the government has designed a very large support programme worth PLN212bn (£42.5bn or 9% of GDP) and hence the country is likely to see one of the smallest peak-to-trough falls in GDP in Europe. The strong challenge that Warsaw's mayor Rafal Trzaskowski posed to incumbent president Andrzej Duda in the presidential election was much more about social values than the government's handling of the pandemic and its related economic impact (see page 8).
Relying too much on the neighbours
The Achilles' heel of central Europe is its dependence on Germany. The region is often seen as the German hinterland – it generates between 25% and 30% of trade with its larger neighbour. This means that in this crisis it will benefit indirectly from the massive economic stimulus in Germany, which amounts to €1.1trn (30% of German GDP) when including guaranteed loans. However, being so closely linked to one neighbouring economy raises the area's vulnerability to external shocks and also risks restricting its long-term development too closely to what suits Germany's needs.
The Visegrád economies offer skilled labour at much lower cost than western Europe. Despite a 35% increase since 2012, total labour costs in the manufacturing sector stand at €11 per hour on average, well below the average of €32 per hour in the eurozone, according to Rexecode, an economic research institute. That said, the declining supply of skilled labour is becoming a significant bottleneck. Since joining the EU, two million Poles have emigrated, forcing the country to rely on more low-skilled immigration from Ukraine. Indeed, Poland has welcomed a record number of migrants in recent years.
The vehicle industry is an outstanding example of the strengths and limitations of this growth model. These four countries produce 3.3 million cars a year, equivalent to British and French car production combined: car manufacturing represents 40% of Hungary's exports. The factories are not simply assembly facilities that put together parts made elsewhere: large investments by firms such as Audi and BMW also ensure integration into the global supply chains of multinationals and contribute to technological transfer and an upgrade of physical infrastructure. But foreign ownership of these facilities means that key decisions are still made elsewhere.
Opportunities for innovation
So the region needs to develop its research and development (R&D) capacity if it is to become more than a convenient location for manufacturers. Unfortunately, R&D spending remains very low in the region, at under 1% of GDP in Poland and Slovakia. Only the Czech Republic has achieved more, at 1.7% – in line with the UK, but well below Germany's 2.9%. On the plus side, the Visegrád economies have avoided falling into what economists call the middle-income trap, where rising living standards and wages in fast-developing countries mean that they lose their competitive edge (low labour costs) without developing the skills needed to move up the value chain. Instead, the region can draw on a rich and robust industrial heritage that leaves it capable of innovation. Its advantages include a long tradition in education of technical universities and a multilingual workforce, similar to Switzerland and Germany.
The limited size of local economies encourages firms to roll out products and services to global markets quickly. Hence central Europe has become Europe's fastest emerging start-up ecosystem, raising $1.8bn in 2019 compared with $1bn in 2018, according to PFR Ventures, a venture-capital investor backed by the Polish government. This has so far created eight unicorns (start-ups valued at more than $1bn), including GitLab, Grammarly, Bitfury and Bolt. With dynamic hubs such as The Heart and Google Campus Warsaw, Poland has been ranked as the seventh most-attractive country for start-ups globally by Ceoworld magazine – just behind Germany. This environment is drawing heavyweight foreign direct investment: Microsoft announced a $1bn investment in a new data centre in Poland, Google is planning a similar $2bn project and SK Innovation – part of one of South Korea's largest business groups– is to invest €335m in producing components for lithium-ion batteries.
The four countries may also be able to decrease their dependence on Germany if they integrate their economies more closely with each other. Trade within the region currently represents less than 60% of trade with Germany. However, since 1990 growth has been encouragingly inclusive: unemployment fell sharply and wages increased. So economic growth is increasingly driven by domestic demand as households benefit from these favourable trends in the labour market. The Visegrád economies are also coordinating more closely with their neighbours through the Three Seas Initiative (which includes 12 countries that link the Baltic Sea, the Adriatic Sea and the Black Sea), as well as pursuing major regional infrastructure upgrades such as a 1,800km link from Gdansk on the Polish coast via Vienna in Austria to Bologna in Italy.
Cheap whatever happens
Importantly, even if these economies do not evolve as much as they should, their stockmarkets are cheap enough to be compelling. Valuations are among some of the lowest in the world: the cyclically adjusted price/earnings (p/e) ratio (Cape – see page 15) for the Czech Republic is eight, Poland 8.5 and Hungary 12.5. Poland is the largest of the four and is the one that attracts the most attention from investors. CD Projekt is the current darling of its exchange: this video-game publisher has seen its share price rise 350% over the last three years following the huge success of The Witcher 3 and there are high hopes for its upcoming release Cyberpunk 2077. Last month, its market capitalisation passed that of Ubisoft, Europe's biggest games firm. CD Projekt now looks pricey on a p/e of 154, but is an encouraging example of Poland's ability to produce successful tech firms. A cheaper play in the IT sector is banking software provider Asseco Poland (Warsaw: ACP), on a p/e of 17.5. I first recommended this in MoneyWeek in 2017; its shares had failed to impress until recently, but have done better in the last few months.
The Czech electricity producer CEZ (Prague: CEZ) is one of the ten largest energy firms in Europe. It generates good cash flows and offers a decent dividend yield of 7% (6% net of dividend withholding tax). In Hungary, pharmaceutical firm Gedeon Richter (Budapest: RICHTER) enjoys a 17.8% operating margin and carries no net debt. London-listed regional drinks firm Stock Spirits (LSE: STCK) is performing well and remains relatively good value compared with multinationals such as Diageo or Pernod Ricard, on a p/e ratio of around 17.5.
Fund investors should be aware that eastern Europe funds often include (and are dominated by) Russia, but the Amundi MSCI Eastern Europe ex Russia (Paris: CE9) is an exception. It has around 68% in Poland, 22% in Hungary and 10% in the Czech Republic. Poland is the only market large enough to have a dedicated ETF, iShares MSCI Poland (LSE: SPOL).
A brief history of the Visegrád Group
The Visegrád Group is an alliance of four central European states sharing common values and economic interests: Poland, the Czech Republic, Hungary and Slovakia. The group was created in Visegrád, Hungary, in 1991, to strengthen military, cultural, economic and energy cooperation among its members, including pursuing membership of Nato and the EU. The choice of name refers to the congress of Visegrád in 1335 between John I of Bohemia (in what is now the Czech Republic), Charles I of Hungary and Kazimierz III of Poland. Their main purpose was to settle the dispute over the Polish throne limiting the armed conflicts, encouraging diplomatic custom and to create new commercial routes to bypass the Habsburg empire in Vienna.
All four countries joined the EU at the same time in May 2004 and the region has since become a major economic centre. Together, the Visegrád Four have a population of 64 million inhabitants – similar to Italy, France or the UK – and a GDP of $2.13bn in purchasing power parity (PPP) terms (which accounts for differences in the cost of living), similar to the $2.24bn GDP of Italy.
All four countries have a PPP GDP per capita greater than Portugal and Greece. The figure for the Czech Republic, the wealthiest, is $40,585 according to IMF estimates, putting it broadly in line with Italy ($41,582). But GDP per capita at market exchange rates remains much lower, ranging from $14,900 for Poland to $23,200 for the Czech Republic, providing further room for catch-up growth.
Frederic is an investment analyst. He started his career at JP Morgan in Paris. He has more than ten years of experience investing in private equity and also worked with the 3i debt management team investing in private debt. He is an ACCA member and a CFA charterholder. He graduated from Edhec Business School.