Metals in meltdown: investors should buy now
Aluminium, zinc and nickel have struggled over the past few months, says David J. Stevenson. But the best time to scoop up shares in the companies that mine them is when they are out of favour.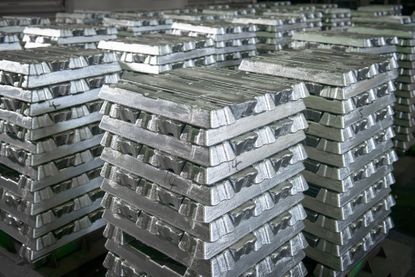 (Image credit: Getty Images)
Aluminium alloys are employed in aircraft production, cooking utensils, marine applications, drink cans and construction. The metal is vital to renewable energy, while electric-vehicle (EV) manufacturers use it to make lighter cars, prolonging battery life.
Aluminium usage in European cars increased by 18% between 2019 and 2022, says automotive consultancy Ducker Carlisle.
Aluminium is classified by the US and the EU as a "critical mineral". In 2020, the World Bank described aluminium as a "high-impact" metal in all existing and potential green-energy technologies. Yet "you wouldn't know it from the perilous state of primary metal production on both sides of the Atlantic", says Reuters. So what has been the problem?
Subscribe to MoneyWeek
Subscribe to MoneyWeek today and get your first six magazine issues absolutely FREE
Get 6 issues free
Sign up to Money Morning
Don't miss the latest investment and personal finances news, market analysis, plus money-saving tips with our free twice-daily newsletter
Don't miss the latest investment and personal finances news, market analysis, plus money-saving tips with our free twice-daily newsletter
"High energy costs, particularly in Europe, have caused multiple smelters to close or curtail output," says Andy Home on Reuters. "Western European primary aluminium production has been sliding since 2017, but Russia's invasion of Ukraine and the resulting spike in energy prices have accelerated the downtrend." Carbon emissions have been another issue.
Meanwhile, US primary metal output has fallen since 2019, says the United States Geological Survey (USGS). Two out of the country's seven domestic smelters have been mothballed, while another three are operating at reduced levels.
Global demand for aluminium will rise nearly 40% by 2030, more than for any other metal, forecasts the World Bank.
An aluminium stock to buy
Alcoa operates the world's largest third-party alumina (aluminium oxide) business, and its portfolio of seven refineries has a highly competitive cost position and the industry's lowest average carbon-intensity footprint.
The group's aluminium division includes smelting, casting, and energy assets. Alcoa is also a leading producer of primary aluminium products and patented cast alloys.
Half-year results in 2023 showed a $333m net loss versus a $1bn profit for the equivalent period last year, while the shares have fallen by almost two-thirds since March 2022. Analysts expect a current-year loss.
But the balance sheet remains sound, while 2024 estimates put Alcoa on a forward price/earnings (p/e) ratio of 17, dropping to just over ten in 2025.
It may feel counter-intuitive to buy a share that has done so badly of late. But the time to invest in stocks such as Alcoa is while they are out of favour. When aluminium recovers, so will profits, together with the stock. The recovery could be just as rapid as the drop.
A vital metal for the green transition
Now to zinc. It's the 23rd most abundant element on Earth. "Zinc is necessary to modern living," says the USGS, "and in tonnage produced, stands fourth among all metals in world production – exceeded only by iron, aluminium and copper."
Like aluminium, though, zinc has struggled. The price has dropped by 45% from its April 2022 peak as a potential supply surplus looms in 2023.
And so has the price of another key metal for the green transition, nickel.
"We forecast nickel prices to remain under pressure in the short term as a surplus in the global market builds and a slowing global economy mutes stainless-steel demand," says Dutch banking group ING.
"Prices should, however, remain at elevated levels… due to nickel's role in global energy transition. [Its] appeal to investors as a key green metal will support higher prices in the longer term."
The global nickel market is projected to grow at a CAGR of 7.3% between 2023 and 2028, says industry watcher Fortune Business Insights. Nickel supply, by contrast, is expected to increase less rapidly.
Data analysis firm Fitch Solutions expects global nickel mine production to grow by an annual average rate of 5.1% over the medium term (between 2022 and 2026), before averaging 1.9% between 2027 and 2031.
How to invest in this key theme?
So how to play zinc and nickel? Glencore (LSE: GLEN), worth £55bn, is one of the world's major miners. It produces and markets a wide range of metals and minerals, such as copper, cobalt, zinc, nickel and ferro-alloys. It extracts and processes zinc in Australia, Canada, South America and Kazakhstan, with smelting and refining operations worldwide.
In addition, Glencore produces some of the world's purest nickel in Canada, Australia, Norway and New Caledonia.
Yet as base metal prices have dropped, so have Glencore's shares. They have lost 23% since January. And the 2023 half-year results revealed a 62% year-on-year plunge in net income to $4.6bn.
Yet the balance sheet is strong, and while forecasts put the shares on a 2024 p/e of 18, that figure doesn't factor in a base-metal price recovery. The yield is a huge 9%, although if profits remain under pressure the dividend is likely to be reduced, at least for a while.
There is, then, a strong long-term recovery case for investing in aluminium, zinc and nickel while they are out of favour. We just need to be patient.
Join us at the MoneyWeek Summit on 29.09.2023 at etc.venues St Paul's, London.
Tickets are on sale at www.moneyweeksummit.com
MoneyWeek subscribers receive a 25% discount.
David Stevenson has been writing the Financial Times Adventurous Investor column for nearly 15 years and is also a regular columnist for Citywire. He writes his own widely read Adventurous Investor SubStack newsletter at davidstevemson.substack.com
David has also had a successful career as a media entrepreneur setting up the big European fintech news and event outfit www.altfi.com as well as www.etfstream.com in the asset management space. Before that, he was a founding partner in the Rocket Science Group, a successful corporate comms business.
David has also written a number of books on investing, funds, ETFs, and stock picking and is currently a non-executive director on a number of stockmarket listed funds including Gresham House Energy Storage and the Aurora Investment Trust.
In what remains of his spare time he is a presiding justice on the Southampton magistrates bench.