The backlash against net-zero begins
Green grandstanding is starting to grate, says Merryn Somerset Webb.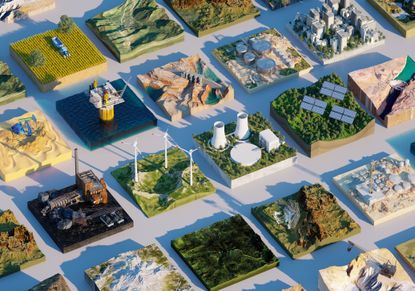 (Image credit: Getty Images)
First Tony Blair. Then Philip Hammond. Then the floodgates. For the past decade there has been a consensus among politicians (and the general population) that the UK must reach net-zero – by 2050 and by any means possible. Not any more. In an interview with The New Statesman, Blair more or less called our efforts pointless. Hammond said his party had been "systematically dishonest" about the costs of said efforts. And Sunak promised to grant a hundred new licences for North Sea oil and gas while insisting that he is "on the side" of motorists.
Much of the media was onside, too. Columnist Camilla Long had a go in The Sunday Times for example. Who'd be a little person these days? she said. "No heating, no eating, no driving, no flying: almost everything the ordinary person enjoys is haram." In The Telegraph, Camilla Tominey said net-zero risks "turning into a disaster for the West – and more specifically, Western consumers".
Quite a few politicians have concerns, too. A group of 40 MPs are now calling on Sunak to delay the ban on petrol and diesel car sales from 2030 to 2035. Even the government's own official climate-change adviser is a bit worried about 2030 given that we "have not yet seen the move to a cheap electric car" (or for that matter the charging infrastructure those cars need). Suddenly it seems we can talk about the downsides to UK consumers of net-zero.
Subscribe to MoneyWeek
Subscribe to MoneyWeek today and get your first six magazine issues absolutely FREE
Get 6 issues free
Sign up to Money Morning
Don't miss the latest investment and personal finances news, market analysis, plus money-saving tips with our free twice-daily newsletter
Don't miss the latest investment and personal finances news, market analysis, plus money-saving tips with our free twice-daily newsletter
Many observers have pointed out that Sunak's concerns about motorists (on the matter of ultra-low emissions zones – Ulez) are more about fairness than emissions; that he has not backed away from either 2050 or 2030; and that the licences he will be granting are for exploration rather than production. But that might not be the point. His comments this week about looking to lay out a "pragmatic and proportionate" approach to climate change are all part of the shifting of the Overton Window on the conversation.
For our politicians this comes with good electoral reason. Look at the latest numbers from YouGov and you will get the idea. There is a firm majority for aiming to reduce the UK's emissions to net-zero by 2050. But there is none (in any party) for introducing policies to reduce emissions "even if these result in some additional costs for ordinary people". Everyone's pro net-zero – but that support isn't very deep. When it runs up against real bills it begins to fade.
Counting the cost
The problem? All policies to reduce emissions cost something, and all costs end up with ordinary people (in our energy bills, in the tax take or as generalised greenflation). You can see just how much it might cost by glancing at how far we have to go and how much infrastructure we have to build to get there. We still use fossil fuels to produce around 75%-80% of our energy (as does the rest of the world), and even net-zero in the UK includes the assumption that the number only falls to 25%.
One example of the cost of that transition? The electricity grid. There is currently a £54bn spending plan under way to get the UK grid up to a standard that will allow it to manage electrification (the global costs, says the International Energy Agency, will be £600bn a year this decade). Necessary, but not cheap. Other costs are more obvious to consumers – and do not make them happy. A letter to The Times this week noted that installing an air-source heat pump costs £14,000. It then saves around £385 a year. But installing a £2,000 gas boiler and sticking £12,000 in a bank account at 4% would yield £480 a year. The costs may come down as the technology improves. But for now this kind net-zero compliance comes with the kind of price penalty voters might not stomach.
The really awkward bit here, however, is the one that Tony Blair touched on last week. All the expense and inconvenience to the UK of trying to make it to net-zero by 2050 makes very little difference. The UK creates not much more than 1% of the world's carbon emissions. Our total emissions every year, said Blair, come to less that the annual rise in emissions from China. China has also created more emissions in the last eight years than the UK has since the beginning of the industrial revolution, and has significantly higher emissions per capita than the UK (albeit partly because it does much of our manufacturing for us).
It shouldn't be a surprise to hear Blair suggesting the UK is less important than it thinks it is. But in this case he has a very definite point. Our efforts to slash emissions are, when it comes to global emissions at least, not moving any dials. That is not to say we shouldn't keep moving fast with the development of green technology – particularly if that tech can help the big emitters cut down – and it is also not to say that most of our environmental policies aren't of great value in themselves: hooray for clean air, biodiversity, less stinky rivers, cost-effective recycling, insulation, long-term energy security and cycle lanes.
It is just to say they aren't much help in cooling the planet, and that some of the micro-policies being layered on to the population may end up doing more harm than good. Many politicians have been privately expecting a net-zero backlash for some time. Now there are hints it is here , and that comes with a clear message. The moral high ground is a lovely place to be – until you get voted off it.
Merryn Somerset Webb started her career in Tokyo at public broadcaster NHK before becoming a Japanese equity broker at what was then Warburgs. She went on to work at SBC and UBS without moving from her desk in Kamiyacho (it was the age of mergers).
After five years in Japan she returned to work in the UK at Paribas. This soon became BNP Paribas. Again, no desk move was required. On leaving the City, Merryn helped The Week magazine with its City pages before becoming the launch editor of MoneyWeek in 2000 and taking on columns first in the Sunday Times and then in 2009 in the Financial Times
Twenty years on, MoneyWeek is the best-selling financial magazine in the UK. Merryn was its Editor in Chief until 2022. She is now a senior columnist at Bloomberg and host of the Merryn Talks Money podcast - but still writes for Moneyweek monthly.
Merryn is also is a non executive director of two investment trusts – BlackRock Throgmorton, and the Murray Income Investment Trust.