"Big Finance" comes out of its decade-long slump as bankers bounce back
The financial sector was hammered by the crisis of 2008. Now, bankers are rediscovering their swagger, says Matthew Lynn.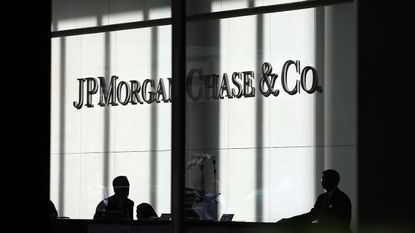 (Image credit: © Spencer Platt/Getty Images)
We've got used to the idea that Big Tech has done well out of the Covid-19 crisis, with the likes of Amazon, Apple and Google soaring in value. It turns out that Big Finance is having a pretty good crisis too – and it is about to come out of its decade-long slump. Last week Goldman Sachs delivered its best third-quarter results ever, driven by rising profits on trading and asset management. JP Morgan Chase, its closest rival, delivered results way ahead of analysts' expectations, and so did Citigroup and asset-management giant BlackRock.
And it wasn't just the big beasts of Wall Street. In London, Man Group reported sharply higher earnings and rising assets under management; stockbroker Hargreaves Lansdown saw rising profits as small investors in particular flock to the market. The same is true across Europe. On Tuesday this week, the Swiss giant UBS reported a near doubling of profits on strong results from its wealth-management unit. At this rate, even Deutsche Bank might post some decent figures. True, retail banking is having a tough time, but the investment banks and hedge-fund managers are doing better than ever.
How have they done it?
There are three reasons for this success. First, volatility. Flat markets don't help the big finance houses. If there is no movement no one can make any money from trading. Wild, erratic swings, by contrast, create lots of opportunities. As the virus turned into a pandemic in March, equity markets crashed by 30%, then, to the surprise of most of us, went on an epic bull run that regained most of those losses. The tech giants, and a few smaller companies such as Zoom, soared in value. Amid all that chaos, traders were able to make plenty of money.
Subscribe to MoneyWeek
Subscribe to MoneyWeek today and get your first six magazine issues absolutely FREE
Get 6 issues free
Sign up to Money Morning
Don't miss the latest investment and personal finances news, market analysis, plus money-saving tips with our free twice-daily newsletter
Don't miss the latest investment and personal finances news, market analysis, plus money-saving tips with our free twice-daily newsletter
Next, the central banks started printing money again. We were expecting the 2020s to be all about finally normalising interest rates after the crash of 2008-2009. We should have seen a steady climb into the 5%-plus range. Instead, rates have been cut again and every major central bank has cranked up the printing press and started churning out fresh billions of euros, dollars and pounds, while governments have let their deficits rip. You can debate the effectiveness of quantitative easing forever, but one thing is certain. It is great for banks and hedge funds: they are the mechanism by which money is pumped into the economy and that in turn boosts their profits.
Thirdly, there is lots of new business. We have not yet seen a wave of takeover deals as predators take advantage of the crisis to buy up competitors on the cheap. But there has been a steady stream of new listings, especially of shell companies created to raise money for acquisitions. And small traders, encouraged by apps that make trading in equities free, have flooded back into the market for the first time in several generations. The result is that the financial world is as busy as it has ever been.
Bankers are happy WFH
Finally, finance can adapt very easily to a home-working, virtual economy. Sure, it takes a little bit of effort – all the Bloomberg terminals had to be packed up and shipped to a study in a large house in the Home Counties somewhere – but there are no physical products and every trade was already completed electronically. There are very few tasks an investment bank, hedge fund, or asset manager can't do perfectly well from a laptop at home. With some peace and quiet, the quality of decision making might even improve. And when work can't be done virtually, finance can often claim an exception. At the height of lockdown, some investment banks managed to get traders designated as key workers so they could come into the office (even if it is possible they weren't quite as "key" as teachers or nurses). Either way, there's been little disruption to the business.
The crash of 2008 hit Big Finance hard and in the following decade it lost its old verve and swagger. But in this crisis, finance has already staged a strong recovery. If that continues, and it well might, it will be restored to full health – and will start to look like an exciting industry again.
Matthew Lynn is a columnist for Bloomberg, and writes weekly commentary syndicated in papers such as the Daily Telegraph, Die Welt, the Sydney Morning Herald, the South China Morning Post and the Miami Herald. He is also an associate editor of Spectator Business, and a regular contributor to The Spectator. Before that, he worked for the business section of the Sunday Times for ten years.
He has written books on finance and financial topics, including Bust: Greece, The Euro and The Sovereign Debt Crisis and The Long Depression: The Slump of 2008 to 2031. Matthew is also the author of the Death Force series of military thrillers and the founder of Lume Books, an independent publisher.