Will a second wave of Covid lead to another stockmarket crash?
Can we expect to see another lockdown like in March, and what will that mean for your money? John Stepek explains.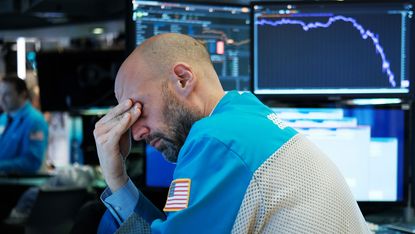 (Image credit: © Spencer Platt/Spencer Platt via Getty Images)
After a brief, limbo-like period of semi-respite, Covid-19 is hitting the headlines again.
Everything's in chaos. Testing is simultaneously useless, but also the reason that we know that cases are going up (yes, that confuses me too – more on the shaky reliability of testing here).
So how bad is it and what does it mean for the economy?
Subscribe to MoneyWeek
Subscribe to MoneyWeek today and get your first six magazine issues absolutely FREE
Get 6 issues free
Sign up to Money Morning
Don't miss the latest investment and personal finances news, market analysis, plus money-saving tips with our free twice-daily newsletter
Don't miss the latest investment and personal finances news, market analysis, plus money-saving tips with our free twice-daily newsletter
Are we heading for another full-on lockdown?
Travel stocks have been falling hard this morning (again) amid concerns that we're going to get new lockdowns and quarantines imposed across the UK and Europe.
I just had a look at easyJet's share price. It's down about 7% this morning; down almost 40% from its post-corona peak in early June; and down about 64% from its pre-lockdown 2020 high point in early February.
That's a quite a drop. And it's no surprise. It's one thing to have missed the summer holiday season. But now half-term is probably out of action, along with the winter holiday season. This goes on for much longer, and you start to wonder about Easter 2021 and maybe even next summer too.
Of course, travel stocks may be pricing a lot of this in by now. (And in fact, we'll be taking a look at that topic in MoneyWeek magazine very soon – subscribe here.)
But I want to look at the wider question – are we heading for a new lockdown, and if that's the case, then does that mean we're also heading for a new stockmarket crash like the one we got in March?
I'm going to give you my answer upfront: probably not, and no.
Now I'll explain why and you can see if you agree or not.
When I say we won't get a new lockdown, what I mean is, I don't think we'll get one like the total shutdown we had earlier this year.
The government wants people to get back to work. It wants kids to stay at school. Why? Because if you don't get the economy back to something approaching "normal", then all of the damage that's already been done will just get entrenched.
There are individual sectors – like the travel sector – which will suffer for some time, regardless. But you don't want to compound that by keeping everything else closed as well.
There is no question that the government is flailing around in a clueless manner. This "six people limit" business is stupid, authoritarian and poorly communicated, for example.
But you can see the underlying logic. Work places and schools are largely "controlled", in that they've all been told that they have to have plans in place for enforcing social distancing. Now anyone with half a brain knows that this is mostly a box-ticking exercise, like every other backside-covering bureaucratic bit of nonsense that plagues both our public and private sectors. But the box is ticked.
When people meet privately – well, there's no way to ensure compliance. So you keep them to some sort of arbitrary number.
Again, it's nonsense. But the government is "seen" to be "doing something". And if it can do that while avoiding a full lockdown, I think that's what we'll continue to see.
Forget confidence – here's what really drives the economy
So what does that mean for the economy?
It's tempting to focus on "confidence" and "animal spirits", because we can all do it. Every cod psychologist with an opinion can spout off about how people feel, and how that affects their behaviour. We can all build scenarios and tell anecdotes about what happens if we're too scared or confused to leave the house.
But it isn't helpful. If you're interested in the economic impact of anything, don't worry about "confidence". Just ask: "do people have money right now?" If they do, they'll spend it. If they don't, they won't. And remember that money takes lots of forms. Credit is a form of money. When people have easy access to it, they'll spend that too.
So, do people have money? Yes. You need only look at what's happened during lockdown. Retail spending has now recovered to above where it was before lockdown. What we're not spending on trips to Ibiza we're spending on dishwashers.
(And what we're not buying in John Lewis, we're purchasing in Next, it seems from the latest results from those retailers.)
Will that continue? Quite possibly not. Once furlough ends and government support ends, a lot of people suddenly won't have money. That's why governments (and not just ours) need to get the economy back up and running to as great an extent as possible. As it stands, there will be a lot more unemployment. What they need to do is to make sure that any income shock is as contained as possible.
So, do governments anywhere in Europe or the US want to go into another full-blown lockdown? No chance.
In all – given that markets in the eurozone and in the UK are a good deal cheaper than in the US – I'm not particularly worried that there will be another crash. Indeed, you should probably have exposure to these markets in your portfolio.
Oh, and regardless of your views on the efficacy of lockdown, you should listen to this podcast with James Ferguson of MacroStrategy Partnership. It's clear that there are serious issues with the reliability of tests which throw all the stories about surging cases into a slightly more complicated light.
We have a lot more on the topic in the latest issue of MoneyWeek magazine – including a contrarian bet on one of the hardest-hit sectors in the UK – out today. Pick up your first six issues free here.
John is the executive editor of MoneyWeek and writes our daily investment email, Money Morning. John graduated from Strathclyde University with a degree in psychology in 1996 and has always been fascinated by the gap between the way the market works in theory and the way it works in practice, and by how our deep-rooted instincts work against our best interests as investors.
He started out in journalism by writing articles about the specific business challenges facing family firms. In 2003, he took a job on the finance desk of Teletext, where he spent two years covering the markets and breaking financial news. John joined MoneyWeek in 2005.
His work has been published in Families in Business, Shares magazine, Spear's Magazine, The Sunday Times, and The Spectator among others. He has also appeared as an expert commentator on BBC Radio 4's Today programme, BBC Radio Scotland, Newsnight, Daily Politics and Bloomberg. His first book, on contrarian investing, The Sceptical Investor, was released in March 2019. You can follow John on Twitter at @john_stepek.