House prices to crash? Your house may still be making you money, but not for much longer
If you're relying on your property to fund your pension, you may have to think again. But, says Merryn Somerset Webb, if house prices start to fall there may be a silver lining.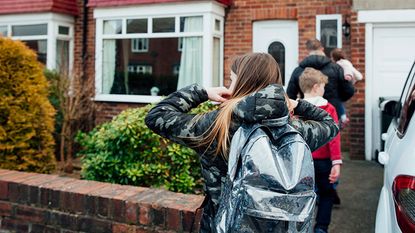 (Image credit: People going into a house © Getty Images/iStockphoto)
You might be losing money hand over fist in your investment portfolio – the FTSE 100 is down 5% in the year to date and the S&P 500 is off nearly 20% – but I bring you the kind of news that will surely more than make up for these disappointments: your house is still making you money – and lots of it.
The latest house price index from Nationwide came showed prices up 10% on August last year – and £50,000 on average over the past two years. Other indices show something similar: Zoopla has prices up 8.3% over that last year and the last lot of numbers from HM Revenue & Customs show strong volumes too: property sales were up 7.2% month-on-month in July and 32% year-on-year.
There is some distortion from the incomprehensible stamp duty holiday policy, but even so sales volumes are still higher than pre-pandemic – up 6% from July 2019, notes Hargreaves Lansdown.
Subscribe to MoneyWeek
Subscribe to MoneyWeek today and get your first six magazine issues absolutely FREE
Get 6 issues free
Sign up to Money Morning
Don't miss the latest investment and personal finances news, market analysis, plus money-saving tips with our free twice-daily newsletter
Don't miss the latest investment and personal finances news, market analysis, plus money-saving tips with our free twice-daily newsletter
Look at these numbers and I know you will feel reassured: if all else fails your property will be your pension.
Rising house prices won't last
On to the bad news. You should not feel remotely reassured – the truth is that this happy looking state of affairs cannot possibly last.
You can argue – and the house price bulls never do stop arguing – that there is limited supply of houses in the UK and that strong labour market conditions – record vacancies and very low unemployment – will keep demand up. Tight supply; firm demand – what could possibly go wrong?
The answer to that question is demand; it can disappear in a flash of pricey gas. Let's start with the cost of living crisis.
You've heard a lot about the rise in energy costs but one of the best ways to look at it is in terms of its income tax equivalent: the coming rise, said Greg Jackson, chief executive of Octopus Energy on the BBC's Today programme, is equivalent to adding 9p to the basic rate of income tax.
Can you imagine steady demand for houses at current prices under those circumstances? Quite. And that's before you start adding in the rising costs of absolutely everything else – the British Retail Consortium has the price of food up 9.3% in the past year.
Next, note that the labour market might look strong, but it isn't getting any stronger: the UK's unemployment rate is no longer falling – it was steady at 3.8% in June – and the number of job vacancies is no longer rising.
The supply of labour usually picks up in a cost of living crisis (for obvious reasons) and that might work against the push for wage rises. At last count, real wages were falling at the fastest rate in 20 years – down 3% from April to July according to the Office for National Statistics.
If pay awards keep coming in at 4% or so, as they have been, and inflation sticks at over 10%, employees will finish the year with their inflation-adjusted purchasing power down more than 6%.
Mortgage rates look set to triple in the space of a year
Worse, this will come in the face of fast-rising mortgage rates. The rate on a two-year mortgage with a 75% loan-to-value ratio jumped to 3.51% in July, from 2.88% in June, and from 1.64% at the turn of the year. If things carry on as they are, that rate will rise to about 4.3% by the end of the year, up nearly threefold, says Pantheon Macroeconomics.
Zoopla has done the numbers on mortgage rates at 4%. If they hit that, Zoopla reckons the average first-time buyer outside London will need £12,250 more in income to be able to complete than they did last year; in London it's £35,000. This starts to change first-time buyer incentives. Until recently, assuming you could get your hands on a deposit, in almost all areas of the UK it was cheaper to buy than rent.
No longer: rents are rising fast – up 11.8% year-on-year in the second quarter of this year, says Rightmove. Zoopla adds that at 4% mortgage costs are "on a par with or above the average rent", assuming an 80% 30-year mortgage.
Add it all up, says Citi, and prices could fall by 15%. This seems conservative to me given that the combination of rising rates and recession tends to create forced sellers, something we did not have in 2008 for example, when mortgage rates fell sharply.
Those in any doubt that all this stuff matters should note that the signs of weakness are already with us. It takes a little longer to sell a house now than it did in April – 22 days vs 19 days, says Zoopla.
New buyer inquiries fell for the third month in a row in July and a rising number of sales fell through, says the Royal Institution of Chartered Surveyors. And new mortgage approvals are dropping too: last month's data showed them down by 21% year-on-year in June.
Finally, the Building Societies Association Property Tracker survey showed that in the second quarter of 2022, the net balance of households who think that now is a good time to buy a home was just 16% – the lowest since the third quarter of 2008. This boom is definitely fading.
The silver lining to falling house prices
There are a few silver linings here (thank goodness).
The first is small but useful: if you have paid inheritance tax on an asset and you then sell it for less than its IHT-assessed price within four years (for property) or 12 months (for shares) you may be able to have your liability recalculated and reclaim the difference. You may think this is small compensation for capital losses, but these days we must take what we can get.
The second is more about your children: if markets and house prices both crash from here, your retirement will be impoverished but theirs will be much enriched.
Standard Life published research this week suggesting that a 22-year-old who starts saving for retirement now on a £23,000 annual salary will end up with a nice pot of £424,000 – assuming 3% annual salary rises and investment growth at 6.25% a year.
That's nice – but imagine if the first two years of those savings were to involve markets falling 40% and the next 20 saw them rising again.
Imagine the same with houses. A 25% fall perhaps, followed by a genuine buying opportunity for those not on the ladder yet. Buying cheap and selling high – in 30 years. The dream!
One of the great joys of capitalism is its tendency to self-correct from extremes. We might be about to see a classic of the genre.
• This article was first published in the Financial Times
Merryn Somerset Webb started her career in Tokyo at public broadcaster NHK before becoming a Japanese equity broker at what was then Warburgs. She went on to work at SBC and UBS without moving from her desk in Kamiyacho (it was the age of mergers).
After five years in Japan she returned to work in the UK at Paribas. This soon became BNP Paribas. Again, no desk move was required. On leaving the City, Merryn helped The Week magazine with its City pages before becoming the launch editor of MoneyWeek in 2000 and taking on columns first in the Sunday Times and then in 2009 in the Financial Times
Twenty years on, MoneyWeek is the best-selling financial magazine in the UK. Merryn was its Editor in Chief until 2022. She is now a senior columnist at Bloomberg and host of the Merryn Talks Money podcast - but still writes for Moneyweek monthly.
Merryn is also is a non executive director of two investment trusts – BlackRock Throgmorton, and the Murray Income Investment Trust.