UK house prices will fall – but not for a few years
UK house prices look out of reach for many. But the truth is that British property is surprisingly affordable, says Merryn Somerset Webb. Prices will fall at some point – but not yet.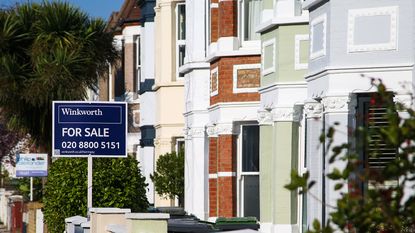 (Image credit: © Dinendra Haria/SOPA Images/LightRocket via Getty Images)
Nothing says "out of touch" to the UK electorate more than their leaders having too many houses – and in particular too many expensive houses.
No one was madly impressed when Tony Blair spent £3.65m on a Georgian townhouse in London when he was still in office; Peter Mandelson was forced to resign over a home loans scandal in 1998 (it might not have not have been such a big deal had it not been an expensive Notting Hill flat).
Then there is Rishi Sunak: his houses probably aren't top of his worry list at the moment, but having four houses worth £15m and being in the middle of spending £250,000 upgrading one is not a great look.
Subscribe to MoneyWeek
Subscribe to MoneyWeek today and get your first six magazine issues absolutely FREE
Get 6 issues free
Sign up to Money Morning
Don't miss the latest investment and personal finances news, market analysis, plus money-saving tips with our free twice-daily newsletter
Don't miss the latest investment and personal finances news, market analysis, plus money-saving tips with our free twice-daily newsletter
It all makes perfect sense as shorthand for out-of-touchness: the price of houses in the UK makes having a property portfolio very much an elite activity.
House prices continue to rise
Look at the latest numbers: average house prices are up 10.9% in the past year to February – to £276,755, according to data from the Office for National Statistics; new-build prices rose by 19.3%, detached by 14.4% and flats by 8.1% (everyone still wants a garden). Even in the worst-performing region (London!) prices rose by 8%.
The Halifax numbers out last week showed a similar move in March – with prices up 11% and some 18.2% since the beginning of 2020. This is obviously nuts – average pay is up only 9.9% over the same time period.
The house-price-to-earnings ratio on Halifax numbers is now 8.4 times – higher, as Capital Economics, points out than the peak just before the 2008 global financial crisis, when it stood at eight.
These numbers come in the same week that we learned that inflation in the UK is running at 7% and is likely to stay above that for some time; it is, say ING bank analysts, "unlikely to fall below 7% this year".
That means interest rates – and mortgage rates – are on the way up. The average quoted rate for a new two-year fixed mortgage with a 75% loan-to-value ratio jumped to 2.12% in March, says analyst Pantheon Macroeconomics. That's the highest since late 2014 and up from 1.76% in February.
It is also forecast to hit 2.7% by the end of the year – at the same time as real household disposable incomes are set to fall by 2.5% this year.
At the same time, says Hargreaves Lansdown, lenders are "increasing the assumed [household] costs in their affordability calculations". That's going to make it harder to get mortgages.
Are there signs that demand is not as hot as it was? Google Trends data offers a clue: search data for the big property websites is only 5% above 2017-2019 averages, having been 15% higher in the pandemic months. There are also, says Pantheon, "tentative signs" of a rise in supply. The average estate agent has 38 homes on their books (against a long-term average of 55) but the latest Royal Institution of Chartered Surveyors' survey data suggests a sharp rise in new instructions. Overall it seems obvious that this house-price boom must end – and soon.
But housing is surprisingly affordable
Or not. Interest rates are still almost ridiculously low by historical standards. The last time inflation was this high, the base rate was 10%. Today, if you have a deposit of 40% or more, you can get a ten-year fixed-rate from Halifax at 2.48%. Have 25% and the rate goes to 2.58%.
Long-term borrowing at 5.5 percentage points below the rate of inflation? That is as close to free money as you are going to see this year. At these levels the cost of servicing a mortgage is more manageable than it has been in most other periods.
In the northern regions of the UK, notes Capital Economics, the cost of servicing an 80% mortgage on the average house remains below its long-term average.
And even in London (where house prices are about 50% overvalued in house-price-to-earnings terms compared to the long-term average) prices only look about 7% too high if you consider them in terms of monthly payment affordability alone, again relative to the long-term average.
The Bank of England's bank rate would, says Capital, have to hit 3% for affordability to deteriorate to the same levels in London and the southeast as before the 2008 financial crisis and, even at 3%, the rate would still be very negative in real terms.
It is also worth remembering that most mortgages (just over 80%) are on fixed rates and those remortgaging this year will be doing so with lower loan-to-value ratios – due to rising house prices – and so may well see their rates rise very little, if at all.
Even if they do, any rise could be offset via the very tight jobs market – and rising wages. Note that average pay growth in the private sector was 6.2% between December 2021 and February 2022 – and that overall growth in total pay kept pace with inflation.
Workers are more aware of inflation now than they were even a few months ago and are prepared to ask for pay rises to match it – it is not a given that real earnings will fall. The result is that, even if buyer numbers fall off, there will not be the sudden rush to sell that you might expect if rate rises were to push mortgage holders over the financial edge
Still a while left for house prices
Finally, it is worth casting your mind back to the early 1970s. Much was different then – mortgage lending was just opening up to dual income, for example, and house prices did not start the decade expensive. But nonetheless, prices went bananas. Land Registry data tells us that they more than doubled from the start of the decade to the end of 1975 (from £3,950 to £10,000) and doubled again by 1980 (£19,273).
Over a horribly volatile decade, money invested in property just about held its value – while that invested in the stockmarket did not. Those nervous of losing their cash to inflation may well have noted this: there is a record £1.9trn on deposit in the UK at a time when deposit rates are at a record low.
Keep your money in cash and, with UK consumer price inflation at 7%, you are guaranteed to see the purchasing power of that cash fall by over 6% every year; put it into property and you might think it won't.
None of this suggests the boom can keep going indefinitely; it can't – at some point reality will catch up with prices. But it does suggest that there might be a year or two left in it. This won't make the value of Sunak's houses less irritating for voters, but there could be a positive in it for Boris Johnson: he appears to have a house in Oxfordshire and a flat in Camberwell, but no mansions.
• This article was first published in the Financial Times
Merryn Somerset Webb started her career in Tokyo at public broadcaster NHK before becoming a Japanese equity broker at what was then Warburgs. She went on to work at SBC and UBS without moving from her desk in Kamiyacho (it was the age of mergers).
After five years in Japan she returned to work in the UK at Paribas. This soon became BNP Paribas. Again, no desk move was required. On leaving the City, Merryn helped The Week magazine with its City pages before becoming the launch editor of MoneyWeek in 2000 and taking on columns first in the Sunday Times and then in 2009 in the Financial Times
Twenty years on, MoneyWeek is the best-selling financial magazine in the UK. Merryn was its Editor in Chief until 2022. She is now a senior columnist at Bloomberg and host of the Merryn Talks Money podcast - but still writes for Moneyweek monthly.
Merryn is also is a non executive director of two investment trusts – BlackRock Throgmorton, and the Murray Income Investment Trust.