Time to invest in the next agricultural revolution
As the global demand for food increases, food producers are seeking to lower their carbon emissions. Technology will help meet both goals.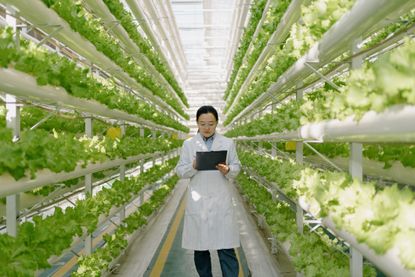 (Image credit: Getty Images)
Growing populations and incomes are boosting global demand for food, while agricultural producers are also seeking to lower their carbon emissions. Technology will help meet both goals.
Farming is hardly a glamorous industry. As someone whose maternal grandparents were farmers, I appreciate that it can be tough work, sometimes for relatively little reward. What's more, farmers have a reputation for being "a conservative bunch who like to stick to traditional techniques and place great store on experience", says Stephen Pickup, head of agriculture at Traditum Private Equity.
Even the big agricultural companies "are not renowned for innovation, with many [...] effectively outsourcing their research and development (R&D) by acquiring small firms with new and promising technologies". Nevertheless, many people believe that the sector is on the brink of an upheaval as big as the "green revolution" that took place after World War II when the spread of mechanisation and fertilisers boosted production.
Subscribe to MoneyWeek
Subscribe to MoneyWeek today and get your first six magazine issues absolutely FREE
Get 6 issues free
Sign up to Money Morning
Don't miss the latest investment and personal finances news, market analysis, plus money-saving tips with our free twice-daily newsletter
Don't miss the latest investment and personal finances news, market analysis, plus money-saving tips with our free twice-daily newsletter
Factors driving the change
As with many other periods of rapid technological change, the big driver has been necessity. Jeneiv Shah, portfolio manager at Sarasin & Partners, notes that while estimates of global population growth have been tempered in the last few years, "the global population is still expected to jump from eight billion to nearly ten billion by 2050".
Meanwhile, emerging-market consumers' growing wealth and incomes will also boost demand, not just in terms of the quantity of food consumed, but also the type of nourishment. Studies suggest that after the average income rises to $10,000 a year, "people tend to consume fewer grains and vegetables and more protein".
Shah points to estimates that the overall global consumption of food will grow by 1.2% a year for at least the next three decades, leading to a 50% increase in demand by 2050. While this may not seem a particularly large challenge, the sector will have to meet this demand at a time when "the available land is shrinking".
This is partly due to urbanisation, especially in the developing world, where many formerly agricultural areas are being swallowed by towns and cities. However, another factor is the impact of climate change. As Shah points out, this isn't just a matter of rising temperatures anymore, but also a case of "increased droughts, more pests and generally more frequent extreme weather events".
Furthermore, agriculture is responsible for between a quarter and a third of greenhouse gases. "We cannot continue operating within a global food system that consumes more resources than is currently environmentally sustainable," says Matthieu de Clercq, a partner at Oliver Wyman, a management consultant, especially since "we are asking other sectors to contribute towards and aim for net-zero."
Nonetheless, there is growing optimism that technological developments mean that "a sustainable and net positive agricultural system", as well as one that can help countries "create employment opportunities and new sources of income", is possible.
AI use in farming
The most obvious way in which agriculture is changing is the "explosion in the use of artificial intelligence [AI] with technology developed in other sectors, as well as general improvements in AI making their way into all aspects of farming", says Casey Woodward, CEO of AgriSound, a technology group specialising in the management of pollination.
This ranges from using AI to predict the weather more accurately (especially extreme events) to supporting decision-making on farms. It also has the potential to reduce the number of farmworkers needed, something of vital importance in the UK as "the average age of a farmer is now 59 and Brexit has led to a chronic shortage of labour".
In addition to "simply doing many tasks better than a human ever can", AI can also help junior staff make more complex decisions, compensating for the fact that "retirement is leading to the loss of experience", says Woodward. The increased amount of information that it produces can also help farmers behave in a more sustainable way.
For example, AgriSound applies machine learning to sound samples to quantify the number of bees in fields, a key indicator of biodiversity as well as an important part of the pollination process. AgriSound has already been deployed in Marks & Spencer's supply chains. In order for AI to analyse the data, it first needs to be collected. While this can still be labour-intensive and costly, robotics has the potential to reduce the workload greatly.
Consider the storage of crops. A significant proportion of crops that are stored go bad owing to mould or pests, "and even those that aren't written off completely end up being downgraded in value". Average global losses total around 24% of stored crops, according to Lorenzo Conti of the Royal Academy of Engineering. While most of this is avoidable, monitoring conditions within a grain silo can be extremely difficult. But Conti has developed a robot called the Crover, which can "swim" through the grain, monitoring temperature and moisture and "finding hotspots of wet and heat that would not normally be detectable using either existing fixed sensors or human investigation".
This data can be used to alert those running the storage facility, who can then instruct the Crover to aerate the crops, helping to halt any future deterioration. Conti estimates that the Crover can reduce waste by 80%. The current version is for large silos owned by large processing and storage companies, as opposed to the small ones used by farmers, but Conti is already working on a smaller version.
Reducing the impact of pests and adverse weather can also improve productivity. One method is to make plants more naturally resilient. There has recently been a surge of interest in biological products, known as peptides, that enable plants to resist diseases. These "vaccines for plants" reduce the number of crops lost to disease and "cut the amount of pesticides needed", says Jeff Tweedy of Plant Health Care, which is important given that "the EU is clamping down on the use of pesticides and fungicides".
Controlled environmental farming
An alternative to helping plants deal with climate, soil and pests is controlled environmental farming. This puts the plants in an already optimised environment where everything can be controlled, so crops can be shielded from unfavourable weather while the amount of water needed can also be reduced, says Frédérique Carrier, managing director and head of Investment Strategy for RBC Wealth Management. It can also "reduce the distance between farm and market, lower dependence on climate-threatened imports, and largely eliminate pesticides and herbicides as input costs".
The type of controlled-environment farming that gets people most excited is vertical farms. Often found on the outskirts of cities, these farms vertically stack large trays of seeds and plants. Within the farm, "critical environmental factors are controlled, including light, humidity, and temperature, with pests largely eliminated", says Carrier.
She stresses that vertical farms aren't perfect, with further development needed, such as better LED lights and seeds optimised for indoor production, in order to "make these techniques economically feasible". But they have already been strikingly successful for certain types of crops as "they can produce 20 times more lettuce than agricultural fields". Some vertical farms use 95% less water than traditional farming requires.
One thing that could transform vertical farming from a niche to a mainstream undertaking is standardisation. At present many firms "are trying to produce bespoke farms, which is a bit like every farmer trying to build his own tractor", says David Farquhar, CEO of Intelligent Growth Solutions, a vertical-farming technology group.
Consider also that many vertical farmers "are neither farmers nor technologists, but a bit of both", and it's not surprising that the industry is suffering "quite a few bumps in the road", with several companies going out of business. However, he thinks that standardised towers of stacked farms, such as the ones his company produces, can cut costs, and reduce complexity.
Certainly, some of the touted benefits are impressive. Farquhar claims that one vertical farm produced by his company "can grow seedlings for 10,000 trees on land the size of a snooker table", with a nine-metre tower producing up to half a million seedlings. The vertical farming industry is already growing at around 20% a year. Wealthy countries in the Middle Eastern deserts are especially interested in improving their food security. The sector, already worth an estimated $75bn, is expected to grow to $250bn by 2030.
Vertical farms aren't the only type of controlled environmental farming. Fish farms (or aquaculture) have been around for thousands of years. Virtually all salmon and trout that reach our table is produced in this way as it is far cheaper than traditional fishing, says Chris Tanner of the JLEN Environmental Assets fund. However, 90% of this still takes place in the sea, involving fish contained in huge coastal pens, which still runs the risk of fish escaping, breeding with the wild population, or being attacked by parasites.
By shifting the process onto land, however, those in charge can make the environment completely biosecure, eliminating those problems and reducing the amount of inputs required, says Tanner. It also means that farms can be located closer to population centres, reducing carbon emissions by cutting food miles. With researchers working harder to expand the number of fish species that can be farmed in this way, Tanner expects land-based aquaculture to grow rapidly over the next decade.
Lab-grown or cultivated meat
Perhaps the most exciting (or worrying, depending on your perspective) area of agritech is cultivated meat. While vegetarian and vegan diets have grown in popularity, most people still enjoy meat. Polling firm YouGov says that 72% of the UK population classify themselves as meat eaters, with only 7% abstaining completely from meat and fish. What's more, Stephen Pickup of Tradium Private Equity thinks that growing pet ownership will also boost demand for meat. It already accounts for 20% of global meat production.
However, while meat may satisfy both our appetite and our body's need for iron and protein, it has been blamed for making global warming worse through cattle's methane emissions, while it also puts pressure on resources such as land. As a result, there has been a surge of interest in meat grown in laboratories. Such technology would "lower greenhouse gasses, reduce water consumption, cut the risk of antibiotic resistance, which threatens to create superbugs, as well as improve animal welfare", says Anthony Chow, co-founder of Agronomics, a venture-capital group.
Chow admits that farmers "don't need to be shaking in their boots" quite yet as we are still "some years away from laboratory-grown meat appearing in supermarkets". Still, he thinks that it's more a question of when it will appear, not if. Indeed, cultivated tuna is close to becoming economically viable, while he recently tasted laboratory-grown chicken from two different companies and it "had the same flavour profile as the traditionally farmed product".
"Increasingly confident that cost parity is in sight," Chow thinks that the two big remaining challenges are producing it in large enough quantities to satisfy demand, and getting the correct texture.
One person who has been working to make cultivated meat taste exactly like regular meat is Che Connon of 3D Bio-Tissues, which was spun out of Newcastle University in 2018. He thinks that the problem is that a lot of the taste of what we eat is determined by its nanostructure. However, while previous attempts at cultivated meat have relied on a scaffold of plant-derived cells to bind the cells into a structure, the structure of plants is fundamentally different from that of meat. As a result, the resulting products "still don't feel like meat when we bite, chew or cook" them (a problem that those producing plant-based products have also faced).
However, applying techniques derived from successful attempts to grow corneas, Connon believes that he has been able to produce meat with the right structure. It tastes better, while large food companies "can process it with existing machines, reducing the need for additional capital expenditure". Overall, Connon is optimistic about the demand for laboratory-grown meat, "especially among those aged 18-35". He also notes that a handful of American restaurants are already using laboratory-grown meat, "and it should be more widely available in a year or two".
Six agritech stocks to buy now
1. Agronomics (LSE: ANIC)
The problem for investors interested in this sector is that many agritech companies are early-stage start-ups rather than listed companies. It therefore makes sense to invest in a specialised venture capital company such as Agronomics (LSE: ANIC), which has a portfolio of over 20 cultivated meat companies. It trades at a discount of 40% to its net asset value (NAV).
2. Sarasin Food & Agriculture Opportunities UCITS Fund
A broader alternative is the Sarasin Food & Agriculture Opportunities UCITS Fund. Run by Jeneiv Shah and Colm Harney, it invests in companies from around the world with exposure to food and agriculture. Most of its holdings are in the US, Europe and the UK. The largest include US agribusiness giant Bunge Limited, fish farmer Mowi ASA and food-service company Compass. Sarasin Food & Agriculture has an ongoing charge of 1.73%.
3. Deere & Company (NYSE: DE)
Shah is particularly enthusiastic about Deere & Company (NYSE: DE). Shah particularly likes the fact that it has "a technological edge when it comes to making equipment that can be used in precision agriculture, making cameras and sensors that can be used to target the spraying of chemicals on crops, therefore reducing the amount of herbicide that needs to be dumped on plants". Despite the fact that its earnings per share more than tripled between 2017 and 2022, Deere still trades at only 11 times 2024 earnings.
4. Genus (LSE: GNS)
Shah is also very positive about agricultural-genetics specialist Genus (LSE: GNS). He is particularly impressed by its development of a gene-editing platform that can help make pigs less vulnerable to porcine reproductive and respiratory syndrome, commonly known as "blue-ear pig disease".
This disease can reduce pigs' growth and prove fatal. Solving this problem should boost agricultural productivity. Healthy pigs need less feed, so pigs' carbon footprint would be reduced too. Earnings per share have increased by over 20% a year over the past five years, which more than justifies the fact that Genus trades at 21 times 2025 earnings.
5. Plant Health Care (Aim: PHC)
Another company working to boost productivity through combating diseases is Plant Health Care (Aim: PHC), which produces vaccines for plants. Plant Health Care is risky as it is currently making a loss. However, its peptides are now sold on three continents. They include PHC279, which was approved in Brazil in August for use in sugar cane. Overall, revenue is growing by just under 10% a year, and the company is expected to make a profit next year. If this turns out to be true, then the stock could be a bargain as it trades on a 2024 price/ earnings (p/e) ratio of just 13.
6. BSF Enterprise (LSE: BSFA)
Those who are willing to take even more risk may like the micro-cap stock BSF Enterprise (LSE: BSFA), the owner of 3D Bio-Tissues. As noted above, the firm focuses on using tissue engineering to produce laboratory-grown meat, as well as human corneas and skin substitutes, developing processes that can then be used by other companies. While it isn't making any money, it has currently agreed on a joint venture with a fashion company to generate laboratory-grown leather. BSF is now planning further acquisitions in the area to bolster its position.
This article was first published in MoneyWeek's magazine. Enjoy exclusive early access to news, opinion and analysis from our team of financial experts with a MoneyWeek subscription.
Related articles
Matthew graduated from the University of Durham in 2004; he then gained an MSc, followed by a PhD at the London School of Economics.
He has previously written for a wide range of publications, including the Guardian and the Economist, and also helped to run a newsletter on terrorism. He has spent time at Lehman Brothers, Citigroup and the consultancy Lombard Street Research.
Matthew is the author of Superinvestors: Lessons from the greatest investors in history, published by Harriman House, which has been translated into several languages. His second book, Investing Explained: The Accessible Guide to Building an Investment Portfolio, is published by Kogan Page.
As senior writer, he writes the shares and politics & economics pages, as well as weekly Blowing It and Great Frauds in History columns He also writes a fortnightly reviews page and trading tips, as well as regular cover stories and multi-page investment focus features.
Follow Matthew on Twitter: @DrMatthewPartri