Lab-grown meat: the new agricultural revolution
Vegan alternatives are taking off, but the future of food technology lies in lab-grown meat – cultivating steaks and burgers from animal cells, says Alex Rankine. This is a market full of bold visions and ambitious promises.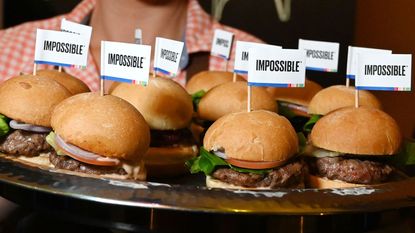 (Image credit: © ROBYN BECK/AFP via Getty Images)
In 1931 Winston Churchill was asked by The Strand Magazine to imagine the world 50 years hence. "We shall escape the absurdity of growing a whole chicken in order to eat the breast or wing, by growing these parts separately," he wrote. Churchill might have got his timing wrong, but a future where the meat on our plates has been cultured rather than butchered is finally coming into view.
A new wave of alternative meat start-ups in California, Europe and Israel is intent on disrupting the $1trn global meat industry. Today 77% of farmland worldwide is dedicated to raising and feeding livestock. Mike Selden of Finless Foods, a fishmeat-replacement start-up, envisions the day when meat production moves off the farm and into gigantic "1,000-litre bioreactors" that churn out new batches of cell-cultured products. It would be, as Jessica Glenza in The Guardian puts it, "like a brewery for meat".
If it bleeds, it leads
Meat alternatives are hardly new. Quorn, a British invention, dates back to the 1980s. Seitan, a protein-rich wheat gluten product that has recently become popular online, has roots in sixth-century China. Tofu, made from coagulated soy milk, is more ancient still.
Subscribe to MoneyWeek
Subscribe to MoneyWeek today and get your first six magazine issues absolutely FREE
Get 6 issues free
Sign up to Money Morning
Don't miss the latest investment and personal finances news, market analysis, plus money-saving tips with our free twice-daily newsletter
Don't miss the latest investment and personal finances news, market analysis, plus money-saving tips with our free twice-daily newsletter
Yet in recent years new technology, changing eating habits and sheer market exuberance have turbocharged the sector. Shares in Beyond Meat, the US maker of a burger that "bleeds" a beetroot juice extract, have doubled since listing in 2019. Impossible Foods, another American burger maker, has found a way to ferment soybeans to produce heme, a compound responsible for the characteristic "meaty" taste of a burger. It is reportedly set to float soon.
The number of retailers selling Impossible Food's products has risen 113-fold over the last year. Plant-based alternatives are being marketed to meat eaters. They are even being sold alongside chicken breasts and pork chops. Fast food is next. The firm is working on a new "McPlant" line of plant-based burgers with McDonald's. Greggs' best-selling vegan sausage roll uses Quorn.
These businesses are tapping into a genuine trend. UK sales of meat substitutes shot up by 40% in the five years to 2019 and are forecast to top £1.1bn in 2024, says consumption-research firm Mintel. Pollster Ipsos MORI reports that the number of vegans in Britain quadrupled in the four years up to 2018, but they still make up just 1% of the adult population.
Far more significant has been the rise of "flexitarianism". A shopper browsing the meat aisle might sometimes opt for a plant-based burger without forswearing steak altogether. Mintel says that 41% of Britons are reducing the amount of meat they eat. That number has fallen from 51% before the virus; lockdowns have made people reach for comfort foods, with bacon sales up by 18% last year.
Yet that should prove a "temporary setback" as attitudes are changing fast. In 2018, 25% of Britons said they thought that "eating less meat is better for the environment". By 2020, 42% agreed. Health is the most common reason given for reducing meat consumption. Yet among younger people environmental concerns also loom large. Around 23% of meat-reducing Americans aged 18-29 cited the climate as a reason to cut back, says The Economist. Just 5% cited animal welfare.
The steaks are high
Meat alternatives are still a niche industry. US grocery store sales of plant-based products totalled $475m last year, a fraction of the $82.5bn market for refrigerated meat, says Jordan Strickler in Forbes. But Barclays predicts 1,000% growth over ten years, with the global market worth $140bn in 2029. Management consultancy AT Kearney projects that by 2040 cultured and plant-based foods will have a 60% market share, surpassing meat produced the traditional way.
Prices for meat substitutes are coming down as economies of scale kick in. Impossible Foods recently slashed its suggested retail price by 20%, reports Amelia Lucas for CNBC. In America a shopper can now expect to pay about $6.99 for a 0.35kg, or 0.75lb, pack of Impossible "meat", still more than twice as much as conventional equivalents. Yet while Western markets have passed "peak meat", global meat consumption is still rising as populations increase and emerging markets grow. In the 1960s the average Chinese person consumed 5kg, or 11lb, of meat annually, notes Crystal Reid in The Guardian. By 2015 that number had hit 48kg (105 lbs). Today the country accounts for half of all global pork consumption. Yet, in the home of tofu, plant-based alternatives are also "slowly carving" out a place for themselves, with sales hitting £675m in 2018 and forecast to grow by 20%-25% annually.
The UN's Food and Agriculture Organisation projects that global demand for animal products will increase by 45% by 2050, putting huge pressure on the world's farmland. A more efficient food-production method is needed and plant-based alternatives seem to offer a way forward – by cutting out animals altogether. For many environmental, social and governance (ESG) investors, a sector that says it can help us lower carbon emissions while eradicating factory farming is an opportunity too good to miss.
The result has been a mini-boom in meat-replacement and vegan-product start-ups. Beyond Meat's frothy stockmarket valuation may have grabbed the headlines, but behind the scenes much venture capital is being deployed too. Funding hit $3.1bn last year, a 200% rise on the previous year, says America's the Good Food Institute, which promotes meat alternatives. Almost $300m of that went to Oatly, the Swedish oat-drink maker. The firm is eyeing an initial public offering (IPO) with a $5bn valuation. Plant-based and cultivated meat firms have raised $6bn over the past decade. As Emiko Terazono puts it in the Financial Times, the race is on for "the new Tesla of food tech".
The meat alternatives currently on offer are plant-based. The Beyond Burger, for example, is a mixture of (among other things) peas, rice and mung-bean protein plus coconut oil. Yet an entirely different approach – cell-cultured meat – could take us much closer to Churchill's vision of real animal flesh grown in a lab.
The recipe is deceptively simple, writes Chase Purdy in his book, Billion Dollar Burger. You need three things: animal cells, a "nutrient-dense liquid medium to feed the cells; and a sterile bioreactor that provides the right conditions to grow them". The cell part doesn't require any animal slaughter – you can take a biopsy from a living one. The tricky part is the liquid medium, which must be what Purdy calls a "witch's brew of macromolecular 'growth factors' such as amino acids, sugars, lipids and hormones" to get the cells to grow.
A pretty penny for a patty
The method first made headlines in 2013 when Dutch food-tech business Mosa Meat unveiled a lab-grown hamburger. The snag was that it cost €250,000 per burger. Since then, economies of scale and cheaper growth fluid have seen prices fall sharply. Mosa says its burgers could cost €9 each in a couple of years' time.
US start-up Future Meat Technologies has vowed to offer lab meat for $10/lb by next year. The creators of such products argue that they are not making alternative meat at all. What comes out of their bioreactors is simply meat, just made more efficiently than the traditional method.
While plant-based products such as the Beyond Burger are likely to dominate in the near-term, AT Kearney thinks that the more authentic taste of cultured meat will eventually bring it to the fore. By 2040 it could account for some 35% of all meat consumed, compared with 25% for "vegan replacements". But not everyone is convinced by such bold predictions. Some think the technology is not ready for prime time, says Elie Dolgin in Nature. It's one thing to make a "splashy demonstration" of a very pricey piece of lab-grown meat, quite another to scale up production enough to offer it affordably to the mass market. By the time the Silicon Valley tech industry got going it had decades of university expertise and research into computer science to draw on.
Yet there is little such "basic science" about how to grow meat at scale. We still don't know much about how to source the best animal cells, what makes a good nutrient medium, or how to build bioreactors on an industrial scale. That may leave these start-ups facing an insurmountable – and prohibitively expensive –- learning curve.
Another issue is moving from burgers to steak. Current technologies tend to yield "unstructured products" that resemble mince. Finding a decent way to imitate a real steak's complex structure of fat and muscle is another ball game. But maybe we shouldn't bet against the boffins.
Israel's Aleph Farms start-up recently premiered a 3D-printed rib-eye steak complete with imitation blood vessels. Pictures of the product show that it does indeed resemble a steak, although with a shiny finish that makes it look a bit like a novelty plastic dog-chew.
The product got rave reviews from Benjamin Netanyahu, reports Richard Spencer in The Times. The Israeli prime minister declared it to be "delicious and guilt-free, I can't taste the difference". That said, his government does have a vested interest. Israel has a thriving alternative meat-tech scene, with Netanyahu vowing to turn the country into "a powerhouse for alternative meat and alternative protein". Others have raised questions about whether "labriculture" would really be any more environmentally friendly than the current method. Research by the Oxford Martin School notes that if bioreactors draw power from fossil fuel-based sources then their long-run climate impact could end up being worse. Methane, which cows produce in large quantities, is an especially potent greenhouse gas, but it persists for a far shorter time in the atmosphere than carbon-dioxide emissions from fossil fuels.
That doesn't mean lab-grown meat can't be greener, but it will require a much cleaner grid and energy-efficient bioreactors to get there. Cell-culture meat faces more than merely technical hurdles. Will consumers accept it? Genetically-modified (GM) foods still provoke hostility from consumers despite regulatory approval, says Harry de Quetteville in The Daily Telegraph. Others warn that "a rushed launch" or "a safety scare could set the entire field back by decades".
The pandemic has also delivered a stark reminder that raising millions of animals in close quarters is a zoological time bomb. As the industry scales up it should eventually become cheaper than traditional meat too. That will make it difficult to resist as an ingredient for fast food, sausages and the like. "Meat as we know it" would become a "rare luxury… like a great bottle of wine". Most importantly, these new products will face a stiff regulatory test. The traditional farming lobby has powerful friends and there is already a battle under way about whether cell-cultured meat can be called "meat" at all. Critics prefer "frankenmeat".
Yet not all nations feel the same way. It is not an accident that Israel, which imports 85% of its beef, is so keen to start growing food in labs. For small countries without lots of farmland a shift to cell-cultured meat is a matter of national security. Nowhere is that more true than in Singapore, a city-state where 5.7 million people live on an area of land that is less than half the size of Hertfordshire. The country became the first place in the world to approve the sale of cell-cultured meat at the end of last year. US start-up Eat Just can now sell its cultured chicken nuggets in the city. The nuggets contain 70% cultured chicken. A set meal costs $17.
Farming animals for food is a very old technology. Neolithic humans first domesticated sheep about 10,000 years ago, followed by cattle and pigs about 2,000 years later. The farmer who first decided it was a good idea to keep a wild boar on the premises must have been a brave soul. But advocates of "no-kill" meat don't merely argue that our system of food production is cruel and environmentally damaging. They also say it is hopelessly inefficient. Why waste so much energy growing a whole cow if you can just get a machine to produce the bits you actually want? If they can pull it off then they will deliver, as Barry Estabrook puts in The Wall Street Journal, "the biggest revolution in how humans feed themselves since our Neolithic ancestors" began farming. Before then expect plenty more thrills and spills. This is a market full of bold visions, ambitious promises and big risks.
The stocks to buy now
Any discussion of plant-based investing must begin with Beyond Meat (Nasdaq: BYND). The shares soared after listing in the spring of 2019, but have slipped by 40% since hitting an all-time high in July of that year. Rodney Hobson on Interactive Investor says the share price today is more "realistic" than it once was, but he still suggests "caution".
Restaurant closures mean that recent earnings performance has been a "serious disappointment" and Beyond Meat may have to wait for next year to turn a profit. Hobson prefers Tattooed Chef (Nasdaq: TTCF), a smaller plant-based foods business whose grocery-store sales have held up better during the pandemic.
Many traditional retailers and food manufacturers are muscling into the plant-based sector as a hedge against the decline of their existing food businesses. Industry behemoths Nestlé and Unilever recently launched their own lines of plant-based burgers (the former was forced to rebrand its "Incredible Burger" line after Impossible Foods sued, arguing that the name was too similar to its own).
However, these are such large and diversified players that they do not yet offer much direct exposure to new eating trends.
A better bet among the established food giants may be Danone (Paris: BN), Credit Suisse analyst Robert Moskow tells Teresa Rivas in Barron's. The group "dominates" the plant-based beverage market through its Alpro division and also owns Activia, "the leading brand" in probiotic yoghurts.
Moskow also thinks that frozen-vegetable sellers stand to gain if the pandemic leads to a durable rise in home cooking. In the US he likes Conagra Brands (NYSE: CAG) and B&G Foods (NYSE: BGS). In Europe the equivalent play is Nomad Foods (LSE: ORMO).
Makers of ingredients also stand to gain. Joshua Warner of broker IG highlights AAK (Stockholm: AAK), the world's top producer of speciality oils and fats. Traditionally a supplier to the chocolate and confectionary industries, it has begun to work with plant-based firms on the intimidating lists of ingredients that often go into vegan processed foods. In the US, Ingredion (NYSE: INGR) and Bunge (NYSE: BG) play a comparable role.
Closer to home, says James Crux in Shares, Irish firm Kerry (LSE: KYGA) boasts "technological capabilities" that could prove invaluable as food chains shift to more plant-based options, according to a note from UBS. As both an ingredients business and a consumer-foods firm (it sells meat-free sausages) it has its fingers in plenty of vegan pies.
None of the cultured-meat start-ups, such as Dutch Mosa Meat or US Eat Just are listed on public markets. Instead, they rely on venture capital. Mosa recently concluded a funding round that raised another $85m.
However, investment firm Agronomics (Aim: ANIC) offers retail investors exposure to many early stage businesses, including Mosa Meat, LiveKindly and BlueNalu. Co-founder Anthony Chow tells Oliver Telling of the Investors' Chronicle that the firm is for those who want to bet big on cultured meat.
"If you have a strong view that [cell agriculture] is never getting to scale, then this is not the investment vehicle for you… We see [Agronomics] as a bet on the rising tide of cellular agriculture," he says. Agronomics's other co-founder is long-time MoneyWeek contributor Jim Mellon. They explain their investment case in more detail here.