What the FCA's "ban" on Binance means for cryptocurrencies
Binance, the world's biggest cryptocurrency exchange, has, it is reported, been "banned" by the FCA. But the truth is slightly more complicated than that, says Saloni Sardana. Here's what actually happened and what it means for crypto-investors.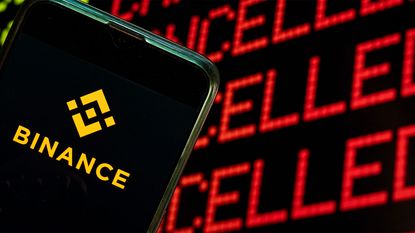 (Image credit: © Budrul Chukrut/SOPA Images/LightRocket via Getty Images)
Binance, the world's largest cryptocurrency exchange came under fire from the UK's Financial Conduct Authority last week when it said the company is not authorised to carry out any regulated activity in the UK.
The move is the latest measure by a regulator aimed at suppressing digital currencies, which have been growing at breakneck speed.
So what may this mean for you and your money?
Subscribe to MoneyWeek
Subscribe to MoneyWeek today and get your first six magazine issues absolutely FREE
Get 6 issues free
Sign up to Money Morning
Don't miss the latest investment and personal finances news, market analysis, plus money-saving tips with our free twice-daily newsletter
Don't miss the latest investment and personal finances news, market analysis, plus money-saving tips with our free twice-daily newsletter
The FCA said Binance's UK subsidiary – Binance Markets Limited – is not currently permitted to "undertake any regulated activities without the prior written consent of the FCA".
Binance was hoping to launch its digital asset market place in the UK but withdrew its application to register with the FCA in mid-May after it fell short of meeting all of the necessary anti-money laundering requirements.
The FCA's latest action against Binance will force it to display a warning on its website – effective from 30 June – telling investors that it doesn't have permission to operate in the UK.
Separately, Binance customers suffered a long outage which saw many of them unable to cash out their cryptocurrency gains following a move by Binance to suspend bank cards.They found themselves locked out of the Faster Payments network – a UK payments system that speeds up transfers between the banks of various countries – due to what Binance says were "maintenance issues". Binance also suspended bank card deposits and withdrawals.
While Binance says that Faster Payments were back online on Tuesday afternoon, the Financial Times reported that they were still unavailable. Issues relating to debit card withdrawals persisted.
But aren't crypto derivatives banned in the UK anyway?
Buying and selling cryptocurrencies is not a regulated activity in the UK, so most firms that promote selling and investing in cryptoassets are not backed by the FCA. Investors who buy cryptocurrencies will not have access to the Financial Ombudsman Service, nor the Financial Services Compensation Scheme if things go haywire.
But, while the FCA doesn't regulate cryptocurrencies themselves, it does regulate derivatives (eg, futures contracts, contracts for difference and options), as well as crypto assets that it considers to be securities.
The extreme volatility of the underlying assets, says the FCA, means that any derivatives have "no reliable basis for valuation", so trading such derivative assets would place retail consumers "at a high risk of suffering losses".
And so, in October last year, the FCA said that it would ban "the sale, marketing and distribution to all retail consumers of any derivatives (ie contract for difference – CFDs, options and futures) and ETNs that reference unregulated transferable crypto assets by firms acting in, or from, the UK".
That ban came into effect in January this year.
So the FCA's latest move isn't entirely significant in this context. It is, in effect, merely enforcing an existing ban. But while Binance Markets Limited is banned from offering regulated services in Britain, non-registered firms can still engage with UK consumers to provide unregulated services – such as buying and selling cryptocurrencies. In order words, Binance can still offer UK-based investors crypto trading via its website.
That is exactly what the FCA said in its statement when it announced Binance isn't fit to carry out regulated activity in the UK: "The Binance Group appear to be offering UK customers a range of products and services via its website, Binance.com.
So given this isn't exactly a "ban", will this have any impact on investors at all?
Investors may think twice about investing in cryptocurrencies not necessarily because of the FCA's measures, but more because this signals how regulators are simply not able to digest digital currencies and are making it harder for them to operate and investors to engage with them.
Binance also faced the wrath of Japan's Financial Services Agency, which warned last week the crypto exchange was operating in the country without permission.
And last month China banned crypto "mining" in the country, which up until now was a major producer and as such more than 65% of cryptocurrency mining comes from China.
While the FCA's recent warning about Binance is more symbolic, it is likely a catalyst for further regulatory action to come in the space.
Governments are rushing to build central bank digital currencies (CBDCs) and they are unlikely to want competition.
As the FCA recommends, investors should do extensive research on the firm they are considering investing with. Often taking simple steps such as checking if the company is registered with the Companies House or searching online for the firm's name or director's name can help flag any concerns early on.
And, as the FCA warns: "be wary of adverts online and on social media promising high returns on investments in crypto asset or crypto asset-related products."
"Any firm offering these services to retail consumers is likely to be a scam."
So, while it is definitely worth paying attention to crypto, you should expect a lot of volatility ahead. And the Faster Payments and bank card suspensions may lead investors to question just how useful bitcoin is in the first place, and how a blip can result in them being locked out of funds for days or even longer. Even if regulators don't officially ban crypto, if financial institutions make it difficult to deposit and withdraw funds, retail investors are going to find it increasingly difficult to play.
Saloni is a web writer for MoneyWeek focusing on personal finance and global financial markets. Her work has appeared in FTAdviser (part of the Financial Times), Business Insider and City A.M, among other publications. She holds a masters in international journalism from City, University of London.
Follow her on Twitter at @sardana_saloni