Can a woman deliver you better returns?
Women often make better stock pickers than men, delivering stronger returns for investors - but with fewer females managing funds, how can you make sure you take advantage of the feminist touch when picking funds? Kalpana Fitzpatrick on how to filter funds run by women and why it matters.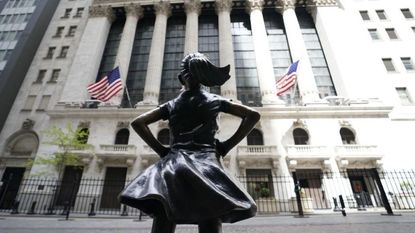 (Image credit: © Getty images)
In 2019, research from Morningstar found that there are more UK funds managed by a man called Dave or Davids than there are funds run by a woman.
Come 2022, Morningstar's research showed little changed - there are still more Daves running UK funds than there are women.
With so many male dominated funds, are investors potentially missing out on better returns that women can deliver?
Subscribe to MoneyWeek
Subscribe to MoneyWeek today and get your first six magazine issues absolutely FREE
Get 6 issues free
Sign up to Money Morning
Don't miss the latest investment and personal finances news, market analysis, plus money-saving tips with our free twice-daily newsletter
Don't miss the latest investment and personal finances news, market analysis, plus money-saving tips with our free twice-daily newsletter
It has been well documented that female fund managers often outperform their male counterparts, and often beat men in difficult market conditions.
So, should we as investors be actively seeking to add female-run funds to our mix of investment choices. And, if greater diversity in your portfolio matters to you, then how do you filter out the funds that provide a feminist touch?
Female vs male fund managers
Analysis from Investment Metrics found in November that active returns from portfolios led by women saw a median return of -2.6% compared to a -5.9% figure from male led teams - this was during a turbulent period, which showed women had done a better job at protecting assets.
And us women, we're killing it in the hedge fund world too. A study quoted in the book Laws of Wealth by Daniel Crosby quotes Terrance Odean and Brad Barber, two fathers of behavioural finance, who looked at individual accounts of a large broker firm; they found men traded 45% more than women and were seen as risk takers, over confident, and over traders. This in turn led to a negative impact on returns, made worse when compounded over several years.
Hedge Fund Research also found that in 2020, female-led funds outperformed the market during the financial crisis period, between January 2000 and May 2009, compared to funds led by men.
The reason why women do better is not clear. Perhaps it's our ability to avoid knee jerk reactions or trade excessively. Or perhaps it's because we can provide a different perspective on things, which helps when picking stocks.
After all, most active fund managers underperform because they're afraid to take too much risk and deviate from their benchmarks lest they should underperform. That lack of risk-taking and high fees inevitably lead to poor returns.
And this is something investors are catching onto - they're increasingly looking for good active managers who can justify their fees.
Picking female fund managers for your portfolio
If an active manager has an edge that can help they outperform by even a couple of percentage points a year, that's something investors should consider.
According to The Big Exchange's CEO Abi Sater, investors are becoming increasingly interested in screening for factors such as women-led funds as they try to gain an edge.
"If investing in a fund run by a woman is something that you care about then you should consider it alongside all of the other criteria taken into account when building your portfolio," Sater tells me.
"We had customers asking which funds are run by women and we wanted to make it easy for them to find them, so we added a filter on our site.
"While this information should not be difficult to find, the fact is, it is not given importance."
You can check a fund fact sheet for this information in most cases, but Sater argues this isn't always clear and hopes The Big Exchange's female fund filter will be a game changer in making sure more female led funds make it into portfolios.
Users can simply go onto its website to use the filter to find funds that are run by women.
The best performing fund over 5 years on The Big Exchange is run by a woman, as of 10 February 2023.
That should be celebrated, but for me, the real celebration begins in recognising the track record female fund managers bring to the table - and for any serious investors, this is a level of diversity surely no one should ignore?
Now, while I am not looking to push Dave to the side, I question whether investors like you and me are missing out on potential gains - it's no secret that Dave's female counterparts are steady outperformers, so should we all be looking to add a feminist touch to our portfolios?
Female fund managers to invest with
In 2022, Morningstar rated these female fund managers as the top fund managers you may want into.
Kalpana is an award-winning journalist with extensive experience in financial journalism. She is also the author of Invest Now: The Simple Guide to Boosting Your Finances (Heligo) and children's money book Get to Know Money (DK Books).
Her work includes writing for a number of media outlets, from national papers, magazines to books.
She has written for national papers and well-known women's lifestyle and luxury titles. She was finance editor for Cosmopolitan, Good Housekeeping, Red and Prima.
She started her career at the Financial Times group, covering pensions and investments.
As a money expert, Kalpana is a regular guest on TV and radio – appearances include BBC One's Morning Live, ITV's Eat Well, Save Well, Sky News and more. She was also the resident money expert for the BBC Money 101 podcast .
Kalpana writes a monthly money column for Ideal Home and a weekly one for Woman magazine, alongside a monthly 'Ask Kalpana' column for Woman magazine.
Kalpana also often speaks at events. She is passionate about helping people be better with their money; her particular passion is to educate more people about getting started with investing the right way and promoting financial education.