China's post-covid investment boom off to a slow start. Should you still invest in China?
Investors are no longer bullish on the China shop but the gloomy consensus on Beijing's economy might be unfair. Should you invest in China?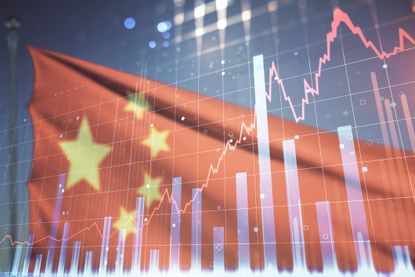 (Image credit: Igor Kutyaev)
It's no secret global investor's view of China has grown darker as the world's second largest economy emerges from its strict zero-covid policy. You may be wondering if now is a good time to invest in China.
Anyone holding funds and stocks in the region will have noticed a lacklustre economic recovery since Beijing loosened its stringent pandemic era restrictions and re-opened its economy last December, prompting investors to look for alternatives.
However, Matthews Asia investment strategist Andy Rothman argued that the general consensus view on China may be too negative.
Subscribe to MoneyWeek
Subscribe to MoneyWeek today and get your first six magazine issues absolutely FREE
Get 6 issues free
Sign up to Money Morning
Don't miss the latest investment and personal finances news, market analysis, plus money-saving tips with our free twice-daily newsletter
Don't miss the latest investment and personal finances news, market analysis, plus money-saving tips with our free twice-daily newsletter
The analyst believes that investors are underestimating the resilience of local consumers and entrepreneurs, as well as the pragmatism of policymakers.
Rothman said most of the developed world moved on from Covid-19 two years ago, while the last wave of Covid-19 cases and deaths in China only ended in January 2023, restraining household sentiment and spending. With each passing month, Rothman thinks that Chinese consumers should regain more confidence, supported by high savings and strong income growth.
"The resilience of Chinese consumers and entrepreneurs, as well as the pragmatism of the country's policymakers, have often been underestimated, and that is likely the case again today," he said to justify his "glass half full" view on China.
Beijing's policy course correction in pursuit of the 'common prosperity' agenda "is more likely to improve corporate and consumer confidence than any traditional stimulus because it is designed to address concerns that Xi is no longer supportive of entrepreneurs", Rothman added.
"This is, of course, just talk, but I believe that Xi's priority is restoring economic growth. I expect him to follow up with concrete actions."
Still, even Rothman laid out some of the obstacles ahead.
What are the risks associated with China's economy?
Although China is expected to see a post pandemic growth just as other countries have seen, Elizabeth Kwik, co-manager of abrdn China argued that there are still some risks investors should keep in mind.
"Further escalation of US-China tensions, particularly over Taiwan, remains a lingering issue but we do not at this point expect any sudden surprises considering the tone adopted by both countries following last November's meeting between Presidents Xi Jinping and Joe Biden."
Although China is sending less of its goods to the US, it has gained market share elsewhere. China's share of global exports in the first quarter of 2023 was 14%, compared with 12.8% in 2017, before the Trump tariffs.
Other headwinds to the economy include China's debt, there's an overhang on China's property crisis, unemployment and ageing population.
Rothman said that cleaning up China's debt problem will be expensive, and does limit the government's options for fiscal stimulus, but will not likely lead to a dramatic hard landing or banking crisis.
"China's debt problem is serious, but the risk of a hard landing or banking crisis is, in my view, low," he said.
Should you invest in China now?
For bargain hunters and long-term investors, China could be worth a look with experts saying the country is most likely set for growth.
Rebecca Jiang, co-manager of JPMorgan China Growth & Income, said: "We remain optimistic about the long-term prospects for the Chinese economy, which continues to be bolstered by the strong entrepreneurial ethos of China's private businesses as well as the growing demand from the country's burgeoning middle class."
A number of experts say they expect this year of the rabbit to be one of recovery and an accelerated activity as the zero-covid policy is rolled back - and this indeed good be an excellent time to get into China.
Sophie Earnshaw, co-manager of Baillie Gifford China Growth, commented: "China is likely to be one of the very few major economies where growth could accelerate in 2023, enjoying a reopening recovery like much of the rest of the world had in 2022. In the longer term, we continue to think the policy focus on quality of growth instead of quantity of growth will provide exciting stock-picking opportunities in areas such as green transition, hard technology, consumption upgrade and industrial automation."
Exposure to China: Funds and trusts to consider
If you're looking to add exposure to China to your portfolio, these are some funds and trusts to look at according to interactive investor's Dzmitry Lipski, head of fund research.
Fidelity China Special Situations Trust - provides broad, diversified exposure to Chinese equities, including 'H' shares listed in Hong Kong and mainland-listed 'A' shares.
Fidelity Asia - this will give you exposure to a broader range of emerging markets or Asia
Guinness Asian Equity Income Fund - this will also give you exposure to a broader range of emerging markets or Asia
JP Morgan Emerging Markets Investment Trust - holds just over a fifth of its portfolio in China. Tencent is the portfolio's third biggest holding.
Scottish Mortgage Trust - it's worth knowing its long-running theme has been its holdings in Chinese internet stocks, such as Tencent and Alibaba. According to interactive investor, it has a 10% allocation to China, which would be good news for the trust after its returns in Scottish Mortgage Trust have seen a 40% slump in recent months.
Kalpana is an award-winning journalist with extensive experience in financial journalism. She is also the author of Invest Now: The Simple Guide to Boosting Your Finances (Heligo) and children's money book Get to Know Money (DK Books).
Her work includes writing for a number of media outlets, from national papers, magazines to books.
She has written for national papers and well-known women's lifestyle and luxury titles. She was finance editor for Cosmopolitan, Good Housekeeping, Red and Prima.
She started her career at the Financial Times group, covering pensions and investments.
As a money expert, Kalpana is a regular guest on TV and radio – appearances include BBC One's Morning Live, ITV's Eat Well, Save Well, Sky News and more. She was also the resident money expert for the BBC Money 101 podcast .
Kalpana writes a monthly money column for Ideal Home and a weekly one for Woman magazine, alongside a monthly 'Ask Kalpana' column for Woman magazine.
Kalpana also often speaks at events. She is passionate about helping people be better with their money; her particular passion is to educate more people about getting started with investing the right way and promoting financial education.
With contributions from