UK economy shrinks 0.2%. Is a recession on the way?
The latest figures showed the UK economy shrank by 0.2%, and we seem to be heading for a recession. How will this affect you?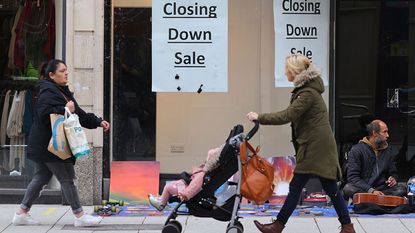 (Image credit: © Huw Fairclough/Getty Images)
The UK's economy shrank by 0.2% in the three months to September, the latest figures from the Office for National Statistics (ONS) show. The Bank of England (BoE) expects the contraction to mark the start of a prolonged recession.
A country is considered to be in a recession after two consecutive quarters of negative economic growth. As things stand, the BoE has predicted a five quarter-long recession.
Why is the UK economy shrinking?
The services sector saw no growth over the quarter due to a fall in consumer-facing services as households spent less money to cope with the rising cost of living.
Subscribe to MoneyWeek
Subscribe to MoneyWeek today and get your first six magazine issues absolutely FREE
Get 6 issues free
Sign up to Money Morning
Don't miss the latest investment and personal finances news, market analysis, plus money-saving tips with our free twice-daily newsletter
Don't miss the latest investment and personal finances news, market analysis, plus money-saving tips with our free twice-daily newsletter
Growth in the construction sector slowed however output did rise by 0.6%. Production output fell 1.5%.
"It's no surprise the service sector is shrinking," says Danni Hewson, a financial analyst at AJ Bell. "People are having to spend more to buy less, and they're terrified of what a cold winter might do to already battered budgets."
As for the manufacturing sector – it's "struggling with a double whammy of rising energy prices and a shortage of some raw materials", says Hewson.
While the 0.2% fall "isn't as bad as many economists had been expecting" it is still "in a tricky place." The economy is now 0.2% smaller than it was before the Covid pandemic. It seems unlikely things will settle any time soon as businesses struggle with rising inflation and rising interest rates.
Initial figures showed gross domestic product (GDP) fell by 0.6% in September 2022, however the ONS pointed out data for this month was affected by the bank holiday for the Queen's funeral.
Are we heading towards a recession?
Yes. The BoE expects this to be the longest recession since records began and said unemployment will nearly double.
"We are not immune from the global challenge of high inflation and slow growth largely driven by Putin's illegal war in Ukraine and his weaponisation of gas supplies," said chancellor Jeremy Hunt.
"I am under no illusion that there is a tough road ahead – one which will require extremely difficult decisions to restore confidence and economic stability," Hunt said. "But to achieve long-term, sustainable growth we need to grip inflation, balance the books and get det falling. There is no other way."
The BoE has been raising interest rates as it attempts to bring inflation back down to its 2% target. Currently, it's sitting at about 10.1%.
The base rate is at 3%, its highest level since 2008. Policymakers have raised rates seven consecutive times over the last year, and a further hike is expected when the rate-setting Monetary Policy Committee meets on 15 December.
As for the chancellor – he is set to announce his first Autumn Statement on 17 November and has warned there are "difficult decisions" involving tax and spending to fill the £50bn black hole in the country's finances. Spending cuts and tax hikes are expected.
What does this mean for your money?
The BoE has already warned of rising unemployment. Fewer vacancies could make it harder to find a job. Those already in employment might find their wages are no longer keeping up with rising costs.
Interest rates will continue to rise as the BoE tries to get inflation down to stop prices from increasing so quickly.
This will translate into higher debt repayments. Mortgages rates are currently at their highest rate since the 2008 financial crisis, and if interest rates continue to rise it's likely that they will too.
The chancellor is expected to announce a tax freeze, potentially targeting inheritance tax, pension tax breaks, income tax, capital gains tax and National Insurance. Freezing these thresholds could push thousands of people into a higher tax bracket, raising more money for the government.
Public spending on everything from transport to welfare to education is also likely to be affected, leaving these sectors to face huge cuts.
Furthermore, inequality will continue to widen. It's still unclear whether benefits will rise in line with inflation, though the prime minister has said he wants the government to be seen as "fair and compassionate".
His predecessor, Liz Truss, did not commit to increasing benefits in line with rising prices however.
The latest results paint a pretty bleak picture, and we seem to be in for a long and bumpy ride.
So what can you do?
The flipside to rising interest rates is banks are offering better rates on savings accounts, especially if you're ready to lock your money away for one, two, or five years.
If you have a lump sum sitting around in an account with an uncompetitive rate, now could be a great time to start shopping around and take advantage of the best deals currently on the market.
You might also want to consider whether now is the best time to buy a house and compare a property investment to investing in shares.
We will get a clearer picture of the government's plan for growth next Thursday. Until then, and for the foreseeable, it seems all we can do is wait and see.
Nic studied for a BA in journalism at Cardiff University, and has an MA in magazine journalism from City University. She joined MoneyWeek in 2019.