Flexible working: don't rush your staff back the office
The government is urging people to get back to the office. But there are good reasons for many small businesses to embrace flexible working.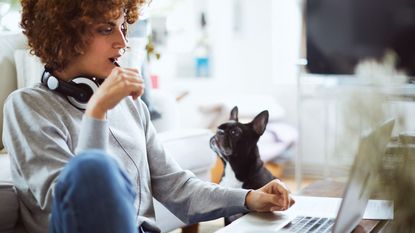 (Image credit: Woman on a laptop with an ugly little dog)
Should small business owners continue to let staff work from home in the wake of the pandemic? Senior government figures, including the prime minister, appear to think it's a bad idea and are urging people to get back to the office. They've even backed away from previous promises to give employees a legal right to request flexible working. However, just because you're not going to have to offer employees this benefit doesn't mean you shouldn't do so.
For many small businesses, flexible working makes lots of sense. There are several good business arguments for a permanent shift to this model. Above all, there is a growing body of evidence that flexible working policies boost output. One landmark study of 16,000 workers conducted by Stanford University found productivity increases of up to 13% at businesses that embraced flexible working. Rather than slacking off, staff trusted to manage their own time without supervision tended to work harder, the research concluded.
What if you could make those productivity gains while also reducing cost? Well, research from Hitachi Capital published earlier this year found the average small business with less than 50 employees could save £4,000 a month by shifting to hybrid working practices. That figure comes from a mix of reduced rent, as small businesses shift to smaller premises, and lower utility bills.
Subscribe to MoneyWeek
Subscribe to MoneyWeek today and get your first six magazine issues absolutely FREE
Get 6 issues free
Sign up to Money Morning
Don't miss the latest investment and personal finances news, market analysis, plus money-saving tips with our free twice-daily newsletter
Don't miss the latest investment and personal finances news, market analysis, plus money-saving tips with our free twice-daily newsletter
Then there's the issue of recruitment and retention. In a tough jobs market, where skills shortages are causing major difficulties for many employers, small businesses need to offer attractive working environments to compete for the best people. And all the evidence suggests people are looking for more freedom about how and where they work. A BBC survey found 70% of employees who had shifted to home working during the pandemic did not want to go back to full-time office-based work.
Set out a clear policy
In practice, there is no one-size-fits-all answer to this issue. For some small businesses, home working simply won't be an option for many staff, given the nature of what they do. And remember, flexible working doesn't mean staff simply work from home all the time: you may want them in the office regularly – say one or two days a week.
Indeed, there are good reasons to encourage at least some office-based time. It supports collaboration and team-building. It gives younger employees an opportunity to learn from colleagues. And staff themselves may want the option of coming into an office.
The key is to explore the best possible solution for your business and its staff and then to set out a clear policy on working from home. This should include details of which roles in the business are eligible for home-working; how often you expect home workers to come into the office; and whether these will be permanent arrangements.
Don't overlook other issues. Even when staff are working at home, your business is still responsible for their health and safety: you should be carrying out risk assessments on home workers. Check your insurance: does your employers' liability cover extend to staff working at home and what is the position on equipment taken out of the office? You will also need to ensure staff have the hardware and software that they need to do their jobs effectively – and make sure these arrangements aren't introducing cyber-security weaknesses into your organisation.
SEE ALSO:
The jobs market is booming – here are two ways investors can profit
The UK jobs market is still red hot – but will it last?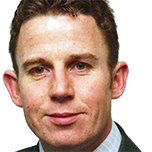 David Prosser is a regular MoneyWeek columnist, writing on small business and entrepreneurship, as well as pensions and other forms of tax-efficient savings and investments. David has been a financial journalist for almost 30 years, specialising initially in personal finance, and then in broader business coverage. He has worked for national newspaper groups including The Financial Times, The Guardian and Observer, Express Newspapers and, most recently, The Independent, where he served for more than three years as business editor.