Eric Yuan, the engineer whose world went Zoom
Eric Yuan, an engineer who invented business-conferencing tool Zoom, became a billionaire when his app became a must-have accessory in lockdown. But the really wild ride might just be beginning.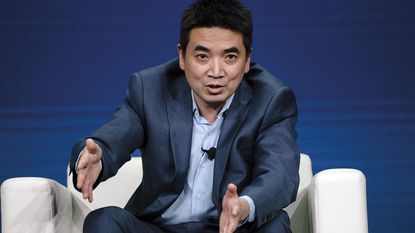 (Image credit: Eric Yuan of Zoom Video Communications © Michael Short/Bloomberg via Getty Images)
Eric Yuan, the founder of Zoom Video Communications, the video-conferencing app now used for everything from ministerial meetings to yoga classes, rocketed into the Forbes annual list of billionaires this month, with a net value of $5.8bn, says The Times. "When lockdowns were enforced Zoom entered the lexicon of every quarantined person on the planet" and its shares have reflected this surge in brand recognition, more than doubling since "coronapanic went global".
The rise of zoombombing
It has been a "wild ride" since Zoom's blockbuster initial public offering last year valued it higher than better-known consumer companies such as Lyft and Pinterest, which floated at the same time, says the Financial Times. Yet now, rising security and privacy concerns threaten to jeopardise its ascent: Zoom's metamorphosis from an also-ran video app, mainly used by business, has been accompanied by a rise in the practice of "zoombombing" – gatecrashing private Zoom conferences. The problem has become so pervasive that the FBI is now investigating and Zoom faces several class-action lawsuits. Yuan keeps apologising and has promised a fix. No wonder that, as Politico reports, Zoom has taken the precautionary step of upping its "lobbying presence" in Washington.
Yuan, now 50, conceived of Zoom back in his student youth when he had to travel ten hours by train to visit his girlfriend (now wife) and thought there must be "better ways to keep in touch", says The Times. He was born in 1970, in China's Shandong province, and has always described himself as "an engineer". It ran in the family, says Forbes: both his parents were mining engineers. Following a degree in applied maths and a masters in computer engineering, he spent four years working in Japan. An early inspiration was Bill Gates – it was hearing him talk that inspired Yuan to move to Silicon Valley.
Subscribe to MoneyWeek
Subscribe to MoneyWeek today and get your first six magazine issues absolutely FREE
Get 6 issues free
Sign up to Money Morning
Don't miss the latest investment and personal finances news, market analysis, plus money-saving tips with our free twice-daily newsletter
Don't miss the latest investment and personal finances news, market analysis, plus money-saving tips with our free twice-daily newsletter
He arrived in the US in 1997 aged 27 and started coding software for the web-conferencing firm WebEx, says The Times. When that was bought a decade later by Cisco, Yuan tried in vain to persuade the big cheeses there that "the smartphone age required a simpler, more intuitive form of business video-conferencing, built from the ground up", notes the FT. The decisive break came in 2011 when he decided to go it alone. At first "there were few financial backers lining up to take a punt" – they thought the video-conferencing market was already crowded – but Yuan borrowed funds from friends and family. His timing was perfect. "The smartphone created a huge economy, the cloud created a huge economy," he says. "It happened… at the right time."
Looking forward to a hug
Yuan's connections have made expansion in China a natural extension of Zoom's operations: nearly a third of its staff are based there and much of its research and development is sourced there, says the FT. "But what once may have seemed a... strength for a start-up has risked becoming a liability." Zoom's "China link" could be a weak spot in Western markets that are increasingly suspicious of China's ambitions. For now, Yuan, a popular boss who lives by the motto "hard work and stay humble", is taking life simply. Asked what he'll do first once this is over, he says: "Give my employees a hug". But Zoom's really wild ride may be just beginning.
Jane writes profiles for MoneyWeek and is city editor of The Week. A former British Society of Magazine Editors editor of the year, she cut her teeth in journalism editing The Daily Telegraph's Letters page and writing gossip for the London Evening Standard – while contributing to a kaleidoscopic range of business magazines including Personnel Today, Edge, Microscope, Computing, PC Business World, and Business & Finance.
She has edited corporate publications for accountants BDO, business psychologists YSC Consulting, and the law firm Stephenson Harwood – also enjoying a stint as a researcher for the due diligence department of a global risk advisory firm.
Her sole book to date, Stay or Go? (2016), rehearsed the arguments on both sides of the EU referendum.
She lives in north London, has a degree in modern history from Trinity College, Oxford, and is currently learning to play the drums.