Bernie Ebbers: the downfall of the Telecom Cowboy
Bernie Ebbers had the starring role in the greatest rags-to-riches story in US corporate history. A plot twist at the end turned it into a different kind of morality tale.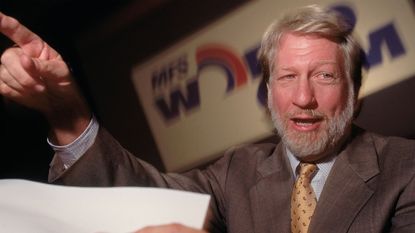 (Image credit: Corbis via Getty Images)
When Bernie Ebbers' former company, Worldcom, was on the brink of collapse in 2002, the deeply religious telecoms tycoon put in an appearance at his local Baptist church in Mississippi where he regularly attended services and taught Sunday school. Ebbers, who died this week aged 78, loudly assured the congregation that "you aren't going to church with a crook", notes Reuters. A federal jury in Manhattan thought otherwise – finding him guilty of orchestrating an $11bn accounting fraud – and the "Telecom Cowboy" was sent down for 25 years.
From milkman to titan
The length of the sentence shocked many at the time. But this was no ordinary corporate implosion, says the Financial Times. Until eclipsed a few years later by the collapse of Lehman Brothers, Worldcom was "the biggest bankruptcy in US history"; investors lost billions. What's more, "the fraud undid what was seen as one of the great US business rags-to-riches stories of its era". Ebbers spent nearly two decades transforming a tiny company originally called Long Distance Discount Service into the country's second-largest telco after AT&T, completing more than 70 takeover deals to do it. In 1997, when it outbid BT to buy MCI for $37bn, the deal was billed as "the largest corporate merger in history".
Ebbers was "a big man in every sense of the word", says Sky News. He stood at six foot four inches but, typically dressed in a Stetson and cowboy boots, "looked bigger". Born in 1941 in Edmonton, Canada, he was the son of a travelling salesman who relocated his family to the US. Young Bernie attended school on a Navajo reservation in New Mexico, later returning to Canada to take up jobs as a bouncer and milkman. Those jobs didn't appeal, so he headed back to the US, becoming first a basketball coach and then a motel-owner in Mississippi.
Subscribe to MoneyWeek
Subscribe to MoneyWeek today and get your first six magazine issues absolutely FREE
Get 6 issues free
Sign up to Money Morning
Don't miss the latest investment and personal finances news, market analysis, plus money-saving tips with our free twice-daily newsletter
Don't miss the latest investment and personal finances news, market analysis, plus money-saving tips with our free twice-daily newsletter
"In 1984, the opportunity do something bigger came along." Reagan's deregulation threw the telecoms sector open and Ebbers was invited by a member of his local prayer group to get stuck in. Ebbers realised early on that there was money to be made owning fibre-optic lines and Worldcom emerged as a major force in the internet revolution. All the while, Ebbers cultivated "the image of a simple 'aw shucks' Southern Baptist". For many years he didn't use a phone and claimed "he only sent his first email in 1999" – the year Worldcom's stock reached a peak value of $160bn.
The ostrich defence fails
The unravelling, when it came, was swift, says the Financial Times. Ebbers' fortunes were tied to the share price: "He had repeatedly borrowed money against the value of his Worldcom stock to buy land, other companies and yachts." When the shares fell after the dotcom bust amid worries over its debts, Ebbers implored staff to "hit the numbers". The upshot was that Worldcom began "flattering its earnings". Ebbers was ousted in 2002 owing $400m to the business. At his trial he deployed the "ostrich defence" – claiming to know nothing about it. But his "folksy manner" failed to swing the jury, particularly after his CFO, Scott Sullivan, and other directors testified against him.
Ebbers, who was released from prison on compassionate grounds a month before his death, continued to protest his innocence, blaming instead "his subordinates", says The Daily Beast. And right to the end he retained the support of many ordinary Worldcom workers. "It's easy to portray Ebbers as a supervillain, but the reality is closer to a Shakespearean tragedy," noted one punter this week. "His heart was in the right place, but he paid dearly for his arrogance."
Jane writes profiles for MoneyWeek and is city editor of The Week. A former British Society of Magazine Editors editor of the year, she cut her teeth in journalism editing The Daily Telegraph's Letters page and writing gossip for the London Evening Standard – while contributing to a kaleidoscopic range of business magazines including Personnel Today, Edge, Microscope, Computing, PC Business World, and Business & Finance.
She has edited corporate publications for accountants BDO, business psychologists YSC Consulting, and the law firm Stephenson Harwood – also enjoying a stint as a researcher for the due diligence department of a global risk advisory firm.
Her sole book to date, Stay or Go? (2016), rehearsed the arguments on both sides of the EU referendum.
She lives in north London, has a degree in modern history from Trinity College, Oxford, and is currently learning to play the drums.