Ask for a pay rise – everyone else is
As inflation bites and the labour market remains tight, many of the nation's employees are asking for a pay rise. Merryn Somerset Webb explains why you should do that too.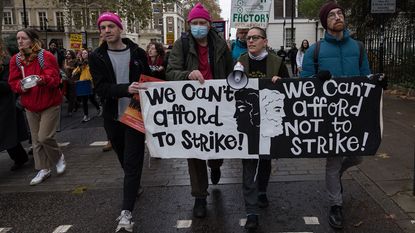 (Image credit: © Wiktor Szymanowicz/Future Publishing via Getty Images)
Open the papers on pretty much any page and you will see stories about other people asking for pay rises – and other stories explaining just why they are doing so.
In today's Times the first headline in the business section is headlined "Factory pay deals soar as inflation accelerates." Turns out that manufacturers in the UK have agreed pay settlements of "up to 14%" in an attempt to mitigate the intense pressure caused by acute staff shortages.
That makes the highest settlements more than double those of last year. It also reflects the fact that there has been very little salary freezing this time around: a year ago one third of firms were freezing salaries, now 2% are.
Subscribe to MoneyWeek
Subscribe to MoneyWeek today and get your first six magazine issues absolutely FREE
Get 6 issues free
Sign up to Money Morning
Don't miss the latest investment and personal finances news, market analysis, plus money-saving tips with our free twice-daily newsletter
Don't miss the latest investment and personal finances news, market analysis, plus money-saving tips with our free twice-daily newsletter
Turn then to the Financial Times. Here, page two of the paper carries a story about the barristers considering striking over pay, for what seems like good reason. Newly qualified criminal barristers make a mere £12,000 a year and, according to the chair of the Criminal Bar Association, "it has been nearly 24 years since we have seen any real increase in our incomes".
Directly opposite that we learn that economic forecasters are to "walk out in pay dispute". A couple of months ago forecasters at the National Institute of Economic and Social Research (NIESR) warned that a "crunch time" for household incomes was on the way. Clearly, they are feeling it: they are going on strike for two weeks from next week over a pay offer of 2% after suffering a pay freeze last year.
It all makes sense. Employees aren't blind to inflation; they can feel it around them – and see it in the supermarket and in their energy bills. That consumer price inflation (CPI) is likely to come in at over 5% again when the numbers are announced on Wednesday will come as no particular surprise to them.
We can all also see the other stories in the papers on inflation. Today alone we are told that the price of recycled plastic has doubled; that builders are being forced out of business by rising costs; that house prices are up again; that spiralling energy bills are pushing small companies into "survival mode;" that 6.3 million households will soon be facing "fuel stress;" and that used cars are a third more expensive than they were a year ago. There's nothing transient looking about all this.
Employees also know they are in short supply – vacancies are at an all-time high in manufacturing (93,000 unfilled jobs) for example, as are overall vacancies in the UK (1.22 million in December, nearly 450,000 up on pre Covid levels).
There is much talk among professional economists about how this shortage of workers won't lead to pay rises. As far as they are concerned, the decline of the unions has meant that employees have no bargaining power. NIESR said itself in November that it didn't expect a wage rise cycle for the simple reason that trade unions have lost much of their power to "insulate real earnings from inflationary shocks."
The last few decades have seen regularly low inflation – of the type people don't really notice. Think a couple of percent a year. For most people there are no alarm bells in that – and no particular reason to worry about living standards or to open emails from unions. But 5%? 6%? That rings alarm bells. It starts conversations around the water cooler (or on Zoom, I suppose). It makes you open emails from your union. It might even make you join a union.
Back to the NIESR staff. Many of them belong to Unite – and of those, 75% voted for the strike. Might it be that it isn't unions that drive the rise of inflation but inflation that drives the rise of unions? And that they might be about to rise again – possibly with even more organising and bargaining clout than ever before (social media can't exactly hurt here). If so, quite soon everyone who isn't already will be asking for a pay rise. You should too.
SEE ALSO:
The UK jobs market is still red hot – but will it last
Merryn Somerset Webb started her career in Tokyo at public broadcaster NHK before becoming a Japanese equity broker at what was then Warburgs. She went on to work at SBC and UBS without moving from her desk in Kamiyacho (it was the age of mergers).
After five years in Japan she returned to work in the UK at Paribas. This soon became BNP Paribas. Again, no desk move was required. On leaving the City, Merryn helped The Week magazine with its City pages before becoming the launch editor of MoneyWeek in 2000 and taking on columns first in the Sunday Times and then in 2009 in the Financial Times
Twenty years on, MoneyWeek is the best-selling financial magazine in the UK. Merryn was its Editor in Chief until 2022. She is now a senior columnist at Bloomberg and host of the Merryn Talks Money podcast - but still writes for Moneyweek monthly.
Merryn is also is a non executive director of two investment trusts – BlackRock Throgmorton, and the Murray Income Investment Trust.