The Brussels effect – how the EU is raising standards around the world
EU standards and consumer protection regulations have a habit of being enforced globally. Why is that? And is it such a bad thing?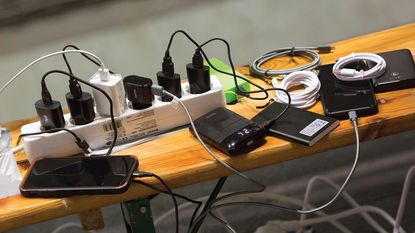 (Image credit: © Alamy)
The European Commission has announced new rules covering mobile phones and several other kinds of consumer electronics goods that mean products sold in the EU will have to be fitted with a standard USB type-C charging port.
The new rule (assuming it is signed off by the European Parliament and European Council) will take effect from the autumn of 2024 and will initially apply to "small and medium-sized portable electronics", including tablets, headphones and headsets, handheld videogame consoles, e-readers and portable speakers, as well as mobile phones.
Laptop computers will also be included, but manufacturers are being given longer to make the necessary changes: 40 months from when the changes get approved, which is expected to be this autumn.
Subscribe to MoneyWeek
Subscribe to MoneyWeek today and get your first six magazine issues absolutely FREE
Get 6 issues free
Sign up to Money Morning
Don't miss the latest investment and personal finances news, market analysis, plus money-saving tips with our free twice-daily newsletter
Don't miss the latest investment and personal finances news, market analysis, plus money-saving tips with our free twice-daily newsletter
What's the idea?
The changes mean that in future consumers will only need a single, separately sold charger to power all kinds of products from all the different manufacturers – saving them money and hassle and cutting waste.
The idea, according to the EU, is to "make products in the EU more sustainable, to reduce electronic waste, and make consumers' lives easier". The EU calculates that the measure will save consumers "up to €250m a year on unnecessary charger purchases" and eliminate 11,000 tonnes of waste per year.
The biggest loser is Apple; the US giant already uses USB-C charging on its laptops and a handful of iPad models, but its iPhones and less expensive tablets use its proprietary Lightning ports and chargers, which will no longer be acceptable in the EU.
What will Apple do?
When the plan was first floated last September, Apple claimed that regulation mandating just one type of connector would "stifle innovation" and harm consumers. In practice, though, it will have to comply – and work out whether it's worth making separate models for the EU and non-EU markets.
"I think the most likely outcome here is that Apple will shift the iPhone to USB-C globally rather than manufacture two slightly different designs," Aaron Perzanowski, law professor at Case Western Reserve University, told The Washington Post. "If that's right, it's another powerful illustration of the Brussels effect, and one that has broader implications," he said.
What is the "Brussels effect"?
It's the term coined by Anu Bradford, an American professor of international trade law, to describe the way in which the EU has quietly become a global regulatory superpower – with rules governing everything from timber production in Indonesia to internet privacy in Latin America.
The EU manages to wield disproportionate global influence by making access to its market of roughly 450 million consumers conditional on compliance with its standards – which are typically more stringent than other jurisdictions, and aimed at facilitating interoperability and free trade across the 27-nation bloc.
Companies adopt the standards as the price of selling into the huge EU market, and then often choose to impose them across their global businesses to save on the costs of running two or more compliance regimes. Sometimes, though not always, these rules are then codified by non-EU governments or international organisations.
For example?
Bradford's 2020 book, The Brussels Effect, traces the phenomenon back to the early 2000s and the chemicals regulation regime known as Reach. Other major areas are food safety and environmental stewardship. But the biggest recent example was in the field of data privacy and regulation, where the EU's GDPR rules have been widely adopted around the world.
Tech giants such as Facebook and Google have adapted their business models to suit the new standards stemming from the EU Digital Market Act, drastically cutting their options for monetising consumer data, says economist Renaud Foucart on The Conversation. "Companies are not obliged to apply EU law globally, they often simply find it easier to do so."
What sectors are next?
In the field of technology, the EU's explicit mission is to "protect EU values and counter external dependencies and threats from artificial intelligence and hacking" by dominating standards. But the Brussels effect also extends to more mundane and tangible fields such as clothes and furniture.
Last month, for example, EU regulators announced proposals for new textiles regulations that would have a massive impact on the global industry by, in effect, declaring war on the "fast fashion" culture of cheap, throwaway garments. The EU Strategy for Sustainable and Circular Textiles would force companies selling in the EU to comply with rules governing everything from how long a garment lasts, to how much recycled yarn it contains.
Will this "effect" last?
The EU's regulatory dominance is a relatively recent affair, says The Economist, and there are reasons to doubt its permanence.
First, its share of the global economy is likely to fall in the coming decades, cutting the world's incentive to follow Europe's rules. Second, in some contexts, technological innovations – such as 3D printing – could cut the costs of abiding by both European and other standards. Moreover, in some areas, "high standards may become a curse, rather than a virtue". For example, in the AI field, companies under sketchier regulatory regimes "may build an insurmountable lead via unethical experimentation".
One day the Brussels effect may be replaced by the Beijing effect, but the shift looks some way off. "Countries are increasingly forced to pick a sphere of influence. When the other choices are an erratic America and an undemocratic China, the EU has something to offer."
Simon Wilson's first career was in book publishing, as an economics editor at Routledge, and as a publisher of non-fiction at Random House, specialising in popular business and management books. While there, he published Customers.com, a bestselling classic of the early days of e-commerce, and The Money or Your Life: Reuniting Work and Joy, an inspirational book that helped inspire its publisher towards a post-corporate, portfolio life.
Since 2001, he has been a writer for MoneyWeek, a financial copywriter, and a long-time contributing editor at The Week. Simon also works as an actor and corporate trainer; current and past clients include investment banks, the Bank of England, the UK government, several Magic Circle law firms and all of the Big Four accountancy firms. He has a degree in languages (German and Spanish) and social and political sciences from the University of Cambridge.