One year later: how is Afghanistan faring under Taliban rule?
It's been a year since the Taliban took back control in the country following the withdrawal of US troops. The outlook remains grim. Simon Wilson reports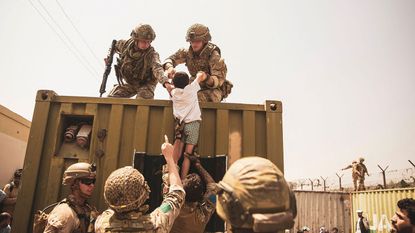 (Image credit: © Alamy)
How are things now?
Dire. Afghanistan's economy rapidly collapsed following the Taliban takeover a year ago, with output in the fourth quarter of 2021 a third lower than a year before, according to World Bank estimates. Overall, GDP is expected to decline by around 34% by the end of 2022 compared with 2020, the last full year of the USbacked republic. Currently, the UN says 90% of Afghans are short of food and half are facing acute hunger. Thousands of once-thriving small businesses have closed, and inflation for basic household goods is running at 52% year-on-year. The current humanitarian crisis could, says the International Rescue Committee, kill more Afghans than the past 20 years of war. How was the country doing pre-takeover? In the two decades since the US-led invasion, the economy had grown strongly overall – from an extremely low base as a pariah state under the Taliban in the 1990s – though since 2014 that growth had flatlined.
Afghanistan remains one of the poorest countries in the world, in terms of per capita GDP. With a population of about 40 million and GDP of roughly $20bn, it's GDP per capita was just $500 last year, and significantly less than that this year – estimated at $375, its lowest for a decade. Afghanistan remains overwhelming dependent on agriculture, accounting for around 60%-80% of employment, on US official figures, and about a third of official GDP, not counting the large-scale illicit cultivation of opium poppies. Poppy crops doubled after the US invasion, despite billions spent on eradication efforts.
Legal sectors that also prospered under the US-led occupation included construction, logistics, telecommunications and media industries. But the economy remained dependent on military spending and donations – aid accounting for almost half the economy.
Subscribe to MoneyWeek
Subscribe to MoneyWeek today and get your first six magazine issues absolutely FREE
Get 6 issues free
Sign up to Money Morning
Don't miss the latest investment and personal finances news, market analysis, plus money-saving tips with our free twice-daily newsletter
Don't miss the latest investment and personal finances news, market analysis, plus money-saving tips with our free twice-daily newsletter
What caused the economic collapse?
The hasty US retreat and Taliban takeover was followed by sudden withdrawal of foreign aid, the freezing of state assets, and paralysis in the financial system that devastated business and households. Following the Taliban's conquest, Western powers cut off the foreign aid that accounted for about 45% of GDP (according to the World Bank) and 75% of the government's budget. As a result, total public spending is expected to have declined by around 60% in nominal terms (far more in real terms; inflation is soaring) and there has been major disruption to basic services such as healthcare and education. Aid inflows had also financed a large trade deficit (around 30% of GDP)
What about sanctions?
The US and its allies froze about $9.2bn of Afghan state funds held in Western banks and enforced sanctions that paralysed Afghanistan's financial system. Sanctions on money flows to anybody associated with the Taliban have had a chilling effect, with many foreign banks being "unwilling to process foreign currency transactions involving Afghan banks", according to Human Rights Watch. The cessation of international payments by foreign banks left Afghan firms unable to pay for imports or get paid for exports and stopped flows of remittances from the Afghan diaspora abroad. It also meant aid organisations and NGOs were unable to pay salaries or operate effectively within the country. All this coincided with a rapid slump in investment confidence and the exodus of tens of thousands of the most educated and skilled Afghans. In January, the UN and US announced exemptions to allow in humanitarian aid.
Any bright spots?
One area of apparent improvement under the current Taliban government is that there's less violence and corruption, says The Wall Street Journal. Previously, trucks carrying goods across the border would have to pay bribes to the security forces manning the many checkpoints on roads leading to big cities. Entrepreneurs say there's now far less corruption, though to keep the Taliban onside, they might offer free food and clothes to their foot soldiers instead. Under the former republic, corruption was so endemic that the private sector spent $4bn a year in undeclared payments to customs officials a year, according to estimates shared with the WSJ by a senior representative of the Afghan Federation of Chambers of Commerce. According to the World Bank, the Taliban government collected customs revenues of around $700m in January to May – a total that is comparable to the fallen republic's, despite the economic meltdown.
So things are stabilising?
After an initial plunge, the economy and currency "seem to have stabilised somewhat at their new lower level", says Felix Salmon on Axios. Exports are even rising, thanks to higher energy prices – and coal exports are up. While imports have fallen sharply, the UN now expects Afghanistan's total exports to rise this year to about $1.8bn from $1.2bn in 2019. The total value of its vast reserves of everything from lithium to gemstones could be worth as much as $1trn, says Benjamin Parkin in the Financial Times, although decades of instability have limited exploration and mining.
But the overall outlook remains bad?
It's not good. Afghanistan is stuck in a "low-level equilibrium trap", says William Byrd of the US Institute of Peace, with very slow economic growth at or below the population growth rate – meaning the lives of most people will not improve any time soon. Moreover, "even this unattractive scenario is precarious and could be derailed by continuing drought, lower humanitarian aid, the Ukraine war's impact on food prices or worsening security". The current drought will make it hard for agriculture to play its essential role in recovery, while serious implementation of the Taliban's proposed opium ban "would create a perfect storm for the rural economy, risking outright famine and large movements of people out of the country". Afghanistan has been through hell, and there's no obvious sign of easier times ahead
Simon Wilson's first career was in book publishing, as an economics editor at Routledge, and as a publisher of non-fiction at Random House, specialising in popular business and management books. While there, he published Customers.com, a bestselling classic of the early days of e-commerce, and The Money or Your Life: Reuniting Work and Joy, an inspirational book that helped inspire its publisher towards a post-corporate, portfolio life.
Since 2001, he has been a writer for MoneyWeek, a financial copywriter, and a long-time contributing editor at The Week. Simon also works as an actor and corporate trainer; current and past clients include investment banks, the Bank of England, the UK government, several Magic Circle law firms and all of the Big Four accountancy firms. He has a degree in languages (German and Spanish) and social and political sciences from the University of Cambridge.