Neom megacity: Saudi Arabia's vision of the future
The kingdom is building a futuristic city in the desert, a key component of its plan to wean the economy off oil and woo tourists and global businesses. Could it work?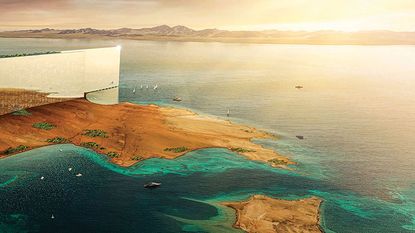 (Image credit: © NEOM)
Saudi Arabia has announced more details of its plans for Neom, the futuristic megacity that crown prince Mohammed bin Salman (MbS) wants to build in the north-west of his country. The name is derived from the Greek word for "new" and the Arabic word for "future", and the city's construction, first announced in 2017, is taking place in the sparsely populated Tabuk desert, next to the Red Sea.
The project is a key component of MbS's "Vision 2030" strategy – pivoting away from reliance on oil towards a diversified economy that attracts more tourists and global businesses, much like Dubai.
The estimated cost is $500bn, and MbS hopes the city will have 1.5 million residents by 2030 – eventually nine million – and contribute $100bn a year to the economy.
Subscribe to MoneyWeek
Subscribe to MoneyWeek today and get your first six magazine issues absolutely FREE
Get 6 issues free
Sign up to Money Morning
Don't miss the latest investment and personal finances news, market analysis, plus money-saving tips with our free twice-daily newsletter
Don't miss the latest investment and personal finances news, market analysis, plus money-saving tips with our free twice-daily newsletter
So what's been announced?
The team leading the project has now released the design concept for the centrepiece of Neom – two gigantic, interlinked, mirrored buildings, each 500 metres high, that stretch across the desert, in parallel, for 100 miles. The scale is completely unprecedented in the history of architecture.
Called The Line, the two buildings, with an overall width of 200 metres, would be connected via walkways, with parks, pools and public amenities provided in the space between them. There would be no need for roads or cars in this enclosed city. Instead, an ultra-high-speed rail line would run, below ground, along its length, whizzing people from end to end in 20 minutes.
The mirror cladding will keep out the sun in a region with ultra-high-temperatures, supposedly letting The Line create its own biosphere that's suitable for humans and plants all year round even as the planet heats. Food would be grown in vertical farms, and the whole thing would be serviced by flying taxis, robotic maids and a floating, zero-carbon port.
Isn't that completely nuts?
It is, says Edwin Heathcote in the Financial Times. In 1969, a radical group of Italian architects proposed a similar plan for a continuous-line city, a "white griddled wall" cutting through the Arizona desert. But that design was "a provocation, not a proposition" – an "architectural satire on modernism's lack of relationship with context".
The Saudi concept for Neom is "dystopia portrayed as Utopia": a city "defined as a wall, driven through an uninhabitable desert, hermetically sealed and reliant solely on technology to make it liveable". Sure, it's an astonishingly bold concept with a "dizzying dash of techno-optimism".
But despite claiming to be a "carbon-neutral" solution to environmental crises, the mechanics of building it "assumes the endless free energy of the Saudi oil glut and disregards the consequences".
And the biggest question of all is: who is it actually for?
And the answer?
The rationale is that Saudi Arabia's youthful population of 36 million is projected to grow by a third in the next three decades. The country's main cities are sprawling and congested, and the idea of establishing a Dubai-style new city has obvious appeal. However, the concept of The Line owes more to science fiction than reality, says David Fickling on Bloomberg Opinion.
MbS has hubristically touted Neom as his "pyramids", but its rationale is radically flawed. After all, a "world in which Neom's innovations in urban living work is one in which Saudi Arabia's main exports are superfluous". MbS should draw a useful lesson from the downfall of Evergrande in China: that infrastructure and property development work best when they follow population flows, rather than try to mould them.
The kingdom will benefit far more from the "humdrum metro networks" being built in Riyadh, Mecca, Medina and Jeddah – and from its long-delayed cross-country rail corridor – than it will from a grandiose folly on the Red Sea. And actually fulfilling its plans to tap "vast and barely utilised solar and wind resources would provide cheaper power locally while freeing up petroleum for export".
Is Neom actually happening?
Work has started, yes. Indeed, tens of thousands of white-collar expatriates – engineers, architects, executives and urban planners – have gone to work in Saudi Arabia on multibillion-dollar initiatives launched by MbS to create new cities and industries. These include five so-called "giga-projects", like Neom, and dozens of smaller developments.
But many are now fleeing, says Rory Jones in The Wall Street Journal – turned off by a brutal management culture, led by Neom chief executive Nadhmi Al-Nasr, that they claim "belittles expatriates, makes unrealistic demands and turns a blind eye to discrimination".
The man handpicked by MbS to lead Neom "often berates and scares his employees, current and former Neom staff members say" – causing Neom to lose dozens of expat executives from its 1,500-member workforce.
So all is not well?
Turning Neom into a reality is proving a "formidable challenge", even for an absolute ruler with a $620bn sovereign-wealth fund, says Vivian Nereim on Bloomberg. It's true that some cities in the Gulf region – Dubai, Abu Dhabi, Doha – have sprung from the desert to become major commercial hubs in a remarkably short time.
But Saudi Arabia's record to date is less impressive. In 2005, plans for six new cities were announced, but only one made it off the drawing board: King Abdullah Economic City, a $30bn project 90 miles from Jeddah on the Red Sea coast. High hopes for the city have failed to come to fruition: it has a population of around 7,000 people, against the original target of two million by 2035.
As for Neom, many millions have so far been spent on architects, futurists and even Hollywood set designers. But so far only a handful of buildings have been built. "The chaotic trajectory so far suggests that MbS's urban dream may never be delivered."
Simon Wilson's first career was in book publishing, as an economics editor at Routledge, and as a publisher of non-fiction at Random House, specialising in popular business and management books. While there, he published Customers.com, a bestselling classic of the early days of e-commerce, and The Money or Your Life: Reuniting Work and Joy, an inspirational book that helped inspire its publisher towards a post-corporate, portfolio life.
Since 2001, he has been a writer for MoneyWeek, a financial copywriter, and a long-time contributing editor at The Week. Simon also works as an actor and corporate trainer; current and past clients include investment banks, the Bank of England, the UK government, several Magic Circle law firms and all of the Big Four accountancy firms. He has a degree in languages (German and Spanish) and social and political sciences from the University of Cambridge.