Why France's plan to monopolise air travel should be grounded
The French president's plan to create a new EU-wide airline monopoly would be a disaster for the industry, says Matthew Lynn.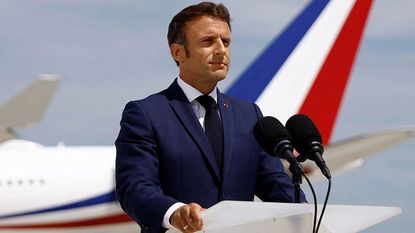 (Image credit: © GONZALO FUENTES/POOL/AFP via Getty Images)
France's nuclear power plants have been closed for maintenance over much of the summer. In a blow for its defence industry, Australia cancelled a huge submarine order. And its car manufacturers suffered a blow when Renault was forced to sell its Russian unit. This has not been a great few years for French industrial policy. Yet, undeterred, its leaders are eyeing a lucrative new target: a virtual monopoly on European air travel.
Over the last week it has become clear that France is determined to create a major new force in global aviation. It emerged that the Italian government has chosen a group led by the private-equity firm Certares, and crucially backed by Air France-KLM, to take a majority stake in ITA, the national flag-carrier rescued out of the bankrupt and little-missed Alitalia.
The Italian government turned down a rival offer backed by Lufthansa, and the takeover may well be completed over the next few months; it has enough problems on its plate without hanging on to a struggling airline for any longer than necessary.
Subscribe to MoneyWeek
Subscribe to MoneyWeek today and get your first six magazine issues absolutely FREE
Get 6 issues free
Sign up to Money Morning
Don't miss the latest investment and personal finances news, market analysis, plus money-saving tips with our free twice-daily newsletter
Don't miss the latest investment and personal finances news, market analysis, plus money-saving tips with our free twice-daily newsletter
France is pulling the strings
It is the involvement of Air France that is most interesting, however. You hardly need to be Sherlock Holmes to work out what is about to happen: Air France has already orchestrated a merger with the Dutch airline KLM; now it is intent on taking creeping control of ITA.
Behind the scenes, French president Emmanuel Macron and his government are clearly pulling the strings. Only last year, France massively increased its stake in the airline, and it now owns 29% of the group, three times the Dutch government's shareholding. The airline received massive bailouts to help keep it afloat during the pandemic. Now the plan appears to be to add Italy to its growing empire. Who's next? Perhaps one or two of the smaller European airlines, or even another major national player.
The prospect is of France creating a protected EU flag carrier under effective state control, with a virtual monopoly on European travel. Once that is established, we can expect the British Airways owner IAG, along with its Spanish partner Iberia, to be frozen out of the market. Germany's Lufthansa, which was beaten out of the bidding for ITA, will be left with little more than its domestic market to serve. And the budget airlines such as Ryanair will find life tougher and tougher, excluded from prime landing slots and left to serve a tourist market at secondary airports.
We will be right back with a 1970s-style airlines industry, with big prestigious state-controlled carriers dominating the business and long-haul markets, and charging sky-high prices, along with a few cheap carriers for everyone else. That might be profitable for France – although the state-controlled airlines of the 1970s were inefficient and kept alive only with massive subsidies from their governments – but the question is, why should this be tolerated by anyone else? So far, the EU's competition authorities, so fierce when it comes to regulating the US tech giants, or policing rivalry with the City of London, are sitting on their hands.
The world must react
There's no point expecting them to curb Air France or its ambitions to dominate the European market. But that is no reason for the rest of the world to put up with it. Under World Trade Organisation rules, the UK could take legal action against the airline. The US could demand a stop to it and threaten to retaliate with selective tariffs. Or a group of the other major economies around the world could place restrictions on its landing slots unless the market were opened out.
Macron Air, as it should probably be known, would change the way the whole industry operates. It would raise prices for consumers, simply by setting benchmarks and by controlling so many of the major airports. And it would raise the prices of planes, too, since it would always buy Airbus rather than Boeing, making equipment more expensive for everyone else.
The relatively free, open and deregulated airline industry of the past 30 years would effectively be brought to an end. This should not be allowed to stand.
Matthew Lynn is a columnist for Bloomberg, and writes weekly commentary syndicated in papers such as the Daily Telegraph, Die Welt, the Sydney Morning Herald, the South China Morning Post and the Miami Herald. He is also an associate editor of Spectator Business, and a regular contributor to The Spectator. Before that, he worked for the business section of the Sunday Times for ten years.
He has written books on finance and financial topics, including Bust: Greece, The Euro and The Sovereign Debt Crisis and The Long Depression: The Slump of 2008 to 2031. Matthew is also the author of the Death Force series of military thrillers and the founder of Lume Books, an independent publisher.