Just how green is nuclear power?
Nuclear power is certainly very clean in terms of carbon emissions, but what about the radioactive waste produced as a byproduct? It's not as much of a problem as you might think.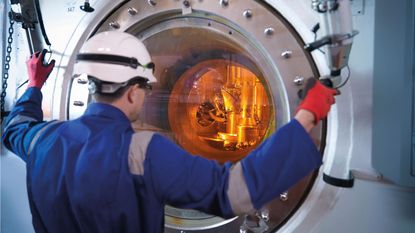 (Image credit: © Alamy)
What has changed in the EU?
At the start of the month the European Commission presented the 27 EU member states with new draft rules classifying natural gas and nuclear power as "green" fuels for electricity generation. It reflects the growing acceptance that nuclear will be crucial to the process of decarbonisation.
Assuming the rules are approved (France is in favour; Germany is less keen but unlikely to block them), it means nuclear will take its place alongside renewables such as wind and solar on the EU's list of technologies approved for financial support from next year onwards. That matters because the EU's stamp of approval is likely to spur investment and help firms, investment funds and lenders hit environmental, social and governance (ESG) targets.
Is nuclear power really a green energy?
In terms of the production of carbon and other greenhouse gases – even taking into account the whole life cycle of a power plant – proponents say it's a far greener energy than either fossils fuels or renewables.
Subscribe to MoneyWeek
Subscribe to MoneyWeek today and get your first six magazine issues absolutely FREE
Get 6 issues free
Sign up to Money Morning
Don't miss the latest investment and personal finances news, market analysis, plus money-saving tips with our free twice-daily newsletter
Don't miss the latest investment and personal finances news, market analysis, plus money-saving tips with our free twice-daily newsletter
One estimate, by a nuclear-engineering professor at MIT, calculates that, over the life of a power plant – including construction, mining, transport, operation, decommissioning and disposal of waste – the greenhouse-gas emissions for nuclear power are 1/700th those of coal, 1/400th of gas, and a quarter of solar. In addition to not producing carbon, nuclear power installations take up negligible land – and use smaller amounts of raw materials – compared with renewables such as wind and solar.
Critics say that the uncertainties about nuclear waste, and how much it will cost to store, make such calculations meaningless and make optimism misplaced.
Is dealing with nuclear waste costly?
In 2019, official estimates of the liabilities attached to cleaning up 17 of Britain's oldest nuclear sites put the cost at £124bn over the next 120 years, of which £97bn applies to Sellafield alone. But there's a good deal of uncertainty around decommissioning and waste figures. For example, estimates of the decommissioning costs for the UK's non-Sellafield first-generation sites rose from £12bn in 2005 to £30bn by 2019.
However, Tim Stone, chief executive of the Nuclear Industry Association, argues that when it comes to this issue the past is not a good guide to the future. Everything could all become much cheaper if we get better at it. New reactors are designed with dismantling in mind, argues Jonathan Ford in the Financial Times, and "their longer lives (they are built to last for 60-80 years) mean their decommissioning costs should easily be covered out of operating revenue".
As for the new EU proposals, they require newly built reactors – and existing ones whose lives are being extended – to have detailed plans in place for disposing of high-level radioactive waste by 2050. The EU's demands are a tall order though, says Mark Hibbs in Foreign Policy, because it implies that "all essential activities for a repository project – geological screening, site and technology selection, political approvals, licensing, and construction – be completed in less than three decades".
What is "high-level" nuclear waste?
When a nuclear plant closes, there are three types of waste material. The safest category, including items such as old protective clothing, accounts for about 90% of all the waste by volume, says Ford. In this category the contamination is limited and the waste can be buried in sites with less elaborate safety procedures.
But much more difficult to handle is "intermediate" waste (7%), which includes items such as fuel cladding and old machinery, and the "high level" waste – essentially the highly irradiated spent fuel itself. Nuclear fuel rods, once spent, are moved into pools of water to cool, and then encased in 15-foot tall canisters known as "dry casks" that weigh 100 tons or more. This high-level category accounts for just 3% of waste by volume, but is responsible for 95% of the radioactivity.
Where does all the nuclear waste end up?
For now, all of the UK's high-activity radioactive waste (from power generation, military, medical and civil uses) remains stored on the surface – between 70% and 75% of it at Sellafield. But eventually, given that plutonium and certain fission products remain radioactive for hundreds of thousands of years, Britain will need a "geological disposal facility" (GDF). It needs to be buried – in the case of intermediate and high-level waste several hundred metres underground.
Choosing an area with the right geology, the waste needs to be placed in containers with several engineered barriers and then surrounded by clay. In the UK, three sites are currently under consideration by the government – one in Cumbria, one near Hartlepool, and at Theddlethorpe, near the Lincolnshire coast. But all face strong local opposition. The first country to take the plunge and start building a GDF is Finland, where a geological repository for high-level spent nuclear fuel is under construction at Olkiluoto. A few other countries are considering similar schemes.
How can that be safe?
Industry scientists say that much opposition to nuclear rests on a fundamental misunderstanding of the risks. Plutonium might have a half-life of 24,000 years, for example, but it doesn't emit much radiation. According to the US radiation expert Robert Gale, "for every terawatt hour of electricity produced, nuclear energy is 10-100 times safer than coal or gas".
What it does emit are alpha particles, which do not even penetrate human skin. As part of the risk assessments ahead of the GDF at Olkiluoto, Finnish scientists predicted that the impact of waste leaking from it after 1,000 years on someone living directly above the site – with food and water coming from the most contaminated plot of land – would be likely to receive a radiation dose of 0.00018 millisieverts per year. That's the equivalent to the radiation we get from eating two bananas.
Simon Wilson's first career was in book publishing, as an economics editor at Routledge, and as a publisher of non-fiction at Random House, specialising in popular business and management books. While there, he published Customers.com, a bestselling classic of the early days of e-commerce, and The Money or Your Life: Reuniting Work and Joy, an inspirational book that helped inspire its publisher towards a post-corporate, portfolio life.
Since 2001, he has been a writer for MoneyWeek, a financial copywriter, and a long-time contributing editor at The Week. Simon also works as an actor and corporate trainer; current and past clients include investment banks, the Bank of England, the UK government, several Magic Circle law firms and all of the Big Four accountancy firms. He has a degree in languages (German and Spanish) and social and political sciences from the University of Cambridge.