Holiday rip-off: Millions of travellers hit with hidden costs by using debit card abroad
A family of four on a week-long trip to France could pay an extra £212 in fees by using their everyday bank card compared to the lowest-cost option, according to new research. We expose the hidden debit card fees and reveal how to get the best deal.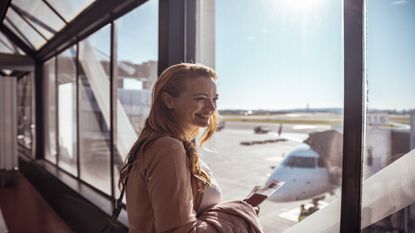 (Image credit: © Getty Images)
As the summer holiday season beckons, new research reveals that millions of holidaymakers are being caught out by huge fees just to use their debit card abroad.
Two-thirds (67%) of people think there are hidden costs when using a debit card overseas, while 58% say they feel they are being "ripped off" when they use it, according to research by travel debit card Currensea.
Calculations by Currensea show that a family on a week's holiday in France could be £212 out of pocket while a couple heading to New York for a weeklong break face additional fees of up to £295.
Subscribe to MoneyWeek
Subscribe to MoneyWeek today and get your first six magazine issues absolutely FREE
Get 6 issues free
Sign up to Money Morning
Don't miss the latest investment and personal finances news, market analysis, plus money-saving tips with our free twice-daily newsletter
Don't miss the latest investment and personal finances news, market analysis, plus money-saving tips with our free twice-daily newsletter
Some debit cards from high-street banks charge as much as 4.75% for withdrawing cash at ATMs abroad, and 2.75% for buying things in shops and restaurants.
Three-quarters (74%) of travellers think bank charges for spending abroad are too high. They are also often opaque, with customers having to sift through long terms and conditions to work out how much they are actually being charged.
"Everyone is feeling the pinch of the cost-of-living crisis, yet millions of travellers are unnecessarily forking out huge sums in fees and hidden costs just to use their debit card abroad. Travellers have been losing out for too long: providers need to improve transparency and remove hidden costs so travellers can finally get a clear view of their spending," said James Lynn, co-founder of Currensea.
Meanwhile, many people with prepaid currency cards, who think they are getting a better deal compared to using their debit card, are losing out due to forgotten balances and dormant fees eating into their cash.
There is an estimated £500 million sitting on prepaid currency cards. Some providers charge fees if the card isn't used for a while. For example, the Post Office Travel Money card charges a £2 "monthly maintenance fee" 12 months after a card expires.
Those withdrawing cash at ATMs abroad are particularly feeling the sting from hefty fees. Figures from the comparison service Moneyfacts show that travellers withdrawing £250 from an overseas ATM will typically face charges of £11.88. For withdrawals on credit cards, this rises to £14.95 in fees, before interest.
To make matters worse, some overseas ATMs charge a fee as well.
Despite these high costs, Currensea's research reveals that almost a fifth (18%) of UK travellers still use cash for 100% of their holiday spending.
And while much has been written over the years about how eye-wateringly expensive airport bureaux de changes can be, 20% of travellers say they exchange most of their money at the airport as they think it's more convenient. This jumps to 38% of 18-34 year olds.
Martyn James, personal finance and consumer rights expert, said: "Never buy cash at the airport as the rates are pretty much always terrible. That includes on the way out and on arrival too."
"Travellers are going to be paying much more for their holidays abroad this year"
As well as hidden costs on your spending money, holidaymakers face getting stung in a range of other ways, from car hire rip-offs to sneaky airline fees.
Currensea's research highlighted overpriced refreshments on flights, paying for seats on planes, tourist taxes, airport car parking and paying extra for luggage on flights as some of the most common hidden costs that UK travellers face on holiday.
Martyn James, said: "Travellers are going to be paying much more for their holidays abroad this year - from the moment they get off the plane to enjoying a simple meal with friends or family.
"Many people won't be prepared for how much things cost on holiday [for example, food inflation in other countries has pushed up restaurant bills]. Many travellers panic and exchange money at the airport. And they panic and pay in pounds on card machines abroad, instead of opting to pay in the local currency."
He said holidaymakers should watch out for paying for extra luggage on planes: "I've heard of people thinking that if they pay for an extra bag it can go in the hold, but actually what they've paid for is a cabin bag. They then have to fork out £40 or so at the airport to place it in the hold. It's very confusing."
Most of us know to be on our guard when booking car hire and when collecting the car, as it's easy to get ripped off.
Martyn James warned that a new sneaky tactic had emerged recently: "You buy your excess car hire insurance before you travel, but then at the car hire pick-up desk they say the car you booked isn't available so we need to give you a different car, and that means your insurance is invalidated and you need to buy our policy."
But, of course, this is nonsense and there is no need to buy another policy from the car rental firm.
James Lynn said many of the holiday rip-offs feel like a "family tax" as it is often families - who are time-poor, may have young children in a pushchair and they all just want to get to their destination - who often fall into the traps like exchanging money at the airport and being up-sold on their car rental.
He added: "The travel industry is full of the sort of practices that need to be eradicated to restore consumer faith. Especially, during the current financial struggles, travellers deserve support to ensure they can secure a good deal this summer."
Specialist credit cards like Halifax Clarity and Barclaycard Rewards can reduce fees on overseas spending and ATM withdrawals to practically zero, while travel debit cards like Currensea save customers at least 85% on every transaction.
Find out more in our round-up of the Best debit and credit cards to use while travelling.
Ruth is passionate about helping people feel more confident about their finances. She was previously editor of Times Money Mentor, and prior to that was deputy Money editor at The Sunday Times.
A multi-award winning journalist, Ruth started her career on a pensions magazine at the FT Group, and has also worked at Money Observer and Money Advice Service.
Outside of work, she is a mum to two young children, a magistrate and an NHS volunteer.