Is it time to take profits on technology stocks?
With tech stocks continuing to slide, Dominic Frisby examines the charts and asks whether now is the time to sell.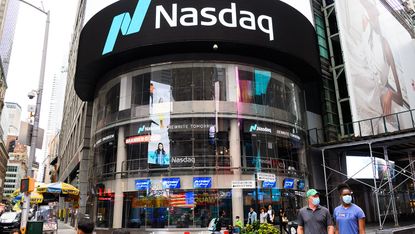 (Image credit: © Getty images)
Trend-following systems will never get you out at the very top, and they'll never get you in at the very bottom. That's not what they're for.
Their purpose is to make sure that, when a market is trending, you are onboard. The result is hopefully that you catch 80–90% of a move.
So when the Nasdaq plunged to 6,600 back in March, no trend-following system would have signalled to you to buy at that low. (None that I know of, anyway.) But there are plenty that might have got you in around 8,000 say, or just below, and would have kept you onboard for this incredible recent run we have seen in tech.
Subscribe to MoneyWeek
Subscribe to MoneyWeek today and get your first six magazine issues absolutely FREE
Get 6 issues free
Sign up to Money Morning
Don't miss the latest investment and personal finances news, market analysis, plus money-saving tips with our free twice-daily newsletter
Don't miss the latest investment and personal finances news, market analysis, plus money-saving tips with our free twice-daily newsletter
However, last week we flagged up numerous signs – using various different trend-following systems – that the trend might be ending.
Today, we re-visit those indicators and ask if the trend has now ended...
The short-term trend for the Nasdaq has definitely turned lower
First up, we drew a simple trend line on the US Nasdaq index. As long as the price holds up above that trend line – drawn in red – the uptrend is intact. A violation of that trend line is a reason to sell.
Well, that trend line has now been breached. According to this system, it's time to take some profits.
Often you might place a stop just below a trend line. Sure, you wouldn't place it too close, you want to give yourself some wiggle room. But wiggle room or not, that stop would likely have now been hit.
In any case, that marvellous trend, by this measure at least, is now over.
Will a new trend start? Will it be up? Will it be down? Or are we now set for a frustrating period of range-trading? That is for the market gods to decide.
Next we plotted four moving averages to show us the trend over four different time frames – over nine days (yellow), 21 (red), 55 (blue) and 233 – effectively a year – in green.
You can see that the nine-day simple moving average is trending down – very much so. Over 21-days things have flattened out, but with the price below, unless the market suddenly turns up, we are about to enter a downtrend there too.
Short-term trend-followers would now be short.
Over the 55-day time frame (the blue line) however, we are still in an uptrend. It is sloping up and the price is above, just.
By the time you strip out weekends, the 55-day trend is roughly the three-month trend. It can often mark a good entry point. So there's a decision to be made – do you buy here?
I would probably caution against it, with the shorter-term indicators so strongly negative.
My favourite indicator is saying that it's time to take profits
So now we turn to my third and probably most reliable trend-following indicator – the moving average cross. For intermediate-term trends, a useful pair is the 21- and nine-day exponential moving average combination. (Exponential moving averages give extra weight to more recent days.)
Spoiler alert – the system works beautifully in trending markets. It is utterly useless in range-trading markets.
Below, on this daily chart, we see the nine-EMA in red, and the 21-EMA in blue. When the red line crosses up through the blue, and the price is above, there is your buy signal. When the reverse happens, and the red line crosses down through the blue and the price is below, that is your sell signal.
Here we see the Nasdaq over the past year. The system has worked a dream. Two buys and two sells. Of note, however, is that we just got the second of those two sells last week.
Shorting (trying to profit from prices going lower) is a dangerous game and should only be entertained if you really know what you're doing. But selling doesn't necessarily mean shorting. It can just mean taking profits.
In any case, with the trend line broken and the cross combination pointing lower, the indicators are saying that the uptrend in tech is now over.
For what it's worth, I do see some support on that chart at 11,000. I've been uber-bullish about tech since Covid hit, because the lockdown has so accelerated tech's adoption.
But with my moving average combination pointing lower, I'm not so bullish now.
Dominic Frisby ("mercurially witty" – the Spectator) is the world's only financial writer and comedian. He is MoneyWeek's main commentator on gold, commodities, currencies and cryptocurrencies. He is the author of the books Bitcoin: the Future of Money? and Life After The State. He also co-wrote the documentary Four Horsemen, and presents the chat show, Stuff That Interests Me.
His show 2016 Let's Talk About Tax was a huge hit at the Edinburgh Festival and Penguin Random House have since commissioned him to write a book on the subject – Daylight Robbery – the past, present and future of tax will be published later this year. His 2018 Edinburgh Festival show, Dominic Frisby's Financial Gameshow, won rave reviews. Dominic was educated at St Paul's School, Manchester University and the Webber-Douglas Academy Of Dramatic Art.
You can follow him on Twitter @dominicfrisby