Why you should short this satellite broadband company
With an ill-considered business plan, satellite broadband company AST SpaceMobile is doomed to failure, says Matthew Partridge. Here's how to short the stock.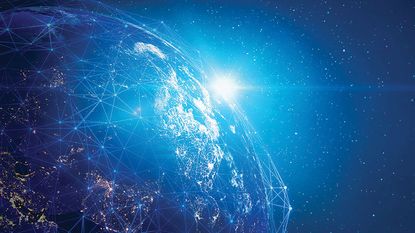 (Image credit: © Getty Images)
During the pandemic, there was a boom in special purpose acquisition companies (Spacs) in the US. Also known as "blank-cheque companies" or "cash shells", Spacs were seen as a way of helping technology firms list on the stockmarket without the costs and red tape of a traditional initial public offering (IPO).
However, critics argued that the far more lenient disclosure requirements relating to launching a Spac turned them into a magnet for a wide array of dubious and ill-considered ventures. Already there seems to be a backlash against this type of flotation, with the number of Spacs falling by 80% in the first six months of this year compared with the same period in 2021.
Overly ambitious satellite broadband plans
One Spac that has been particularly conspicuous in the past few months is AST SpaceMobile (Nasdaq: ASTS). It has ambitious plans to provide fast broadband to nearly everywhere in the world via a network of 168 special satellites. Earlier this month its shares surged after it claimed that it had successfully completed the launch of a test satellite.
Subscribe to MoneyWeek
Subscribe to MoneyWeek today and get your first six magazine issues absolutely FREE
Get 6 issues free
Sign up to Money Morning
Don't miss the latest investment and personal finances news, market analysis, plus money-saving tips with our free twice-daily newsletter
Don't miss the latest investment and personal finances news, market analysis, plus money-saving tips with our free twice-daily newsletter
It also announced that it has signed deals with several major telecommunications companies, including Vodafone and AT&T, whereby they agree to provide network coverage in return for a share of the revenue. AST has also entered into memoranda of understanding (tentative agreements to pursue a common goal, which are not legally binding) with other carriers such as MTN and Telefonica.
Three key hurdles
However, AST faces three main problems. First, the deals do not involve any upfront payments, but depend on AST being able to build a network that works satisfactorily. Some analysts doubt its technology: Sahm Adrangi of Kerrisdale Capital, who is short the shares, has recently claimed that the group's satellite design is "destined to fail". He suggests that it may allow connections in good conditions, but questions whether it can do so reliably enough for commercial use.
Second, if the technology works, the company will have to spend vast amounts of time and money building a large satellite network. Already, AST has had to water down promises to have 20 satellites in place by the end of this year and 90 in 2023; now the aim is to launch five less powerful satellites this year.
Third, AST's relatively inexperienced management faces intense competition from companies with far more resources and expertise, such as Apple and Elon Musk's SpaceX, which are trying to do a similar thing. SpaceX hopes to cut the cost of launching satellites dramatically over the next few years. AST's business model relies on SpaceX not only being willing to launch AST's satellites, but also to do so very cheaply. Yet since SpaceX is a rival, it is unlikely to be especially generous to AST.
While the space industry offers great potential, AST looks over-ambitious and highly unlikely to succeed. With its shares now down nearly 40% from their 52-week high, I think this is a good time to go short at £195 per $1 at the current price of $8.74, covering your position if the stock goes above $13.74. This implies a total downside of £980.
How my tips have fared
My long tips have produced a mixed performance over the last fortnight, with three rising and three falling. Hays Recruitment rose from 116p to 118p, homeware retailer Dunelm increased from 723p to 787p and streaming service Netflix rose from $226 to $243.
However, industrial and construction-equipment rental company Ashtead fell from 4,162p to 4,046p, retailer JD Sports declined from 126p to 121p and Pets at Home slid from 324p to 301p. Overall, my long tips are making a total net loss of £863.
My shorts have also had mixed fortunes, with three falling and two rising. Remote medicine firm Teladoc slid from $29.97 to $29.34, DWAC, the holding company for Donald Trump's social-media empire, declined from $24.99 to $22.40, while real-estate investment trust Digital Realty dipped from $118 to $111.50.
By contrast, Chinese real estate firm KE Holdings rose from $16.42 to $18.09, while digital-currency exchange Coinbase increased from $65.26 to $69.93. Overall, my short tips are making a total profit of £4,126, slightly down from £4,140 two weeks ago.
My short and long tips are now making a combined profit of £3,263. There are currently 12 open positions in my portfolio. I am long Ashtead, JD Sports, Hays Recruitment, Dunelm, Pets at Home and Netflix, while I'm short Teladoc, DWAC, Digital Realty, KE Holdings, Coinbase and AST SpaceMobile.
I suggest that you raise the stop-losses on JD Sports from 95p to 100p, Ashtead from 2,005p to 2,100p and Dunelm from 610p to 620p. Cut the price at which you cover Teladoc from $45 to $40, DWAC from $40 to $35 and Coinbase from $75 to $74.
Matthew graduated from the University of Durham in 2004; he then gained an MSc, followed by a PhD at the London School of Economics.
He has previously written for a wide range of publications, including the Guardian and the Economist, and also helped to run a newsletter on terrorism. He has spent time at Lehman Brothers, Citigroup and the consultancy Lombard Street Research.
Matthew is the author of Superinvestors: Lessons from the greatest investors in history, published by Harriman House, which has been translated into several languages. His second book, Investing Explained: The Accessible Guide to Building an Investment Portfolio, is published by Kogan Page.
As senior writer, he writes the shares and politics & economics pages, as well as weekly Blowing It and Great Frauds in History columns He also writes a fortnightly reviews page and trading tips, as well as regular cover stories and multi-page investment focus features.
Follow Matthew on Twitter: @DrMatthewPartri