The top supermarket reward schemes to earn air miles
If you want to ramp up on Avios or Virgin points, these are the top supermarket reward schemes that let you earn air miles.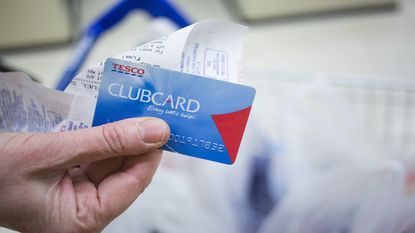 (Image credit: © Getty Images)
Most retail-rewards schemes are not very useful unless you are a regular customer with sound reasons for being loyal. You typically accumulate tiny numbers of points that can only be used at the company that issues them. If you allow collecting points to influence your shopping decisions instead of going with the best price or service, you're likely to end up spending more overall. But there are a couple of schemes – or more accurately, two pairs of linked schemes – that can be a lot more useful.
Rewards Cards for Avios
The slickest is Nectar, run by supermarket chain Sainsbury's, and Avios air miles run by IAG, the parent of British Airways. These are closely linked: Avios can be swapped into Nectar at a rate of 300 Avios to 400 Nectar or vice versa at a rate of 400 Nectar to 250 Avios. Note that because these rates are different, going from one to the other and back again loses you money.
You earn Nectar points at a rate of one point per £1 spent at various outlets (the most useful are Sainsbury's, Argos, eBay and Esso), but also by clicking through from the Nectar website when buying at a number of other companies. You collect Avios from flying with BA and other airlines, and by going via the BA shopping website. There are also several credit cards that pay rewards in Avios or Nectar points, while other companies sometimes offer a few thousand points of one or the other as a sign-up bonus.
Subscribe to MoneyWeek
Subscribe to MoneyWeek today and get your first six magazine issues absolutely FREE
Get 6 issues free
Sign up to Money Morning
Don't miss the latest investment and personal finances news, market analysis, plus money-saving tips with our free twice-daily newsletter
Don't miss the latest investment and personal finances news, market analysis, plus money-saving tips with our free twice-daily newsletter
There are various redemption options, but three stand out. First, Nectar points can be used at Sainsbury's or eBay at a value of 0.5p per point. This puts a cash floor on the value of Nectar, and thus one of 0.67p on Avios. This creates some quirks: Sainsbury's own Nectar credit card (one point per £5 in most places) is dire compared with the free Barclaycard Avios credit card (one Avios per £1 everywhere), which is in turn the best cashback rate of any free UK credit card. Second, 350 Nectar points gets you a drink of any size at Caffè Nero – at least 1p per point. Last, well-timed redemptions of Avios for long-haul premium flights can easily beat that.
Rewards Cards for Virgin Points
The other is Tesco Clubcard and Virgin Points. You earn Clubcard points at Tesco (one point for £2) and a few other places (such as Esso garages with a Tesco Express store). These swap into Virgin Points (Virgin Flying Club air miles and Virgin Red rewards are interchangeable) at a rate of 1:2.5 (falling to 1:2 in July), but you can't go from Virgin to Clubcard.
You earn Virgin points from Virgin Atlantic and other airlines, Virgin Atlantic credit cards, via Virgin's shopping portal and by booking train tickets via Virgin. Both Clubcard and Virgin have many redemption options and Clubcard's can often be the best value of all the schemes (1p per point in Tesco, but three times that at many partners – falling to twice next month). But the inability to go from Virgin to Clubcard makes this less useful unless you shop often at Tesco and can amass a lot of points.
Cris Sholto Heaton is an investment analyst and writer who has been contributing to MoneyWeek since 2006 and was managing editor of the magazine between 2016 and 2018. He is especially interested in international investing, believing many investors still focus too much on their home markets and that it pays to take advantage of all the opportunities the world offers. He often writes about Asian equities, international income and global asset allocation.
Cris began his career in financial services consultancy at PwC and Lane Clark & Peacock, before an abrupt change of direction into oil, gas and energy at Petroleum Economist and Platts and subsequently into investment research and writing. In addition to his articles for MoneyWeek, he also works with a number of asset managers, consultancies and financial information providers.
He holds the Chartered Financial Analyst designation and the Investment Management Certificate, as well as degrees in finance and mathematics. He has also studied acting, film-making and photography, and strongly suspects that an awareness of what makes a compelling story is just as important for understanding markets as any amount of qualifications.