England's sparkling wine industry has potential for early investors
Global warming has changed the game for England's sparkling wine industry – even growers in Champagne are planting in England. Brave investors might like to join the party early.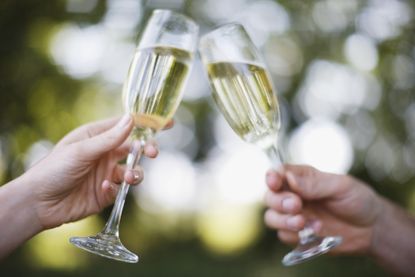 (Image credit: Getty Images)
England's winemakers are reporting that this autumn's grape harvest is set to be their biggest ever, due to favourable weather conditions and ongoing investment in expanding the size of their vineyards.
2022's unusually hot growing season meant vines emerged from winter in a healthy condition, and they then also benefited from good weather during the flowering period between April and June 2023. In addition, this year's relatively wet summer helped vines stay healthy, followed by a warm September to help ripen the grapes.
As a result, big English wineries such as Chapel Down, Nyetimber and Ridgeview are all expecting their largest-ever crops. Gusbourne, a Kent-based grower and one of the first bigger producers to complete its harvest, reported its best-ever crop, up 25% on last year.
Subscribe to MoneyWeek
Subscribe to MoneyWeek today and get your first six magazine issues absolutely FREE
Get 6 issues free
Sign up to Money Morning
Don't miss the latest investment and personal finances news, market analysis, plus money-saving tips with our free twice-daily newsletter
Don't miss the latest investment and personal finances news, market analysis, plus money-saving tips with our free twice-daily newsletter
"This year is shaping up to be a high volume and high-quality harvest," Ned Awty of trade body WineGB told The Guardian.
How big is England's sparkling wine sector?
Britain's industry is still tiny compared with our southern neighbours – but it's growing fast. France and Italy both produce more than five billion bottles each year and Germany produces 1.3 billion. British wine production has more than doubled over the past five years – growing 130% to 12.2 million bottles last year.
According to Wine GB, there are now 943 vineyards in Britain, and the total area planted (mostly in Kent, Sussex, Essex and Hampshire) now stands at almost 10,000 acres – a 74% jump since 2017. It expects the acreage to near-double to 19,000 acres by 2032, meaning annual production of around 25 million bottles.
It's an expansion that is attracting outside interest as well as home-grown investors. Taittinger and Pommery, two leading French Champagne producers, have bought land and planted vines in Kent and Hampshire respectively. The world's biggest sparkling wine company, Henkell Freixenet, acquired the Bolney wine estate in Sussex in 2022.
Is English wine mostly sparkling?
Yes. Of the 12 million bottles produced in 2022, 68% were sparkling, with the dominant grape varieties being chardonnay, pinot meunier and pinot noir. That's primarily due to the climate and geography. The temperatures in the far south-eastern corner of England are already similar to those in the Champagne region in the 1980s – warming due to climate change, but not too hot – while the chalky sub-strata of the South Downs and other parts of the region are well-suited to wine-growing and identical to that of the best chardonnay vineyards in Champagne.
"Our cool climate means that even when we obtain good ripeness, we maintain fantastic acidity," winemaker Emma Rice told the Financial Times – a quality that makes for vibrant wine but that many growers in Champagne and Burgundy are now struggling with due to climate change.
At the same time, the fact that England is not a historic wine region means there are few regulations, and winemakers are happily trying out a range of styles. At 2022's WineGB Awards, the range included heavyweight luxury cuvées, luminous blanc de blancs, Burgundian pinot noirs, skin contact wines, pét-nats, chardonnays, ortegas and pale-pink rosés.
English sparkling wines have developed a reputation for high quality that makes them feel like a novel, local and reasonable-value alternative to Champagne.
By contrast, the geography and climate mean that English still wines are more hit-and-miss (especially when it comes to reds), and the low volumes mean that they can be expensive. The big question is whether still wines can break into a wider consumer market in the way that sparkling wines have already. Over the next two decades longer sunny periods due to climate change will make it easier to make still wines, to grow more disease-resistant varieties of grape, and also expand the area suitable for making wine in quantity from the southern counties as far north as the east Midlands, says The Economist.
But there are no guarantees. Just as climate change has made English viticulture more viable, it also presents challenges: a year of heavy rain or severe drought can wipe out entire crops
How much is being invested?
Investing in vineyards has shifted from being a passion project for the rich and famous to an increasingly viable option for would-be investors, according to land agents Strutt & Parker. The firm calculates that £480m was invested in vineyards and wineries in Britain between 2018 and 2022, and according to its viticulture team, the price of land suitable for wine growing has increased by about £2,500 a hectare to £40,000-£50,000 a hectare over the past year – about £15,000-20,000 more than basic farmland.
"Over the past 12 months the number of calls we have received from people interested in either buying a vineyard or establishing a new one has tripled," the firm's Nick Watson told The Times.
What are the options for retail investors?
There are two listed English wineries, both based in Kent: Gusbourne (GUS) is listed on London's small company exchange Aim. Chapel Down (CDGP) is listed on the similar pan-European exchange Aquis, though it's planning to move to Aim.
Gusbourne's sales have tripled since 2020, expanding far faster than its expenses, says Lex in the FT, with a focus on pricier sparkling wines. It earns a gross profit but has yet to report an operating profit.
Chapel Down, the market leader, does make a profit (more than £1m after tax last year on revenues of £15m). But its shares have underperformed Gusbourne's in recent years and, at just over three times its trailing sales, its valuation is cheaper than Gusbourne's seven times.
These businesses are not for the cautious, says Lex: they are relatively small companies with considerable debt financing and "little immediate prospect for dividends". But they are both fast-growing businesses with long-term potential and "both should cheer the patient investor".
---
This article was first published in MoneyWeek's magazine. Enjoy exclusive early access to news, opinion and analysis from our team of financial experts with a MoneyWeek subscription.
Related articles
Simon Wilson's first career was in book publishing, as an economics editor at Routledge, and as a publisher of non-fiction at Random House, specialising in popular business and management books. While there, he published Customers.com, a bestselling classic of the early days of e-commerce, and The Money or Your Life: Reuniting Work and Joy, an inspirational book that helped inspire its publisher towards a post-corporate, portfolio life.
Since 2001, he has been a writer for MoneyWeek, a financial copywriter, and a long-time contributing editor at The Week. Simon also works as an actor and corporate trainer; current and past clients include investment banks, the Bank of England, the UK government, several Magic Circle law firms and all of the Big Four accountancy firms. He has a degree in languages (German and Spanish) and social and political sciences from the University of Cambridge.