The cost of care: how to pay for long term care?
The high cost of long-term care ranks is among the top five reasons why those over 55 will choose to continue working after retirement age. Whether you're planning ahead for yourself or thinking about care for an elderly relative we look at ways you can pay it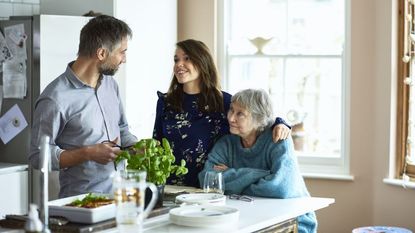 (Image credit: © Getty images)
The cost of care is one of the biggest concerns for over 55s, pushing many to work well past the state pension age to cover the costs. Whether you think you may need care or you have to consider it for an elderly relative, additional costs can run into thousands.
Research from Canada Life found of the third (37%) of over 55s who say they will work beyond their state pension age, a fifth (20%) say this is due to concerns over the cost of long-term care – scoring within the top five factors of what those who are likely to work beyond their retirement age are concerned about.
While some might be able to rely on their ISA or pension to pay for care, it's worth having a clear idea of what this would cost to make sure you will have the necessary funds to cover it.
Subscribe to MoneyWeek
Subscribe to MoneyWeek today and get your first six magazine issues absolutely FREE
Get 6 issues free
Sign up to Money Morning
Don't miss the latest investment and personal finances news, market analysis, plus money-saving tips with our free twice-daily newsletter
Don't miss the latest investment and personal finances news, market analysis, plus money-saving tips with our free twice-daily newsletter
From October 2023 the government will introduce an £86,000 cap on the amount anyone in England will need to spend on care, including domiciliary care.
But despite that, "people are still concerned about how they might be able to bridge the gap between their own financial position and the potential cost of care", says Alice Watson, head of marketing communications at Canada Life UK.
"It's also worth remembering the cap on costs doesn't include all the costs of care – for example it won't include rent, food and utility bills," continues Watson. "At the end of the day, people will need a holistic plan for potential costs and that's where the equity stored in their property can play a crucial role alongside other financial assets."
How much does care cost?
Medical care is provided by the NHS, but social care is paid for by you.
According to the NHS, the typical hourly rate for a carer to come to you is around £20, but this will depend on where you live.
A live-in carer costs from around £800, and can cost up to £1,600.
Residential homes, which don't offer nursing care, cost around £700 a week, or £36,400 a year. Nursing homes, which offer 24-hour nursing care, cost around £950 a week, or £44,200.
How can I pay for care?
There are several ways to pay for care. First, you have to determine how much you need. That will vary depending on location, your needs, and the provider among others.
"There are some great online calculators which will help work out care costs," says Watson. "So much depends on your individual circumstances, for example if you require support in your own home or if you or your loved one requires support from a care home."
You can use this care cost calculator by Paying For Care to determine how much your care might cost.
"Much will also depend on the level of support provided, the individual provider costs and even the area in which you live," continues Watson. "You may also want to seek an assessment of your care needs and finances by the adult social care team which will be part of your local authority."
"Seeking advice from a regulated financial adviser who specialises in care costs is an important first step," says Watson. "An adviser can determine the best way for you to not only fund care costs, but equally ensure you don't run out of money. Having conversations with family members should be part of any conversation, especially if you are considering using property equity to pay for care."
1. Deferred Payment Agreement
You might be able to get a Deferred Payment Agreement via your local authority. That is a loan or arrangement with your local authority that you are eligible for if you have savings of less than £23,250 and all your money is tied up in your property.
After a means test, which will take into account your earnings, pensions, benefits, savings and property, the council will decide whether to contribute or pay for your care home, and you can repay it once you sell your home or after your death.
Check with your council to make sure you're eligible for a deferred payment scheme.
2. Rent out your home
If you move into a care home and your property is empty, you could rent it out to cover the costs of your care home.
But renting comes with its own set of issues. While it might offer a continuous stream of income, you will have to deal with the responsibilities of being a landlord. If you can enlist family members to help, it might be more viable. But if it's just you, consider whether this is a responsibility you want to take on.
3. Sell your home or release equity
Equity release products allow homeowners over 55 to borrow against the value of their home to release cash. This is paid upon death when the home is sold. But interest compounds quickly, meaning your loved ones could be left with a hefty bill.
You could also consider selling your home, or downsizing. Both options incur their own costs, but the profit you make from a sale could help fund your care.
4. Use your pension or income from investments
Perhaps the most obvious way to pay for your care is to dip into your pension pot. You can normally access your state pension aged 66, and your private pension aged 55.
You could also buy an annuity. Annuity rates recently hit a 14-year high thanks to more attractive interest rates.
You can use part or all of your pension pot to buy an annuity. You can choose what age to buy it, and continue paying into your pension pot even after you have. Keep in mind the income is taxable, and there are several types of annuities you could purchase, so speak to a financial advisor to know which would be right for you.
Nic studied for a BA in journalism at Cardiff University, and has an MA in magazine journalism from City University. She joined MoneyWeek in 2019.