Ofgem sets new price cap - what does it mean for you?
Ofgem has lowered its energy price cap by around £1,000 for April - will this mean lower energy bills are coming?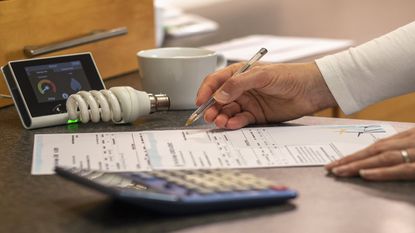 (Image credit: © Getty Images)
Energy regulator Ofgem has set its latest price cap at £3,280 for April to June 2023 - almost £1,000 lower than the previous cap of £4,279. The figure is based on typical use for an average household on a dual tariff.
Households currently do not pay rates set by the energy price cap and instead are shielded by energy price guarantee (EPG).
So, today's cap announcement will not impact your energy bills but it does reflect how much you would have paid from April had the government's EPG not been in place. It also indicates where energy prices are heading this year.
Subscribe to MoneyWeek
Subscribe to MoneyWeek today and get your first six magazine issues absolutely FREE
Get 6 issues free
Sign up to Money Morning
Don't miss the latest investment and personal finances news, market analysis, plus money-saving tips with our free twice-daily newsletter
Don't miss the latest investment and personal finances news, market analysis, plus money-saving tips with our free twice-daily newsletter
The £3,280 figure is indicative of how much a typical household on a basic dual tariff with average use would pay over a year.
But under the EPG, households will be paying £3,000 a year for energy use - based on typical average use - £280 less than the cap.
But this announcement is important because it translates into a significantly lower cost to the government in providing energy support for households. As a result, campaigners have called on the government to therefore keep the EPG rate at £2,500 from April, instead of increasing it to £3,000, to ensure households are coming out of the energy crisis with as much support as possible.
In his Autumn Budget last year, chancellor Jeremy Hunt said he was forced to increase the EPG support from £2,500 to £3,000 in April because it was too expensive for the government to keep at the rate of £2,500. But now wholesale gas prices have fallen, the cost for support will also have reduced.
Hunt has not yet indicated that the government will take the opportunity to increase its support by keeping the EPG at a lower rate of £2,500 for average typical use. But with his Spring Budget set to take place next month on 15 March, there will be an expectation that support for households is increased, especially at a time when energy accounts for almost 10% of household income according to the Trades Union Congress.
It is also important to remember that although gas prices show signs of sliding, they are still at an all time high and households are also battling with high inflation.
Ofgem CEO Jonathan Brearley said: "Although wholesale prices have fallen, the price cap has not yet fallen below the planned level of the Energy Price Guarantee. This means, that on current policy, bills will rise again in April. I know that, for many households this news will be deeply concerning."
"However, today's announcement reflects the fundamental shift in the cost of wholesale energy for the first time since the gas crisis began, and while it won't make an immediate difference to consumers, it's a sign that some of the immense pressure we've seen in the energy markets over the last 18 months may be starting to ease. If the reduction in wholesale prices we're currently seeing continues, the signs are positive that the price cap will fall again in the summer, potentially bringing bills significantly lower."
Will energy prices fall further in 2023
It is predicted that when Ofgem announces its Q3 price cap for July - September on 26 May 2023, prices could drop below the EPG and we can expect lower energy prices in 2023.
"This reduction in the price cap level reflects a significant reduction in the cost of buying and providing energy for customers. If it continues, it will mean that by the summer, prices paid by consumers will drop for the first time since the global gas crisis took hold more than 18 months ago," Ofgem said.
Earlier this month, analysts at Cornwall Insight predicted the energy price cap could be £2,153 (based on average typical use) - 28% less than the EPG rate of £3,000.
As it stands,the EPG rate of £3,000 is currently set to be in place until October 2024, but if the cap is lower, households may find themselves able to take advantage of deals below the EPG rate if energy suppliers bring back fixed rate deals.
Kalpana is an award-winning journalist with extensive experience in financial journalism. She is also the author of Invest Now: The Simple Guide to Boosting Your Finances (Heligo) and children's money book Get to Know Money (DK Books).
Her work includes writing for a number of media outlets, from national papers, magazines to books.
She has written for national papers and well-known women's lifestyle and luxury titles. She was finance editor for Cosmopolitan, Good Housekeeping, Red and Prima.
She started her career at the Financial Times group, covering pensions and investments.
As a money expert, Kalpana is a regular guest on TV and radio – appearances include BBC One's Morning Live, ITV's Eat Well, Save Well, Sky News and more. She was also the resident money expert for the BBC Money 101 podcast .
Kalpana writes a monthly money column for Ideal Home and a weekly one for Woman magazine, alongside a monthly 'Ask Kalpana' column for Woman magazine.
Kalpana also often speaks at events. She is passionate about helping people be better with their money; her particular passion is to educate more people about getting started with investing the right way and promoting financial education.