What to buy as the tech-stock bull market crashes
The decade-long bull market in tech stocks has come to a rapid halt. Investors need to distinguish solid stocks from speculative ones rather than just buying the dip, says Matthew Partridge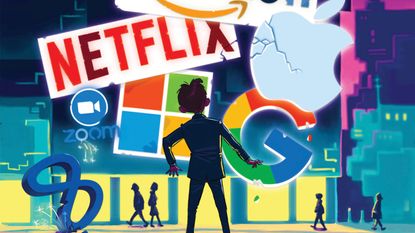 (Image credit: )
To say that 2022 hasn't been a good year for technology stocks would be a bit of an understatement. Most of the leading names such as Apple, Amazon, Alphabet, Microsoft, Meta Platforms and Netflix have slumped. Netflix is now down nearly 75% from its peak. Lots more damage has been done outside the top names: the tech-heavy Nasdaq Composite index is down 30% from its highs and more than 45% of its constituents are down by 50% or greater.
Still, the Nasdaq remains far higher than it was before the start of the pandemic – it's up by about 25% since the beginning of 2020. This raises the question as to whether a longer-term technology bear market has only just begun, or whether this is just a blip in a wider bull market and an opportunity to pick up technology shares at a cheaper price.
To understand what is going to happen in the future, it is important to understand what lay behind the very strong tech bull market of the last decade. "There have been two main fundamental drivers," says George Boyd-Bowman of the Liontrust US Opportunities Fund. First, the rise of the digital economy has created a "powerful demand backdrop". Many of today's largest tech companies have been at "the forefront of providing the building blocks of the digital world as we know it". Amazon and Microsoft created Amazon Web Services and Azure to allow the ongoing shift to the cloud. Google (now Alphabet) and Facebook (Meta) were the key forces behind digital advertising and social media.
Subscribe to MoneyWeek
Subscribe to MoneyWeek today and get your first six magazine issues absolutely FREE
Get 6 issues free
Sign up to Money Morning
Don't miss the latest investment and personal finances news, market analysis, plus money-saving tips with our free twice-daily newsletter
Don't miss the latest investment and personal finances news, market analysis, plus money-saving tips with our free twice-daily newsletter
At the same time, several new business models emerged. Many tech companies have reinvented themselves as platforms, offering a range of services. A prime example of this is Meta acquiring messaging service WhatsApp and photo-sharing app Instagram, in addition to Facebook, the core social network on which the company was founded. Another is the growing use of software as a service (SaaS), under which companies sell their products on a subscription basis, rather than in return for a one-off payment. These models have generated large margins and amounts of free cash flow, as well as extremely high levels of recurring revenue and potentially low levels of capital expenditure, says Boyd-Bowman. Investors tend to value this highly.
Beyond the technology
The long boom has been driven by some fundamental changes to the way we live and consume goods and services. But tech investors can't ignore the fact that the sector has also been "supercharged" by "macro factors they couldn't have predicted or indeed wished for in their wildest dreams", says Boyd-Bowman. As well as Covid-19, which accelerated the use of e-commerce and remote working, these include an interest rate backdrop "supporting sky-high valuation multiples" and the "most benign market background conditions for fast growing companies" in a long time.
Indeed, the ultra-low interest rates created by accommodative central banks have been the big elephant in the room where technology is concerned, says James Penny of TAM Asset Management. This is because investors tend to value companies by their future cash flows, discounted to reflect how long these cash flows will take to appear. Since the discount rate is related to the interest rate, low interest rates "make future earnings a lot more valuable than they would normally have been under a more normal interest rate regime". Throw in the fact that low productivity growth in the rest of the economy means that there are few alternatives for those seeking growth, and it's not hard to see why tech shares became so attractive.
If low interest rates were one of the big reasons for the recent tech boom, then it's only logical that interest-rate hikes by central banks now desperate to contain inflation are having the opposite effect, pushing down valuations and creating a "sour cocktail" for investors, says Boyd-Bowman. It's significant that the big falls in tech shares have coincided with the "Fed pivot", when the US Federal Reserve made it clear that it "was serious about getting on top of inflation" by choosing to start to hike rates. With the other major central banks, including the Bank of England, starting to follow, the days when near-zero bond yields led investors "to ascribe absurdly low discount rates to future revenue streams" seem numbered.
The removal of pandemic restrictions – while good for the rest of the economy – is another reason why tech stocks are falling, says Boyd-Bowman. This is because the return of people to physical shops and offices has caused the "Covid-induced sugar high" that it provided to certain companies to start to fade. Indeed, it's become clear that "while many of the structural shifts that were in place before the pandemic are continuing to run", they "aren't necessarily going to do so at the supernormal rates we saw over the last couple of years".
Why the market has soured
There's also been a shift in investor expectations, says Penny. During the boom, many people "fell in love with the disruptive potential of these companies", assuming that their success would continue, seemingly forever. This led investors to pile into them, driving up valuations to very high levels. However, in the past six months investors have started to become a lot less optimistic about the prospects of these companies.
Many of the biggest names of the boom period, such as Amazon and Netflix, have recently started to produce earnings and sales figures that have failed to meet the expectations of Wall Street analysts. As a result, many investors who have previously intended to stick with these companies in the hope of fast growth have decided "that now is a good time to take some of their profits while they can", pushing down prices.
The big question is whether this decline will end up becoming a rout on the scale of the dotcom bust, where the Nasdaq lost three-quarters of its value between March 2000 and February 2003, or just another blip, followed by a quick recovery, like 2016, 2018 – or March 2020. Everyone agrees that much depends on investor sentiment – something notoriously difficult to predict. Anthony Ginsberg of GinsGlobal Index Funds is a relative optimist who doesn't see this as a dotcom-era story, but "probably more similar to March/April 2020 at the start of Covid-19, when markets overreacted and panicked". Markets are currently waiting to see whether the major central banks, such as the Federal Reserve, European Central Bank and Bank of England, are able to "successfully engineer a smooth landing this year". Of these three, the US Federal Reserve is seen by technology investors as the most important. If the Fed is able to get US inflation under control, and do so without raising interest rates too high, then "sentiment on the US technology sector should improve, causing shares to rebound".
Boyd-Bowman of Liontrust is also optimistic. He argues that while the lifting of restrictions has hurt many of the tech companies, it's not on the scale of the dotcom bust where "the fundamentals of nearly every tech company imploded and many saw significant year-over-year revenue declines". Meanwhile, the "Fed put" – the belief that the Fed would never let the stockmarket fall too far – has been replaced by a "private equity put". Buyout funds are paying "healthy multiples" for some tech companies, says Boyd-Bowman. This year we've seen deals for virtualisation software firm Citrix ($16.5bn), cybersecurity and data-backup company Datto ($6.2bn), identity-management provider SailPoint ($6.9bn) and business-planning software group Anaplan ($10.7bn). This should help give investors confidence that the fundamentals are different this time, he argues.
Not everyone is convinced that there will be a soft landing. "This is like the start of the 2000-2003 tech crash," says Jerry Thomas of Sarasin and Partners. Yes, the recent fall means that "valuations aren't quite as crazy as they were during the dotcom era, and are much closer to fair value than they were only a few months ago". It's also fair to say that the companies in this tech boom "are much better than the 2001 vintage". Still, history has shown that "negative sentiment tends to overshoot in the other direction". What's more, despite the market correction, there are still many "pockets of hype and expectation".
Avoid the hype
There are a number of red flags that investors should note if they are looking for buying opportunities, says Thomas. For example, avoid companies "where the product they are selling is not differentiated from the competition, or where there are no barriers to entry". This is especially important when it comes to mid-cap companies that lack economies of scale. Another big warning sign is companies that are "going on an acquisition spree outside their core areas in order to boost flagging growth rates" or are going through an "identity crisis". However, perhaps the biggest group of tech companies to avoid is those with no real cash flow or earnings. These are still "super expensive".
It's not a good time to buy into companies where the investment case relies on earnings in the future rather than the present, "especially when the market is now focused on immediate profitability, and is much less forgiving of promises about the future", agrees Neil Campling of Mirabaud Equity Research. And even companies that make money consistently might not be the best idea if they are still "priced for perfection", as many still are. This is because they are not only likely to find that "any missteps... get punished hard", but even if they meet their targets, they will suffer from "multiple compression" with investors simply less willing to pay huge multiples of current earnings.
In terms of specific sectors, Campling is particularly bearish about electric cars, where he thinks that there is a massive bubble. "Everyone in this area is now trying to become the new Tesla," he says. That's pushing down profit margins and leading to a lot of unproductive investment. What's more, firms trying to enter this area are having to compete not just with other entrants, but all the major traditional manufacturers such as Volkswagen, General Motors and others, who have announced plans to move away from the internal combustion engine within the next decade.
A positive outlook for profitable firms
If Campling is bearish about shares that just promise fast growth without a clear plan for translating that into profits, he is much more optimistic about those which are not only currently profitable, but also have decent valuations. This is because this puts them at much less risk of investors cutting the earnings multiples they are willing to pay. The winning approach over the next few years can be best summed up by the idea of "growth at a reasonable price, rather than growth at any cost", he says. And with inflation now a major worry, firms that "provide services enabling other firms to cut their costs" should do particularly well.
Investors are unlikely to go far wrong if they focus on "firms that will benefit from long-running themes which also have valuations that make sense", agrees Thomas. While valuation is always subjective, one possible shortcut that investors can use to determine whether this is indeed the case is to compare a tech company's share price with its position before the start of the pandemic in February. If the share price is at – or even better below – the pre-pandemic level, then this may be a good sign that it has not become overvalued as a consequence of the last two years, and may be worth considering as an investment.
In terms of specific sectors, cloud computing, the provision of data storage and IT services over the web, rather than on physical hardware directly controlled by the user, is one big theme to look at, says Ginsberg. The cloud-computing boom will also help boost demand for cybersecurity services, as not only are large American companies "shifting their IT spending increasingly to the cloud", but they are also "demanding cybersecurity services be provided as part of any cloud-computing package". What's more, some of the big names in these sectors also stand to benefit from US government contracts in the near future.
It's impossible to know how close we are to the bottom of this tech bear market. If the dotcom bust is any guide, there could be a long way still to go. However, the indiscriminate nature of these sell-offs means that long-term investors can usefully look for chances to begin buying profitable stocks, while leaving bottom-fishing in more speculative ones until later. We look at four that may already be interesting below.
Four tech stocks that still offer value...
Meta Platforms (Nasdaq: FB) owns the social network Facebook as well as a range of related apps, most notably the messaging service WhatsApp and the picture-sharing website Instagram. The company is now using some of the money generated by Facebook, which is an "incredible cash cow" says James Penny of TAM, to invest in the metaverse (a vision of a network of virtual worlds facilitated by virtual reality (VR) and augmented reality (AR)). While this investment "could end up falling on its face", there are early signs that it "could be this generation's Facebook". Facebook trades at only 13.6 times forecast 2023 earnings.
Streaming service Netflix (Nasdaq: NFLX) has fallen a long way from its peak valuation due to concerns that the number of subscribers has peaked. However, there is still some value left in, reckons Neil Campling of Mirabaud, especially if it finds ways to cut down on password sharing, which has been blamed for allowing people to have a free ride on other people's subscriptions. He also thinks Netflix could make money from developing computer games based on some of its hit series. Netflix trades at only 14.8 times forecast 2023 earnings.
Microsoft (Nasdaq: MSFT) should do well, thinks Anthony Ginsberg of GinsGlobal. He is particularly impressed by the way that it has become a "sizeable player in cloud computing". At the same time, the company is also making moves into online gaming: it recently revealed that more than ten million people have streamed games over Xbox cloud gaming. The stock is more expensive than other blue-chip tech stocks at 23.6 times forecast 2023 earnings, but is showing strong growth. Sales have nearly doubled since 2016, and are set to keep growing at roughly 10% a year.
Cybersecurity firm Palo Alto Networks (Nasdaq: PANW) will continue to benefit from the surge in demand created by the move to cloud computing, says Jerry Thomas of Sarasin. It is particularly noted for its advanced firewalls as well as its automated security operations, and also provides security consulting services to companies. The shares are not cheap, even though they are down by around 30% from their peak, and still trade at 49 times forecast 2023 earnings. However, sales more than doubled between 2017 and 2021, and are expected to keep growing at around 25% a year.
... and two technology funds that do the same
If you want to invest in a broad portfolio of tech shares then HAN-GINS Tech Megatrend Equal Weight UCITS ETF (LSE: ITEP) might fit the bill. This has a portfolio of 114 companies in various fast-growing sectors, including cloud computing and big data, cybersecurity, social media, blockchain and digital entertainment. The companies in the portfolio are on an average price/earnings ratio of 22 and the ETF's total expense ratio (TER) of 0.59% is reasonable.
If you want to focus on a specific theme, the HAN-GINS Cloud Technology Equal Weight UCITS ETF (LSE: SKYP) holds a group of 76 companies involved in the shift to cloud computing. It also has a TER of 0.59%. Equal weight means that a fund holds the same amount in each stock, rather than holding more in larger companies, like most indices.
Matthew graduated from the University of Durham in 2004; he then gained an MSc, followed by a PhD at the London School of Economics.
He has previously written for a wide range of publications, including the Guardian and the Economist, and also helped to run a newsletter on terrorism. He has spent time at Lehman Brothers, Citigroup and the consultancy Lombard Street Research.
Matthew is the author of Superinvestors: Lessons from the greatest investors in history, published by Harriman House, which has been translated into several languages. His second book, Investing Explained: The Accessible Guide to Building an Investment Portfolio, is published by Kogan Page.
As senior writer, he writes the shares and politics & economics pages, as well as weekly Blowing It and Great Frauds in History columns He also writes a fortnightly reviews page and trading tips, as well as regular cover stories and multi-page investment focus features.
Follow Matthew on Twitter: @DrMatthewPartri