Virtual reality: advertising's next horizon, and how Facebook aims to dominate it
Facebook's attempts to generate advertising revenue from its Oculus VR headsets have met with a fierce backlash from users. But virtual ads are inevitable, say Chris Carter. And Facebook looks set to dominate.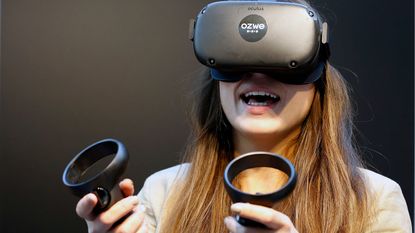 (Image credit: © Chesnot/Getty Images)
Billboards by the side of the road, adverts on the bus, on the Tube, at the bus stop, at the airport, on the radio, on the television, in your favourite financial magazine – we're so used to seeing ads that we barely even notice them. I wonder how many adverts we pass every day and how many we remember seeing or hearing.
Either way, I suspect advertisers aren't too worried – so long as that little seed is planted in the back of your mind that makes you sit up at some point and say, "You know what, I could really do with an ice-cold Heineken".
The real world is absolutely saturated with advertising. Should the virtual world be any different?
Subscribe to MoneyWeek
Subscribe to MoneyWeek today and get your first six magazine issues absolutely FREE
Get 6 issues free
Sign up to Money Morning
Don't miss the latest investment and personal finances news, market analysis, plus money-saving tips with our free twice-daily newsletter
Don't miss the latest investment and personal finances news, market analysis, plus money-saving tips with our free twice-daily newsletter
Facebook wants to dominate the virtual world
The answer to that question is being hammered out right now. Earlier this week, games developer Resolution Games pulled out of a Facebook-driven initiative to introduce in-game advertising into the virtual realm via its game Blaston.
Blaston costs £8, and came out last October. It's played on the Oculus Quest and Quest 2 virtual reality (VR) headsets. But players didn't take well to the news that they may soon be staring at in-game billboards within a game that they had already paid for. Some began posting one-star reviews, which to a company in a nascent technology, as VR still very much is, was too much to swallow. So Resolution Games has backed off, at least for now.
But in-game advertising is not going to go away. Facebook-owned Oculus announced in a blog post last week that it was "exploring new ways for developers to generate revenue… a key part of ensuring we're creating a self-sustaining platform that can support a variety of business models that unlock new types of content and audiences". Note the implication that game prices alone are not enough.
Carve Snowboarding, a game with a string of mostly favourable reviews, cost £15 when it was released barely three weeks ago, compared to upwards of £50 for a new Xbox or Playstation game. The Quest 2 headset itself cost £299 when it hit the shelves last October, compared to £399 for the first Quest when new in May 2019.
Facebook CEO Mark Zuckerberg says the company is "investing billions and billions and billions of dollars to build something that we think will contribute to a compelling future five to ten years from now".
It all suggests that Facebook is going all-out to win market share at this early stage in the development of virtual reality, even if that comes at a cost to short-term profits. But just marvel at the long-term – possibly very long-term – potential for profits.
Granted, I am a VR fan. But just think what the virtual world real estate could be worth if VR becomes established. Just think of all those virtual roadside billboards! In the Amazon Video VR app, for example, while you are choosing what to watch, you are standing in a virtual cardboard town, complete with cardboard cars and vans (a play on the ubiquitous Amazon parcel). Look up and you see virtual billboards which display whatever new release Amazon is plugging.
And advertising in video games certainly isn't new. EA Sports has been displaying sponsor logos in its games, such as its phenomenally successful Fifa series, for years, to the extent it is a fully integrated part of the business model. "Fifa's advertising platform amplifies the official partners of each included league and club to offset licensing costs", as John McCarthy points out on The Drum.
Meanwhile, Sega and Sports Interactive's Football Manager series goes one step further in "actively selling native in-stadium ads through London startup Bidstack", says McCarthy. "Its bidding platform, created to service digital out-of-home formats, now serves programmatic, native ads to billboards, panels and hoardings on console and PC games." Or as Bidstack founder James Draper put it, "We are the ClearChannel of video games".
The business model is still being hammered out – but if VR takes off, ads will too
In this case, Blaston has probably fallen foul of gamers accustomed mostly to either playing free of charge but being served ads or opportunities to buy add-ons, or paying a single fee upfront for the entire game, ad-free. As a result, the controversy is unlikely to prevent ads being an issue in future games – Resolution already plans to test whether users of its free-to-play Bait! fishing game would be more amenable to being confronted with ads.
The main conundrum Facebook faces is whether to raise prices for its headsets and games, or hope audiences come around in time. I suspect it will be holding out for the latter, particularly as VR still needs to reach critical mass and overcome the general scepticism that it is "the tech of the future -–and always will be".
No doubt VR users will worry about privacy and what happens to their data. Facebook says that, while it will look at whether users choose to click on the ads or hide them, it would not use users' personal data or data from user-to-user conversations to target ads. In any case, if VR does take off – which may depend on a "killer app" – then I suspect attitudes will soften.
You might argue that there is something somehow insidious about advertising in such an immersive space. But is it really any more insidious than, say, advertising in a Hollywood blockbuster? After all, in Skyfall, James Bond swapped his martini for an ice-cold Heineken when the money men came calling. Mmm, Heineken.
Chris Carter spent three glorious years reading English literature on the beautiful Welsh coast at Aberystwyth University. Graduating in 2005, he left for the University of York to specialise in Renaissance literature for his MA, before returning to his native Twickenham, in southwest London. He joined a Richmond-based recruitment company, where he worked with several clients, including the Queen's bank, Coutts, as well as the super luxury, Dorchester-owned Coworth Park country house hotel, near Ascot in Berkshire.
Then, in 2011, Chris joined MoneyWeek. Initially working as part of the website production team, Chris soon rose to the lofty heights of wealth editor, overseeing MoneyWeek's Spending It lifestyle section. Chris travels the globe in pursuit of his work, soaking up the local culture and sampling the very finest in cuisine, hotels and resorts for the magazine's discerning readership. He also enjoys writing his fortnightly page on collectables, delving into the fascinating world of auctions and art, classic cars, coins, watches, wine and whisky investing.
You can follow Chris on Instagram.