A UK-listed multinational engineer with strong growth and rising dividends
Spirax-Sarco is a world-leading engineer making consistent progress in three niche markets, with an order book at an all-time high.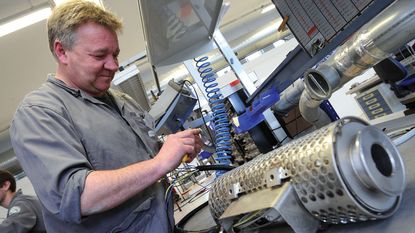 (Image credit: © Jean Francois Monier/AFP via Getty Images)
The UK has several high-quality engineering companies with strong positions in their market niches and long records of increasing dividends. For example, Spirax-Sarco (LSE: SPX) is a FTSE 100 company with a wide moat against competitors, recurring revenue amounting to 50% of sales and a 54-year record of increasing dividends.
Spirax is a multinational, with manufacturing sites in 14 countries and sales in 68 countries, and three business divisions. The largest is Steam Specialities, which amounts to 56% of sales. This comprises the control and management of industrial steam systems for heating, curing, cleaning, sterilisation, space heating and humidification.
Next is Watson-Marlow, which makes niche peristaltic pumps and associated fluid path technologies (30%). It has supplied over one million pumps to a wide range of industries, including biopharmaceuticals, food and beverages, paints and mining.
Subscribe to MoneyWeek
Subscribe to MoneyWeek today and get your first six magazine issues absolutely FREE
Get 6 issues free
Sign up to Money Morning
Don't miss the latest investment and personal finances news, market analysis, plus money-saving tips with our free twice-daily newsletter
Don't miss the latest investment and personal finances news, market analysis, plus money-saving tips with our free twice-daily newsletter
The smallest business is Electric Thermal Solutions (14%). Spirax's electric process heating and temperature management solutions are used for critical industrial processes, freeze protection for pipes and valves and component heating. Electrical heating is typically used for temperatures up to 1,000˚C and powers up to 1MW, while steam heating is used in the temperature range 100˚C to 250˚C with powers of 1MW to 30MW.
Direct relationships
Spirax has a direct sales business model where over 70% of sales are made direct to end users, contractors and original equipment manufacturers, and just under 30% sold via distributors who supply the products needed for routine maintenance and repair.
Spirax's over 2,000 sales and service engineers have in-depth applications knowledge and build long-term relationships with end users, walk around factories and propose projects to improve productivity, energy efficiency and safety. Customers value the company's wide range of trusted products (1,700-plus core products) and its regional manufacturing from 32 sites.
Fully 85% of Spirax's revenue comes from the operating budgets of its 110,000 customers, with only 15% from capital expenditure budgets. Of this 85%, 50% is recurring maintenance and 35% represents the improvement projects that engineers agree with customers to improve productivity and efficiency. This weight towards recurring maintenance spending and incremental investment gives in-built resilience to revenue.
Further defensive strength is provided by the 60% of total revenue coming from industries such as biopharmaceuticals, food and beverages, healthcare, and water and wastewater.
Steady growth
Spirax grows both through bolt-on acquisitions and organically. The most recent bolt-on acquisition was Cotopaxi, purchased for £12.8m last January to accelerate Spirax's digital strategy. Cotopaxi provides consulting, digital connectivity and monitoring of energy-intensive processes including steam through a proprietary and customised software platform that helps its industrial customers to reduce waste and manage energy use more effectively.
Meanwhile, organic growth is driven by steady investment in research and development investment (£13m in 2021 and £10m in 2020); by applications engineers initiating new improvement projects with customers; and by expanding the company's global presence by entering new countries and expanding existing country teams.
There are still substantial opportunities to continue its increasing market share. Spirax is market leader in both steam systems and peristaltic pumps, but management reckons that its share of the total market is still only around 12% so there is room to grow this significantly.
Another solid start to the year
Spirax coped well in the pandemic. It reported revenue of £1.24bn in 2019 and this dipped by only 4% to £1.19bn in 2020. The latest results, to December 2021, show revenue rebounding to a record £1.34bn in 2021. Operating profits also hit a record of £340.3m, as did operating-profit margin (25.3%).
Strong free cash flow of £194.5m enabled net debt to be reduced to £130.5m, despite higher capital expenditure.
The first four months of 2022 have seen order books for all three businesses at all-time highs, despite the challenging external environment of Covid-19 and Russia's invasion of Ukraine, according to the latest trading update at the annual general meeting on 11 May. The steam-specialities factory in Shanghai is running at reduced capacity because of local lockdowns, but sales are expected to recover over the rest of the year as lockdowns are relaxed.
Watson-Marlow's biopharma sector sales were up 20% in the first four months of 2022. Full year guidance remains upbeat, with the firm expecting sales growth well ahead of global industrial production growth and a profit margin that is comfortably ahead of pre-pandemic levels.
Spirax has grown dividends at an average of 11% per year over the past 54 years of continuous increases. The 2021 dividend is 136p, with dividend cover of 2.5 times. At Monday's closing price of 9,772p, this gives a yield of 1.4%. Analysts' consensus forecasts for earnings next year are 377p, putting the share on a forward price/earnings (p/e) ratio of 26.
In summary, Spirax-Sarco has a record of consistent sales and dividend growth, high recurring revenue, current demand for its trusted products exceeding supply, a reasonable valuation and a strong balance sheet. Yet the shares are now around 45% below the high they reached last November. First-half results are due in August.
For decades, Dr Mike Tubbs worked on the 'inside' of corporate giants such as Xerox, Battelle and Lucas. Working in the research and development departments, he learnt what became the key to his investing. Knowledge which gave him a unique perspective on the stock markets.
Dr Tubbs went on to create the R&D Scorecard which was presented annually to the Department of Trade & Industry and the European Commission. It was a guide for European businesses on how to improve prospects using correctly applied research and development.