Molten Ventures: invest in digital technology with this venture capitalist
Molten Ventures offers investors access to fast-growing unlisted companies across Europe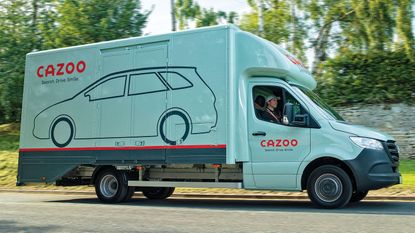 (Image credit: © Cazoo)
A substantial proportion of overall corporate growth now occurs in unlisted companies. This trend is intensifying because of the tendency of growing private companies to stay private for longer before listing. However, there are ways for investors to gain exposure to this growth.
Take Molten Ventures (LSE: GROW), previously known as Draper Esprit, a member of the FTSE 250 index of medium-sized companies; it has a market value of £1.4bn. It is a venture capitalist that invests in a diversified set of high-growth private digital-technology companies across Europe.
Tapping Europe's growth
A recent example is the digital bank Revolut. In July Molten announced that, following a successful funding round for Revolut, its stake was worth £119m, up from £20m in March 2021. Molten's other investments include Graphcore, which makes semiconductors for artificial intelligence applications; online-review site Trustpilot, which detected and stamped out 2.2 million fake reviews in 2020; Cazoo the online car-retailer; and Freetrade, the online share-trading app.
Subscribe to MoneyWeek
Subscribe to MoneyWeek today and get your first six magazine issues absolutely FREE
Get 6 issues free
Sign up to Money Morning
Don't miss the latest investment and personal finances news, market analysis, plus money-saving tips with our free twice-daily newsletter
Don't miss the latest investment and personal finances news, market analysis, plus money-saving tips with our free twice-daily newsletter
Molten's annual report to 31 March 2021 shows that its investment portfolio appreciated by 40% to £984m in 12 months. The 17 largest investments accounted for 68% of the March 2021 value. A further £128m was invested in next-generation opportunities during the year and cash proceeds from exits amounted to £206m. At the end of March, Molten had £161m of cash to invest as well as £45m available from venture capital trusts (VCTs) and enterprise investment scheme (EIS) funds (VCTs and the EIS are government-backed schemes to encourage investment in small, dynamic companies).
Profit after tax for the year was £267m. These results were achieved in a year that included the pandemic and lockdowns, demonstrating Molten's ability to select promising companies that can weather difficult market conditions.Molten now fully owns Draper Esprit's VCT and EIS fund managers following its February 2021 purchase of the remaining equity in Elderstreet Investments, which previously managed the Draper Esprit VCTs. The EIS investments are managed by Encore Ventures, a Molten subsidiary.
These VCT and EIS funds provide a further source of new investments. For instance, in 2018 Molten took a 50% stake in Earlybird Digital West Early-Stage Fund VI, which invests in high-growth technology companies in the German-speaking European markets.
Unicorns are multiplying
Molten's continued good performance depends on identifying promising businesses at an early stage and then accelerating investment in the most successful ones – while spotting potential failures quickly and exiting them. It is interesting and encouraging that successful businesses are reaching unicorn status (valuations over $1bn) increasingly quickly. Early in the 21st century unicorns were achieving that status in 15-20 years, but in recent years the timespan has shortened to between one and three years.
The recent very high-growth unicorns are termed "popcorns". One good example is Cazoo, a Molten investment, which was founded in 2018 and was listed in New York in August 2021 with a market value of $6.9bn. Another is Revolut, launched in 2015 and now the UK's biggest unicorn, worth $33bn.
Finding future winners
It is important for Molten to keep finding winners. It does this through three channels. The first is its seed funds-of-funds programme launched in October 2017 in which, by March 2021, Molten had invested £67.2m in 35 seed funds globally. These funds have over 530 portfolio companies. The second is the Earlybird channel, which offers access to another pipeline of deals by accessing continental European opportunities. The third is its special in-house team that explores emerging trends based on technology, industry verticals and business models and uses this to identify potential deals.
Molten's interim results were released on 29 November and said the company now has a portfolio of more than 70 firms with 17 of those in the core portfolio accounting for 68% of the £1.35bn value. Given the accelerated transition to digital technologies caused by the pandemic, the company expects the value of the portfolio to grow by 35% this year. It is difficult to assess Molten as an investment using price/earnings (p/e) ratios since profits depend on exits from the portfolio and these can vary markedly from year to year.
Molten's share price can be volatile and its growth depends on finding more high-growth venture investments which it can help develop and exit at a good profit. Its record so far has been excellent. Big-name investments include Revolut, Cazoo, Aircall (the cloud-based call centre company) and Freetrade. Molten's three-channel deal-finding technique, its record and its encouraging interim results suggest there is more growth to come.
Given earnings per share (EPS) of 206p, the 2020-2021 p/e is 4.5; the forward p/e depends on the value of 2021-2022 exits but, encouragingly, the first half saw a strong eps of 148p. The company could be a useful addition to portfolios for those with a reasonable risk appetite.
For decades, Dr Mike Tubbs worked on the 'inside' of corporate giants such as Xerox, Battelle and Lucas. Working in the research and development departments, he learnt what became the key to his investing. Knowledge which gave him a unique perspective on the stock markets.
Dr Tubbs went on to create the R&D Scorecard which was presented annually to the Department of Trade & Industry and the European Commission. It was a guide for European businesses on how to improve prospects using correctly applied research and development.