How Covid-19 changed biotechnology – and how you can invest
The pandemic has exacted a huge human and financial toll, but it has also transformed scientific research in ways that will deliver huge benefits for healthcare. Matthew Partridge reports.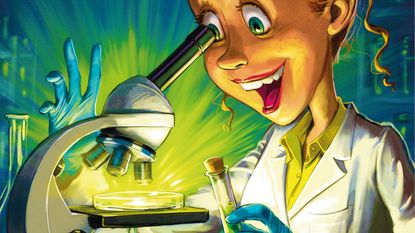 (Image credit: © Howard McWilliam)
On 11 March 2020, the World Health Organisation officially declared what everybody already knew: Covid-19 had become a pandemic. The two years that have elapsed since then changed the world in ways that most of us never thought possible. Most of these changes have been for the worse, but one of the few benefits may be the way that the crisis has accelerated biotechnology research and development.
Even before Covid-19 appeared, there had been many major advances in biotechnology, with an "extraordinary" amount of recent innovation and growth, say Linden Thomson and Cinney Zhang, who run the biotech strategy at AXA Investment Management. But the pandemic has put the sector "centre stage" and the vast amounts spent will have long-term implications in fields from drug development to the way clinical trials are conducted and the greater use of artificial intelligence.
A revolution in vaccines
One of the main outcome of the crisis is the "major advances" in vaccine technology, says Max Herrmann, who heads the healthcare team at investment bank Stifel. In particular, the successful use of messenger RNA (mRNA) vaccines is a gamechanger, with big long-term implications for how vaccines are developed. In contrast to traditional vaccines, which inject an inactive version of the virus or bacteria into the body, mRNA vaccines work by instructing cells within the body to produce a harmless version of key proteins from a virus. In the case of Covid-19, the vaccine is designed to get the body to learn how to target the spike protein of the Sars-Cov-2 virus – the part that enables it to infect cells and cause Covid-19.
Subscribe to MoneyWeek
Subscribe to MoneyWeek today and get your first six magazine issues absolutely FREE
Get 6 issues free
Sign up to Money Morning
Don't miss the latest investment and personal finances news, market analysis, plus money-saving tips with our free twice-daily newsletter
Don't miss the latest investment and personal finances news, market analysis, plus money-saving tips with our free twice-daily newsletter
The idea of using mRNA technology in medicine wasn't new, but there was a fair amount of scepticism about whether it would ever work. Before 2020, the biotech firm Moderna, one of the original pioneers in this field, "failed to have a single product approved", says Herrmann. However, the fact that Moderna's and BioNtech's Covid-19 vaccines "provided better protection than the vaccines that use traditional methods" has led to hope that this technology can also be applied to other vaccines. Trials are currently under way for flu, HIV and shingles.
There is also optimism that mRNA vaccines could be used in cancer immunotherapy, which relies on getting the body's own immune system to work against cancer cells.Until now, most attempts to produce cancer vaccines have failed, but there are growing hopes that vaccines based on mRNA could succeed where other approaches have not.
"There have been other vaccines out there that use different approaches," adds Sheena Berry of wealth manager Quilter Cheviot. Examples include those produced by AstraZeneca and Johnson & Johnson. However, the mRNA vaccines "have taken the majority of the market share" both in terms of the number of jabs provided in developed countries and global revenue. In the near term, the transition from a pandemic to an endemic (a disease that constantly reappears, but at a lower level of threat) could mean that we need to regularly get booster or seasonal jabs, she says. Whether this will have to be done for the entire population or only those most at risk "will largely depend on hospitalisation and death rates". In any case, while the huge sales of Covid-19 vaccines that took place last year – and are expected to take place in 2022 – will eventually drop, there should continue to be a significant market for several years to come.
Antivirals and antibodies
While vaccines have certainly slashed death rates, some people are still suffering serious illnesses. Fortunately we have become much better at treating Covid-19 due to the development of new drugs such as antivirals (drugs that treat viral infections by inhibiting the development and replication of the virus). At the end of last year, Pfizer launched paxlovid and Merck launched molnupiravir. The former appears to be almost 90% effective in preventing hospitalisation and death; the latter does not have such high efficacy but supplies are currently greater. Provided there are no last-minute hiccups, Berry thinks that all the early data suggests that both companies should do well from these drugs.
Monoclonal antibodies are also being used to combat Covid-19. These bind to the Sars-Cov-2 virus, helping to destroy it. Monoclonal means that they bind to one epitope (site) on the virus; in contrast, the antibody response produced by our own immune system after vaccination is polyclonal (we produce a range of different antibodies that bind to different epitopes). While our own immune response will typically be stronger, monoclonal antibodies can be particularly useful for those unvaccinated patients or those with compromised immune systems. While antibodies have been around for decades, the large amount of research done in this area over the past two years "has given us a lot more data to work with" and "has greatly advanced our understanding of human biology", which should hopefully lead to more advances, says Berry.
As new Covid-19 infections become less of a pressing problem, drug companies will need to focus on the growing problem of those suffering from long Covid-19, says Berry. While both the exact definition of this condition – and the numbers of sufferers – is still controversial, there is general agreement that "something will need to be done about it": there is clear evidence that many previously healthy people are continuing to suffer from various health problems, long after the initial infection.
There is unlikely to be one magic bullet for dealing with long Covid, says Patrick Short, co-founder and chief executive of Sano Genetics, which helps companies and researchers analyse DNA data. Treating the condition will probably require a combination of multiple drugs, varying from patient to patient. Already doctors are seeing two types of long Covid sufferers: "some who were hospitalised and have never really recovered", and those who were "mildly affected", but "have since developed fatigue and brain fog". With the crisis "advancing our knowledge of genetics", he thinks that genetic analysis could be used to devise personalised treatments for sufferers.
The advance of artificial intelligence
The pandemic has also spurred improvement in the use of artificial intelligence (AI) and machine learning in biotechnology, says Nikhil Malhotra of Tech Mahindra, the IT consulting company. For example, his company worked with a client to go through a portfolio of 8,000 drugs that had already been approved by the US Food and Drug Administration to see if any of them could be repurposed. To do this, he used computation analysis involving AI to see "which drugs were most likely to bind". Once this had narrowed down the list of candidates to 17, researchers were then able to carry out early tests to cut it further down to five drugs before finally coming up with what they think is the best candidate: a diabetes drug called Ertugliflozin. They are now carrying out extended trials and have applied for a patent. Malhotra thinks that within a few years, "such techniques will be used to develop completely new drugs for a wide range of conditions".
Tunisian firm Instadeep has also been helping drug companies take advantage of machine learning. Just before the pandemic began, it began a collaboration with BioNTech, using tools that were originally developed for language translation to model the behaviour of proteins. This enabled BioNtech to find the optimal design for its mRNA vaccines, speeding up a process that would normally have been "like looking for a needle in a haystack", says Nicolás Lopez Carranza of Instadeep. Indeed, BioNTech were so impressed with the results that in November 2020 they extended the partnership into other areas.
Instadeep has also developed an early warning system that can monitor changes in the spike protein in Covid-19 to predict how the virus could mutate, as well as which variant is likely to pose the most challenge to global healthcare systems. The system was vindicated last autumn, when it flagged up what would become known as the Omicron variant "on the day it was first detected", says Lopez Carranza. With governments "much more aware about the possibility of a new pandemic sometime in the future" such monitoring systems "are here to stay".
Covid-19 has also led to AI becoming part of frontline medicine, says Frederic Vacher, who heads the 3DEXPERIENCE Labs at software company Dassault Systèmes. Many patients ended up catching the disease while in hospital. Dassault worked with Pitié-Salpêtrière hospital in Paris to use airflow simulation models – originally developed for the car industry – to identify changes that could minimise the risk of spread.
Going faster on trials
Covid-19 has also led to the expansion of remote trials, in which patients stay at home and send regular updates on how they are doing via email or by wearable monitoring devices, says Lisa Moneymaker of Medidata, which develops and markets software for clinical trials. There was already pressure to move to this model – which is cheaper and allows drug companies to reach patients outside of major urban centres – but "resistance to change had slowed it down". However, when Covid-19 hit, "drug companies didn't have access to patients, so they were forced to innovate".
The need to get vaccines and treatments approved quickly "birthed into existence various mega trials", with Moderna "enrolling 30,000 patients in just a few weeks". The speed was amazing, especially given that Moderna was at that point not a large company. Better remote monitoring devices also sped up data collection, allowing Moderna to get "real-time data on how the trials were progressing". This allowed researchers "to make important decisions based on results from the mid-point of trials", including giving regulators "heads up" about results and also "allowing them to stop trials that weren't working early, saving time and money".
"If regulators and drug companies are willing to go on a crisis footing, the time taken to develop drugs and get them approved can be slashed", adds Short. Innovations include "running multiple stages of trials at the same time", as well as "the government part funding trials and guaranteeing orders in order to reduce the risk to the drug and biotech companies". There are also signs that regulators are starting to reform the process for granting fast-track approvals, especially for conditions that don't yet have an effective treatment.
Better diagnostics
Covid-19 has also led to advances in diagnostics, with evidence that "some of the diagnostic technologies developed during the pandemic can be used for other conditions" says Eduardo Gonzales of Skymind Global Ventures, an AI incubator. At the start of the pandemic, doctors could only definitively diagnose Covid-19 from CT scans. However, a firm called Axial AI developed technology that automated the process, meaning that what previously took an hour "could be done in just ten seconds". It later developed technology that could diagnose Covid-19 "from just a person's cough" and is now using the same platform to improve the diagnosis of brain cancer and the early signs of gum disease.
The entire diagnostics industry, from large firms such as Abbott Laboratories to smaller domestic laboratories, has benefited from a "surge in demand", adds Hermann. Some of this may be about to tail off, but the outlook remains bright. Governments around the world have realised "the importance of having a diagnostics infrastructure in place" to protect against the next pandemic – and to prevent them becoming too dependent on countries like China for supplies.
Overall, biotech achievements over the last two years have "created a spate of exciting potential investment opportunities", say Thomson and Zhang. "Strong growth prospects" are set to "continue into 2022 and beyond". Below, we look at some ways to invest.
Seven tips for the biotech boom
Moderna (Nasdaq: MRNA) has been a big winner from Covid-19 vaccines. Sales rose over 200 times from just $60m in 2019 to an estimated $17.9bn in 2021. The end of the crisis will lead to these sales falling, but the fact that it trades at just five times forecast 2022 earnings suggests that these fears are already priced in. Booster jabs may become part of life, while Moderna is also working on using mRNA technology to produce vaccines and treatments for other diseases.
The fortunes of BioNTech (Nasdaq: BNTX) have also been transformed by its mRNA vaccine. Like Moderna, its low valuation of four times estimated 2022 earnings mean that it could surprise on the upside if sales fall less than expected. Long-term prospects come from a pipeline of treatments for infectious diseases and cancer: four of its mRNA-based cancer vaccines are already in phase two trials, as is an antibody therapy that is designed to work against solid tumours.
Pfizer (NYSE: PFE) made and marketed BioNTech's vaccine and its very effective antiviral treatment paxlovid has recently been approved in most major markets. As with other companies, the revenue boost from Covid-19 will eventually fade, but it is already developing other mRNA treatments. It trades on 8.8 times estimated 2023 earnings and yields 3.6%.
Regeneron (Nasdaq: REGN) is at the cutting edge of antibody research. Its REGEN-COV antibody cocktail is widely used to treat moderate cases of Covid-19, as well as for those high-risk patients who have been exposed to the virus. A decline in the number of hospitalisations – as well as the reduced effectiveness against Omicron – is expected to see the amount of revenue from REGEN-COV decline, causing Regeneron's revenue to fall in 2022. However, sales are expected to bounce back, thanks in part to its strong pipeline with no less than 11 antibodies in phase three trials. Regeneron trades at 13 times forecast 2023 earnings.
Software company Dassault Systèmes (Paris: DSY) has previously focused mainly on manufacturing, but it is expanding its efforts in healthcare and life sciences, which now account for around a quarter of revenue. During the pandemic it worked on applying artificial intelligence and big data to the fight against Covid-19, including helping hospitals to cut down the spread of the virus. Its subsidiary Medidata Solutions also helps vaccine companies run and validate large-scale decentralised trials. It trades on a relatively aggressive 37 times 2022 earnings, but the firm is targeting sales growth of around 10% a year and earnings growth of around 13%-14% per year over the next few years.
The need to maintain some domestic testing infrastructure in the UK is good news for EKF Diagnostics (LSE: EKF), says Stifel's Herrmann. It was one of the few British companies to successfully develop and market a Covid-19 test, but already had a reputation as a manufacturer of diagnostic devices, mainly centred around analysis of blood. Between 2015 and 2019, its sales grew by more than half and Covid-19 further boosted its growth. It trades at 14 times 2022 earning and pays a dividend yield of 2.3%. Genedrive (Aim: GDR) may also be worth a look. It is applying technology developed while creating a test for Covid-19 to help with diagnosing Hepatitis C. The technology is also being trialled in NHS hospitals to identify newborn children who are vulnerable to antibiotic-induced hearing loss, therefore minimising the risk of irreversible harm by adjusting the treatment. It trades on eight times forecast 2023 earnings.
Matthew graduated from the University of Durham in 2004; he then gained an MSc, followed by a PhD at the London School of Economics.
He has previously written for a wide range of publications, including the Guardian and the Economist, and also helped to run a newsletter on terrorism. He has spent time at Lehman Brothers, Citigroup and the consultancy Lombard Street Research.
Matthew is the author of Superinvestors: Lessons from the greatest investors in history, published by Harriman House, which has been translated into several languages. His second book, Investing Explained: The Accessible Guide to Building an Investment Portfolio, is published by Kogan Page.
As senior writer, he writes the shares and politics & economics pages, as well as weekly Blowing It and Great Frauds in History columns He also writes a fortnightly reviews page and trading tips, as well as regular cover stories and multi-page investment focus features.
Follow Matthew on Twitter: @DrMatthewPartri